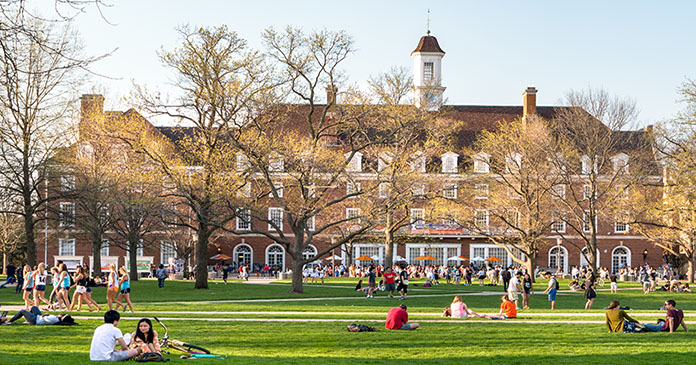 Quality student housing and other amenities have proven to be key considerations for attracting and retaining top students at colleges and universities. As the cost of construction and need for financial subsidies both increase, leading higher education institutions are strategizing smart solutions to provide the student housing development projects needed to compete for students.
Public and non-profit institutions make up over 85 percent of degree-granting institutions in the U.S. Through 2020, enrollment is declining only at schools without a significant student housing presence, as major four-year institutions continued to see growth.
"Student housing is critical to a residential university's student experience and is an important recruitment tool, and some universities are grappling with old housing stock or how enrollment that has outpaced the number of beds on campus," said Lindsay Stowell, Executive Vice President, Higher Education, JLL. "Creative solutions like public-private partnerships can be a mechanism to source capital and deliver new housing more efficiently than traditional university construction approaches. In the face of challenging economic circumstances, buying or leasing existing buildings is another solution. Being flexible and exploring all options is key."
Public-private partnerships, or P3s, leverage the respective strengths of educational institutions and the private sector. This model can ease the financial burden on the university and, while complex in their structures, can benefit both parties.
Pre-leasing velocity for the 2022-2023 school year has far outpaced the past two years, returning to pre-COVID levels. As of September 2022, the average multi-housing effective rent was 25 percent higher than the average student housing effective rent in the top 10 states with the most expensive student housing, making student housing much more affordable for these students.
The desire from students to live on campus is apparent, but it's expensive and time consuming for higher education institutions to build. Total construction spending, on average, is up 11 percent year over year, and construction backlogs averaged nine months for most contracting firms, up 1.4 months from the prior year.
"There will never be a cheaper time to build than now," added Josh Gerken, Vice President for Campus Panning, University of Texas San Antonio. "Construction costs are only going to continue to increase. Not doing anything is not necessarily the best answer."
Another way to reduce costs is through value engineering and deciding what the most important characteristics are in the construction of a building right now. This allows the developer to trade off some of the features desired to get the building delivered now versus years from now.
For schools that cannot build fast enough, leasing or buying an existing building close to campus can solve the immediate problem. A few years ago, Purdue University in Indiana had an immediate need for beds and entered master leases with existing properties proximate to campus.
"They look and feel like residence halls, but they were private apartments," said Rob Wynkoop, Vice President for Auxiliary Services at Purdue. "After several years of leasing beds from one property across the street from campus, we purchased the building, which added more than 800 permanent beds. In the future, we have the option to safely add to the density of this building and significantly increase the occupancy if we choose to."
This strategy does pit colleges and universities against other student housing investors, which is a risk given the increasing demand for the asset class. Transactions for student housing increased 79 percent in the first half of 2022, nearing all-time highs and pushing the sale price per unit nationally from $205,000 per unit in the first half of 2021 to $213,000 per unit in the first half of 2022. Additionally, cross-border increasingly targets the sector.
"Student housing has emerged from the pandemic as a highly sought-after alternative asset class that is attracting traditional investors as well as new entrants to the space," said Teddy Leatherman, Senior Director, Capital Markets, JLL. "The sector is seen as recession proof, as every lease has a parental guarantee and people tend to go back to school during economic downturns. Additionally, student housing tends to trade at a premium compared to traditional multifamily so investors aren't experiencing as much negative leverage."