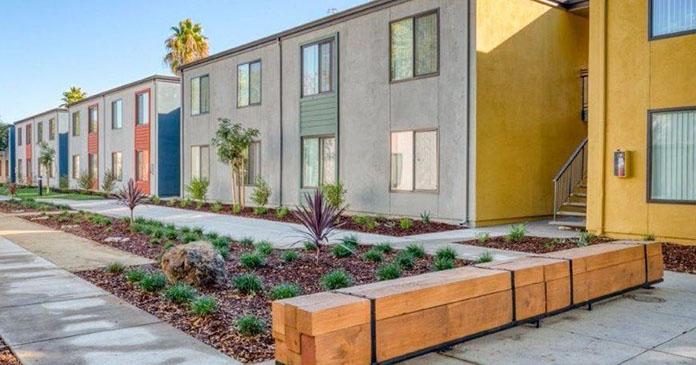 Trion Properties, a multifamily investment sponsor and private equity real estate firm based in West Hollywood, California and Miami, Florida, announces the acquisition of 1503 Fulton Avenue, a 104-unit multifamily community located in Sacramento, California, for $23.6 million. The property, named Courtyard at Artisan Square, was secured through a debt assumption transaction with a private seller, according to Max Sharkansky, Managing Partner of Trion Properties.
"Through our collaborative process, our team was able to identify the opportunity to secure positive leverage on this well-maintained property with a fixed-rate debt," says Sharkansky. "As prices gradually fall post rate shock and the capital markets tighten, we were able to assume the current Freddie Mac loan at 4.19 percent with interest only through July 2024. These terms are extremely difficult to achieve in today's rising interest rate environment, further demonstrating our ability to strategically transact amid fluctuating market cycles."
The property is located within the Arden-Arcade submarket, where Trion currently owns two other properties. The submarket is one of the fastest-growing and top-performing rental markets in the nation, as Sacramento offers a relatively affordable alternative to nearby Bay Area cities while still providing favorable lifestyle amenities and convenient access to major employment centers.
"As we enter a year of uncertainty and pricing continues to fall from peak levels in 2022, our acquisition strategy has shifted to a defensive approach," says Farhan Mahmood, Partner and Head of West Coast Acquisitions at Trion Properties.
"Our experienced team recognized the opportunity to secure a discounted asset in a market we are already intimately familiar with," continues Mahmood. "We were able to secure the property at a 20 percent discount to peak pricing last year with an opportunity to push NOI approximately 40 percent on already achieved rents. Although a slight uptick in recent new construction will likely release some pent-up rental demand, limited supply in the market combined with a stable economic base gave us the confidence to move forward during this period of uncertainty."
Previous ownership has fully renovated property exteriors and all unit interiors to include quartz countertops, in-unit washer/dryers, dual-pane windows, new roofs, full patio replacement, asphalt, and concrete walkways. As the asset features some of the highest-quality units in the area, current asking rents have not yet met the rent growth momentum in the market, adds Mahmood.
"Trion will implement strategic value-add upside through recovering significant loss to lease," Mahmood explains. "We are confident in the strength of the Sacramento rental market. The property is already achieving our underwritten pro forma rents, and in a few cases outperforming the pro forma. With no deceleration in sight for rental demand, the property is well-positioned for future growth."
Constructed in 1970, 1503 Fulton Avenue consists of 104 one, two-, and three-bedroom apartment units averaging 830 square feet with open floor plans. Located on nearly 5 acres, the community comprises 11 two-story-wood-frame buildings totaling over 86,000 square feet. Existing amenities include a fitness center, pool deck, and high-end upgrades throughout the property.
Situated near Sacramento's Urban Core and High 50 Office Corridor, the community offers residents immediate access to large employment centers, with quality dining, entertainment, and retail options. The property is conveniently positioned with direct access to Highway 50, Interstate 80, and Highway 160.