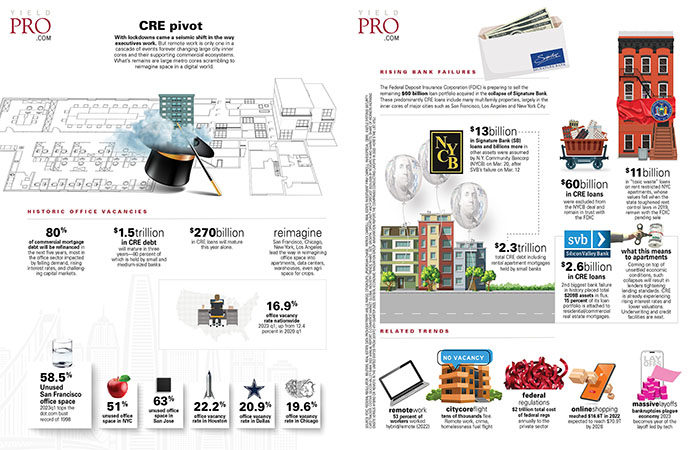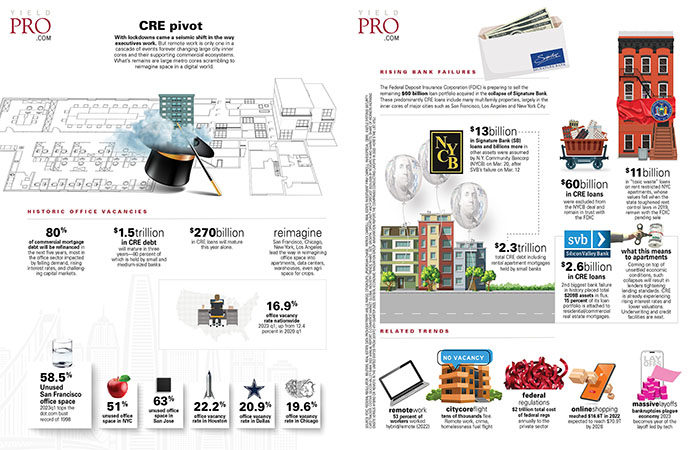 With lockdowns came a seismic shift in the way executives work. But remote work is only one in a cascade of events forever changing large city inner cores and their supporting commercial ecosystems. What's remains are large metro cores scrambling to reimagine space in a digital world.
HISTORIC OFFICE VACANCIES
80 percent of commercial mortgage debt will be refinanced in the next five years, most in the office sector impacted by falling demand, rising interest rates, and challenging capital markets.
$1.5 trillion in CRE debt will mature in three years—80 percent of which is held by small and medium-sized banks
$270 billion in CRE loans will mature this year alone.
Reimagine
San Francisco, Chicago, New York, Los Angeles lead the way in reimagining office space into apartments, data centers, warehouses, even agri space for crops.
5% Unused San Francisco office space (2023q1 tops the dot.com bust record of 1998)
51% unused office space in NYC
63% unused office space in San Jose
2% office vacancy rate in Houston
9% office vacancy rate in Dallas
6% office vacancy rate in Chicago
RISING BANK FAILURES
The Federal Deposit Insurance Corporation (FDIC) is preparing to sell the remaining $60 billion loan portfolio acquired in the collapse of Signature Bank. These predominantly CRE loans include many multifamily properties, largely in the inner cores of major cities such as San Francisco, Los Angeles and New York City.
$13 billion in Signature Bank (SB) loans and billions more in other assets were assumed by N.Y. Community Bancorp (NYCB) on Mar. 20, after SVB's failure on Mar. 12
$2.3 trillion total CRE debt including rental apartment mortgages held by small banks
$60 billion in CRE loans were excluded from the NYCB deal and remain in trust with the FDIC
$11 billion in "toxic waste" loans on rent restricted NYC apartments, whose values fell when the state toughened rent control laws in 2019, remain with the FDIC pending sale
$2.6 billion in CRE loans
2nd biggest bank failure in history placed total $209B assets in flux. 15 percent of its loan portfolio is attached to residential/commercial real estate mortgages.
what this means to apartments
Coming on top of unsettled economic conditions, such collapses will result in lenders tightening lending standards. CRE is already experiencing rising interest rates and lower valuations. Underwriting and credit facilities are next.
RELATED TRENDS
Remote work
53 percent of workers worked hybrid/remote (2022)
City core flight
tens of thousands flee. Remote work, crime, homelessness fuel flight
Federal regulations
$2 trillion total cost of federal regs annually to the private sector
Online shopping
Reached $16.6T in 2022, expected to reach $70.9T by 2028
Massive layoffs
Bankruptcies plague economy 2023 becomes year of the layoff led by tech