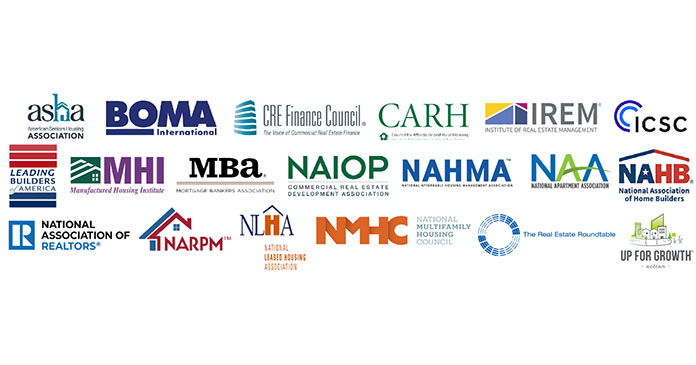 19 national real estate associations joined together to release a letter to policymakers urging Congress to work with the Biden Administration, housing providers, lenders and other stakeholders to pursue bipartisan solutions to increase the supply of housing in all markets and at all price points.
This Housing Affordability Coalition represents a broad coalition of housing providers committed to working together with policymakers and the Administration to address America's housing affordability crisis.
Included in the letter linked here are bipartisan recommendations that policymakers should immediately take action on that we believe would have a positive impact on the housing affordability crisis and help increase the nation's housing supply.
Housing has always been a bipartisan issue. Policymakers at every level of government have a role to play in removing obstacles to housing production and preservation and in addressing the housing affordability challenges that have faced this country for decades.
Using a combination of incentive-based programs, streamlined regulatory burdens and innovative solutions, the Coalition stands ready to work with Congress and the Administration to address the housing affordability challenges faced by communities across the nation.
Letter signatories include:
American Seniors Housing Association
Building Owners and Managers Association
Commercial Real Estate Finance Council
Council for Affordable and Rural Housing
ICSC
Institute of Real Estate Management
Leading Builders of America
Mortgage Bankers Association
Manufactured Housing Institute
NAIOP, the Commercial Real Estate Development Association
National Affordable Housing Management Association
National Apartment Association
National Association of Home Builders
National Association of REALTORS
National Association of Residential Property Managers
National Leased Housing Association
National Multifamily Housing Council
The Real Estate Roundtable
Up for Growth Action