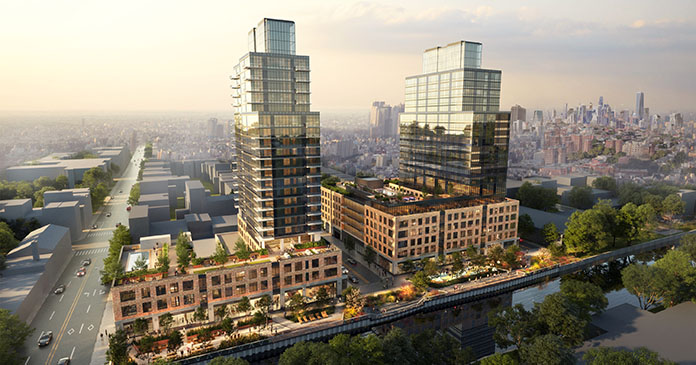 JLL's Capital Markets group announced that it has secured the $520 million capitalization for the development of Sackett Place and Society Brooklyn, an under-construction, two-tower, 21-story luxury waterfront mixed-use community with 517 multihousing units and 10,000 square feet of retail in Gowanus, Brooklyn.
JLL worked on behalf of the borrower, a joint venture between Property Markets Group (PMG) and Carlyle, to arrange the $335 million construction loan, and also secured the project's $165 million LP equity.
Situated at 267 Bond St. and 510 Sackett St. and slated to open in 2025, the towers are prominently positioned on the corner of Bond and Union Streets overlooking the Gowanus Canal and sitting within the Carroll Gardens neighborhood. The site is only four blocks from the Carroll Street Subway Station and Union Street Station, providing one-stop service to Manhattan in less than 15 minutes, and is less than one mile from Smith Street, Atlantic Avenue and Bergen Street, home to high street retailers, major financial institutions and notable dining establishments. Additionally, the residential community is a part of the Gowanus rezoning initiative for permanent affordable housing.
JLL's Capital Markets Advisory Team was led by Senior Managing Directors Christopher Peck and Andrew Scandalios, Managing Director Peter Rotchford, Director Nicco Lupo, Senior Managing Directors Rob Hinckley and Jeff Julien and Vice President Jonathan Faxon.
"Developments with an affordable component continue to make sense to lenders seeking to deploy equity in a highly fractured market," said Peck. "With its best-in-class sponsors and strong fundamentals, 267 Bond St. / 510 Sackett St. is the type of mixed-used venture that remains highly appealing to investors, and we are thrilled to have completed the transaction."
JLL's Capital Markets group is a full-service global provider of capital solutions for real estate investors and occupiers. The firm's in-depth local market and global investor knowledge delivers the best-in-class solutions for clients—whether investment and sales advisory, debt advisory, equity advisory or a recapitalization. The firm has more than 3,000 Capital Markets specialists worldwide with offices in nearly 50 countries.