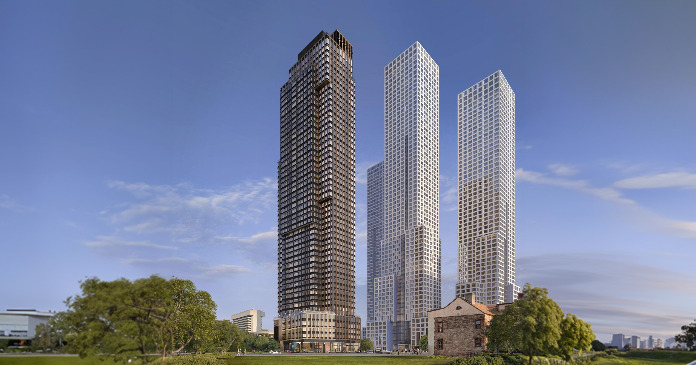 JLL Capital Markets announced that it has arranged the $193 million non-recourse construction financing for Pathside, a 605-unit to-be-built, luxury high-rise apartment building located in the Journal Square neighborhood of Jersey City, New Jersey.
JLL worked on behalf of the borrower Panepinto Properties, Inc. ("Panepinto") to secure a five-year, floating-rate loan through Pacific Life.
With an anticipated completion of Q2 2026, Pathside will feature, studio, one-, two- and three-bedroom units, averaging 710 square feet. Additionally, the property will feature 3,200 square feet of ground-floor commercial space..
The project is being built by AJD Construction, a privately owned company founded by Anthony J. Diaco in 1977 and specializing in high-rise residential buildings.  Since that time, AJD has built over 50,000 apartments and prides itself as a streamlined company with the common goals of job completion, efficiency and customer satisfaction.
Pathside will be located at 499-507 Summit Ave. and is within an Opportunity Zone. The property is situated in the Journal Square neighborhood of Jersey City and directly adjacent to the PATH subway station, providing direct access to Manhattan.
The JLL Capital Markets Debt Advisory team was led by Senior Managing Director Thomas R. Didio, Senior Director Thomas E. Didio, Jr., Director Gerard Quinn and Senior Analyst Salvatore Buzzerio.
"We are excited to announce the vertical capitalization of Pathside, the newest luxury delivery in Panepinto's Gold Coast pipeline. Pacific Life provided the borrower team with an accretive non-recourse, single source solution in a very challenging market for large construction loans," stated Thomas E. Didio, Jr., who added that negotiations were successfully led by Joseph Panepinto, Jr., on behalf of the borrower.
JLL Capital Markets is a full-service global provider of capital solutions for real estate investors and occupiers. The firm's in-depth local market and global investor knowledge delivers the best-in-class solutions for clients — whether investment sales and advisory, debt advisory, equity advisory or a recapitalization. The firm has more than 3,000 Capital Markets specialists worldwide with offices in nearly 50 countries.
About Panepinto Properties
Panepinto Properties has been a market leader and innovator in Jersey City real estate development since 1977. As an independently owned and operated real estate development company, Panepinto Properties engages in innovative real estate projects nationally and internationally, focusing on design and infrastructure development, specialty financing, long-term property and asset management, and contemporary fine art services for residential, office, and hotel projects. Panepinto Properties works closely with financial institutions, city & state agencies, engineers, architects, designers, artists and much more to ensure that each project is unique and successful.