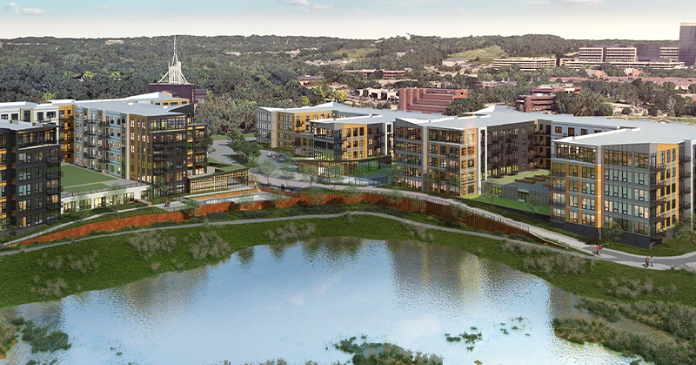 JLL Capital Markets announced that it has arranged joint venture equity and construction financing, totaling $68.96 million, for Golden Triangle Station, a mid-rise multi-housing development located in the Golden Triangle neighborhood of Eden Prairie, Minnesota.
JLL worked on behalf of the sponsor, Greco and Eagle Ridge Partners, to secure the $47 million competitive construction loan through a regional bank. Additionally, JLL sourced $21.96 million in joint venture equity from Amstar Group.
The project is set to break ground this fall and will include 237 luxury housing units, as well as 315 underground parking spaces. The unit mix will include studio, one-bedroom, two-bedroom and three-bedroom units. Amenities at the property will include an outdoor pool, spa, theater room, club room, private dining and pickleball courts.
As part of Eden Prairie's inclusionary zoning, roughly 25% of the units will be rented at 50% and 80% of the area median income (AMI). As a result, the project has received significant support from city staff, which has approved a Tax Increment Financing structure. The site is also situated in the heart of an area guided for transit-oriented development (TOD) via the Green Line extension, which is currently under construction.
The city of Eden Prairie has very little land guided for high-density residential development. This high barrier-to-entry alone makes the Golden Triangle project incredibly unique in that it is occurring on one of the few sites targeted for redevelopment by the city, and as part of the redevelopment effort, it is one of the last remaining areas guided for high-density residential development. It is an important driver for the city of Eden Prairie's long-term comprehensive plan.
Eden Prairie, an affluent southwest suburb of Minneapolis, is consistently ranked among the best places to live in America by Money Magazine, boasting a high quality of life, proximity to major employment nodes and a top-ranked school district. The site sits in the Golden Triangle Innovation Hub, which is home to 600 companies, as well as 20,000 jobs, making up half of Eden Prairie's total employment base. 
Minneapolis-St. Paul has one of the largest concentrations of Fortune 1000 companies in the world. The region is home to numerous international headquarters, American headquarters for foreign firms and substantial office operations for firms that are headquartered on either coast. With one of the lowest unemployment rates in the nation, investors, employers and workers continue to be drawn to Minneapolis-St. Paul, home to one of the most diverse and successful economies in the world.
The JLL Capital Markets Advisory Team representing the sponsor was led by Josh Talberg, Scott Loving, Matthew Schoenfeldt, Colin Ryan, Dan Linnell and Mox Gunderson.
"The project will be a significant development for the city of Eden Prairie, and we are thankful to have a part in advancing it. The execution of Eagle Ridge and Greco, from concept to closing, has been remarkably impressive," said Talberg. "The Twin Cities markets, particularly sought-after suburban areas like Eden Prairie, consistently experience robust interest and demand from investors and lenders for premium assets. This project showcases this continuing trend and signals a promising outlook for both the region and the high-growth submarket."