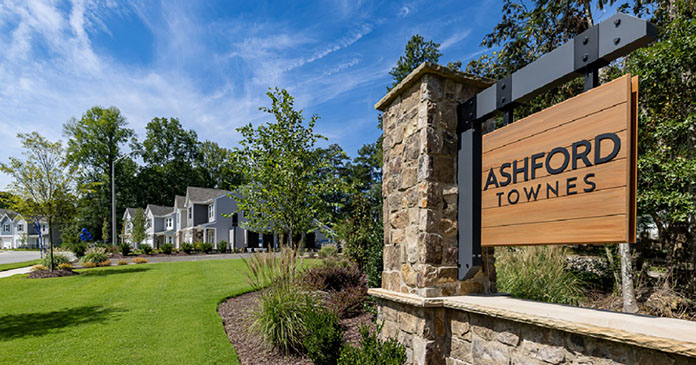 Capital Square, one of the nation's leading sponsors of tax-advantaged real estate investments and an active developer of multifamily communities, announced today that its offering, CS1031 Ashford Townes BFR Housing, DST, has been fully subscribed. The Regulation D private placement, which raised nearly $13.7 million from accredited investors, is comprised of a 74-unit, newly constructed build-for-rent townhome community in the affluent Raleigh suburb of Fuquay-Varina, North Carolina.
Capital Square formed the Private Equity Group, managed by experienced real estate executives Dave Platter and Jon Trott as managing directors and co-heads, to profit from opportunities in the housing market, including a dedicated build-for-rent (BFR) strategy in high growth sunbelt markets. This represents Capital Square's third BFR offering on platform to date.
"This is another home run for Capital Square in providing a newly constructed build-for-rent housing community for Section 1031 exchange and other investors seeking stable cash flow and capital appreciation. From Class A and Class B residential communities, manufactured housing in Florida and now build-for-rent residential communities, Capital Square is providing investors with a range of options to invest in the vibrant southeastern housing markets," said Louis Rogers, founder and co-chief executive officer of Capital Square.
Completed in February 2022, Ashford Townes is located at 604 Oakbrook Pass Way. The townhome community, developed by D.R. Horton, the nation's largest homebuilder by volume, boasts three-bedroom, open floorplans averaging 1,693 square feet with integrated smart-home technology, stainless steel appliances, quartz countertops, high vaulted ceilings, built-in window blinds, spacious walk-in closets, full size washer-dryers, attached one-car garages, private patios and outdoor storage. A community dog park is additionally contemplated for development.
Residents have access to over 130,000 jobs, including major employers such as the University of North Carolina at Chapel Hill, Novartis, IQVIA, JLL and Duke Energy. Five minutes from the property are a plethora of local retailers, restaurants, breweries, fitness centers and top performing schools. Approximately 30 minutes south of the property is Research Triangle Park, the largest research park in the U.S. and a premier global innovation center covering 7,000 acres of the combined Raleigh-Durham-Cary statistical area.
"Ashford Townes is an affordable housing option amidst Raleigh's single-family for-sale market, where rents are predicted to grow 3.75 percent over the next five years," said Whitson Huffman, co-chief executive officer. "The area has seen a recent decline of multifamily inventory, making the Raleigh market an attractive market for investment in a high-quality single-family rental community."
Capital Square is an active owner of multifamily communities in North Carolina. The firm recently acquired Asheville NC Apartment Portfolio, a two-property multifamily portfolio comprised of a total of 305 apartment homes in Asheville. The community was acquired on behalf of CS1031 Asheville NC Apartment Portfolio, DST, a private placement offering that seeks to raise $73.1 million in equity from accredited investors and has a minimum investment requirement of $50,000.
Since its founding in 2012, Capital Square has acquired 171 real estate assets for over 6,500 investors seeking quality replacement properties that qualify for tax deferral under Section 1031 of the Internal Revenue Code and other investors seeking stable cash flow and capital appreciation.