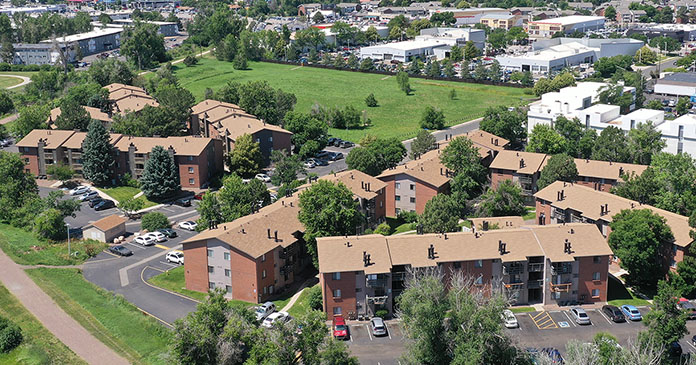 Trion Properties, a private equity real estate firm based in West Hollywood, California and Miami, Florida specializing in multifamily investments, announces the acquisition of Trailpoint on Highline, a 198-unit multifamily asset in Aurora, Colorado.
"We are very excited to add Trailpoint on Highline to our portfolio of Denver-area properties. Investing in Colorado was one of our first ventures outside of California when we began Trion. To now own and operate almost 1300 apartments in the region is a testament to the opportunities in multifamily real estate that a high-growth market like Denver can provide investors," comments Max Sharkansky, Managing Partner at Trion Properties.
Trion purchased the property for a total of $41.1 million or $209k per unit, substantially below other properties sold in the area. Trion's all-in basis is still only $231k per unit compared to the submarket average in the $250k-$290k per unit range. The per unit pricing on this transaction speaks to Trion's specific expertise; executing value-add projects with underutilized assets in high-growth areas and converting them to modern, desirable, and affordable places to live.
"With this transaction we can take advantage of the unique suburban setting of Aurora. It is a fast-growing neighborhood that draws residents looking for a lower cost alternative to downtown Denver, but with urban amenities such as dining and entertainment," says Sharkansky. "Trailpoint on Highline's location is ideal for both commuters to downtown Denver and for families looking to access the prestigious Cherry Hill school district."
A prime location
Trailpoint on Highline is conveniently located on the southwestern edge of Aurora in the highly desirable Cherry Creek School District. The Denver Tech Center is just 15 minutes away and downtown Denver a 25-minute drive. The proximity to Denver's top employers at a more affordable cost of living, Aurora presents high-paying job opportunities in the Bioscience and Healthcare industry as well as the Aerospace and Defense industry.
Trailpoint on Highline, built in 1984, offers one- and two-bedroom apartments ranging from 630 to 830 square feet. The units feature wood-style plank flooring, washer and dryer hook ups, wood burning fireplaces, spacious walk-in closets, private balconies and central heating and air conditioning. The property's amenities include two heated swimming pools with sundecks, 24-hour laundry facilities, and on-site property management. The property is located at 10756 East Virginia Avenue in Aurora, Colorado.
Trion expects multifamily deals to accelerate
"Through the first half of 2023, the market for commercial real estate has been slow, but deals are out there and accelerating," adds Sharkanksy. "Investors that had financial discipline during the run up of multifamily property values prior to 2022 will be ready to take advantage of great opportunities as the market opens up as we move through 2023 and into 2024."
Trion was able to secure an agency backed fixed loan of 5.09 percent at an LTV of 68.4 percent. The property's cap rate at acquisition is 5.84 percent, providing positive leverage on day one of ownership. The first three years of the loan are interest only. The multifamily deal team at Berkadia was instrumental in helping them close the transaction.