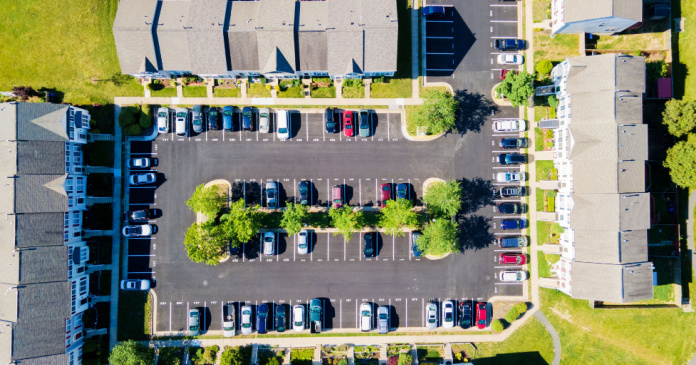 New research suggests reductions in parking space requirements for apartment projects can lower development costs and rents and lessen environmental impacts.
Parking regulations are a central zoning component of apartment development in the U.S. But, requiring developers to create more parking than necessary hurts renters and discourages creation of affordable and workforce housing, according to a September 2023 white paper from Rutgers Center for Real Estate.
The authors analyzed data collected from more than 175 properties with approximately 28,000 apartment units in New Jersey and concluded that the number of parking spaces required by the state's Residential Site Improvement Standards (RSIS) do not reflect the nation's growing reliance on ride sharing and mass transit.
They also do not account for the finding that rental households in New Jersey own fewer cars per unit than the number of parking spaces developers are required to provide. These unused parking spaces can add millions of dollars to a project's bottom line.
If a parking spot costs $27,900 to build, as suggested by the data cited in the study, and parking is overbuilt by 0.5 spaces per unit, then current parking requirements increase construction costs by approximately $13,950 per unit, resulting in an extra $2.8 million to build a 145-unit garden-style community and $2.1 million for a high-rise and adds $80 per month to rent.
For parking space requirements in New Jersey to better align with actual usage, the authors propose reducing the number of parking spaces in garden-style apartments to an average 1.41 per unit, down from an average of 1.91 mandated by the state's RSIS, and 1.01 spaces per unit on average for high-rises, down from 1.33 required per unit.
If the RSIS were to reduce parking space requirements by the average unused overage per unit, rents should be expected to fall by four percent, researchers estimate.
Sites in urban core areas where parking is sometimes oversupplied because of zoning regulations are targets for reducing parking space requirements, especially if they are in proximity to reliable public transportation.
Some cities like New York are considering a reduction of parking space requirements in certain areas, or, like San Jose, Calif. and Bend, Ore., have already made changes.