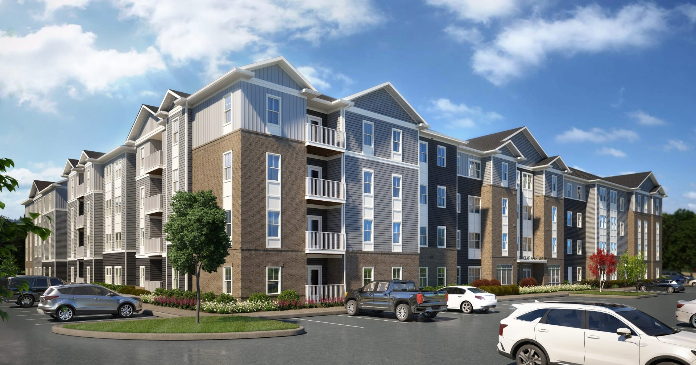 Leaders with the Columbus Metropolitan Housing Authority (CMHA) and The NRP Group, a vertically integrated, best-in-class developer, builder and manager of multifamily housing, joined today with Columbus Mayor Andrew Ginther, state Senator Hearcel Craig, and local dignitaries in a ribbon-cutting ceremony to celebrate the grand opening of The Sinclair Apartment Homes ("The Sinclair"), a new, $40 million, 180-unit fully affordable apartment community in Columbus. 
Situated on 5075 Sinclair Avenue, The Sinclair provides well-crafted, affordable housing options for Columbus-area residents whose incomes range from 30 percent to 80 percent of the Area Median Income. The former site of the live music venue Alrosa Villa, which closed permanently in early 2020, has been transformed into a community of three four-story apartment buildings consisting of one-, two-, three- and four-bedroom units.
In addition to offering high-quality rental options that meet the rising demand for more affordable housing in Columbus, The Sinclair has also revitalized the Sinclair Avenue streetscape into a prospering community hub. CMHA played a lead rolein helping to fund the development by issuing $27.7 million in tax-exempt and taxable bonds.
Located near I-71 and I-270, with immediate proximity to Central Ohio Transit Authority, The Sinclair connects residents to work, shopping and local Columbus attractions. The property provides access to an active bus line linking residents to restaurants and retail options, including Target, Kroger and Saraga International Grocery. 
Less than two miles from the rapidly growing Clintonville neighborhood and only seven miles north of downtown Columbus, residents will experience a swift commute to thousands of job opportunities. Additional on-site amenities include a fitness center, private clubhouse, playground and outdoor gathering space.
The transit-oriented project was developed with tax-credit funding support from the Ohio Housing Finance Agency (OHFA) and Huntington National Bank.