Interra Realty, a Chicago-based commercial real estate investment services firm, today announced it brokered two multifamily property sales on Chicago's South Side: a 19-unit apartment building at 7757-59 S. Winchester Ave. in the Auburn Gresham neighborhood and a 12-unit building at 506-14 E. 70th St. in Greater Grand Crossing. The cumulative price for the transactions was $1.65 million.
"These deals demonstrate a continued appetite for vintage apartment buildings in Chicago, serving an array of strategies," said Interra Managing Partner Lucas Fryman. "Whether the plan is to maintain a stabilized asset or undertake an extensive value-add campaign, investors have a lot of quality options in the city."
Fryman represented Circa Chicago, LLC in the $955,000 sale of 7757-59 S. Winchester Ave. Fryman also represented the buyer, Toronto-based Winchester Ave Suites, LP. The property was 53% occupied at the time of sale and offers potential upside via capital expenditure.
The Winchester Avenue asset features 19 one-bedroom units and has undergone significant upgrades, including all new steel lintels, windows, spot tuckpointing and a newly designed entryway on the west side of the property. In addition, three residential units have been completely gut rehabbed with new kitchens, bathrooms, flooring, lighting and individual gas-forced air furnaces. The buyer plans to continue these improvements with a refreshed common area and modernization of all nine vacant units.
7757-59 S. Winchester Ave. is located less than two miles from the Wrightwood Metra station and 2.5 miles from CTA's 79th Street Red Line station, and is in walking distance of retail options and CTA bus routes along 79th Street. The property is also within a mile of the 257-acre Dan Ryan Woods. Interra Director Max Grossman represented the confidential seller in the $700,000 disposition of 506-14 E. 70th St., as well as the confidential buyer. At the time of sale, the property was fully occupied.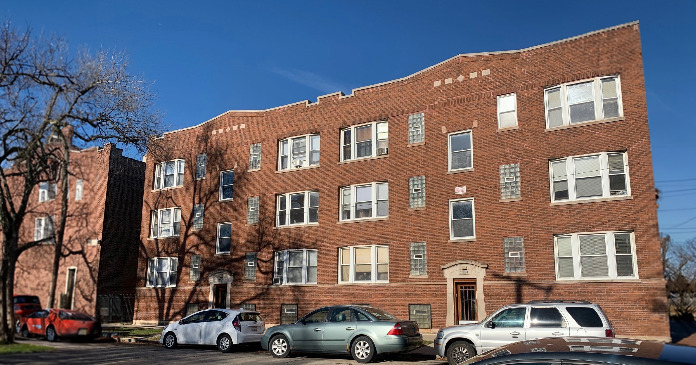 The 70th Street property, which last transacted 20 years ago, includes 12 one-bedroom units. The asset is well maintained with no deferred maintenance. Units have seen light cosmetic updates to kitchens and baths and the buyer plans to strategically renovate units during turnover.
Located just off the Chicago Skyway, 506-14 E 70th St. is in close proximity to both the University of Chicago in Hyde Park and the future site of the Obama Presidential Center located in Jackson Park. The area is served by CTA's 69th Street Red Line station, approximately one mile away, and numerous CTA bus routes.