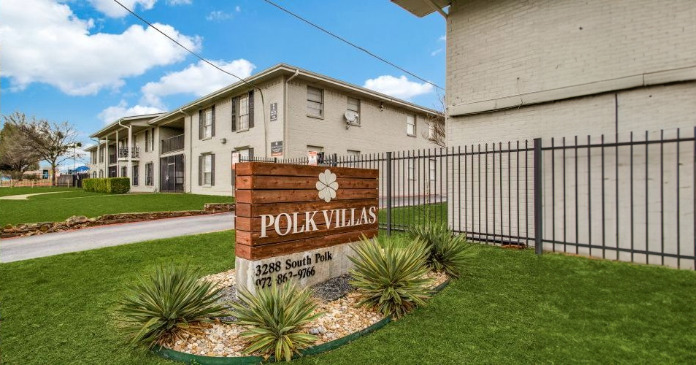 Marcus & Millichap, a leading commercial real estate brokerage firm specializing in investment sales, financing, research and advisory services, announced the sale of Luna Vista, a 236-unit multifamily asset in Fort Worth and Polk Villas, a 165-unit apartment property in Dallas. The assets have a combined total of 401 units and sold for over $40 million.
"The acquisition presents our buyer with opportunity to achieve above average returns through improved property management and interior finishes," said Silva. "With a unit upgrade program and rent growth potential as leases turn over, ownership can create significant cash flow and value creation for years to come without having to undertake a major repositioning of the asset."
"The location is a short commute to Downtown Dallas and the Interstate 20 industrial corridor, one of the strongest employment centers in Dallas-Fort Worth," said Braly. "The submarket recorded 4.1% rent growth over the past 12 months. We expect to see continued upward pressure on rates and strong investment interest from public and private entities as Southern Dallas County's population grows. Our buyer recently purchased two other properties from the Silva Braly Multifamily Team of Marcus & Millichap that are within five minutes of Polk Villas and will take advantage of economies of scale to reduce expenses across the portfolio."
Al Silva, senior managing director investments, and Ford Braly, first vice president investments in Marcus & Millichap's Fort Worth office had the exclusive listing to market the properties on behalf of two Dallas-based sellers. The buyers, two Metroplex-based investment groups, were procured by Silva and Braly. Both properties will undergo improvements to the infrastructure and operations to appeal to the area's renter base. Both acquisitions were financed with fixed-rate government agency loans.
Since the beginning of 2022, the Fort Worth-based Silva Braly team of Marcus & Millichap has completed the marketing and sale of over 36 apartment properties in the Dallas-Fort Worth area, totaling more than 6,800 units valued at $850 million in transaction volume.