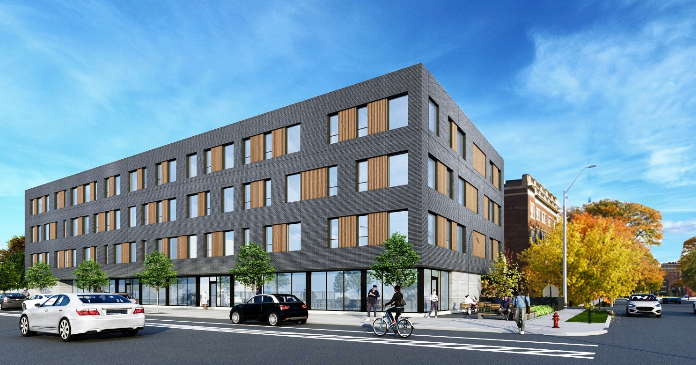 A new mixed-use project is preparing to begin construction in Midtown Detroit. The building will increase the city's much-needed inventory of workforce-attainable housing, while also offering on-site retail space that serves residents and the neighboring community. To accommodate the 57-apartment mixed-use structure, developer Greatwater Opportunity Capital is building the project on three vacant parcels acquired with the purchase of the adjacent fire-damaged, 45-unit apartment building that Greatwater rehabilitated.
"For the new building's design, we created a contemporary version of the existing architectural language in the neighborhood and adjacent Willis-Selden Historic District," says Michael Poris, AIA, principal of McIntosh Poris Architects. "We included ground-floor retail space in the building to maximize the corner-lot location, which fronts both 2nd Avenue and Brainard Street." The Detroit Historic District supports the project, deeming it beneficial to the neighborhood.
McIntosh Poris Architects' primary design challenge was maximizing the combined lots, which are deep and narrow. This limits the developable area after the required on-site parking is allocated. The architects' solution: a four-story, 38,916-square-foot building, which combines 57 residential units and 3,500 square feet of commercial space.
The building's façade positions wood panels between windows, alternating on each floor. The resulting effect is a tessellated pattern where the windows align vertically. Exterior materials include brick and Exterior Insulation Finishing Systems (EIFS), energy-efficient uPVC windows, and wood composite rain screen.
For the interior, the developer's design directive emphasized efficient layouts that prioritize living space. The architects optimized the space to create 57 units—33 studio apartments at 370 square feet each, and 24 one-bedroom units comprising 550 square feet.
Twenty percent of the units are earmarked at below-market rents for eligible applicants earning less than 80 percent of the area's median income (AMI). This project will add in-demand attainable housing plus retail jobs to the existing Midtown neighborhood fabric.
Project manager Reid Mauti joins Poris on the McIntosh Poris design team. The project team includes general contractor The Monahan Company, civil engineer and landscape architect Giffels Webster, MEP engineer CTR, structural engineer IMEG, and property manager/development consultant Modern City Management.