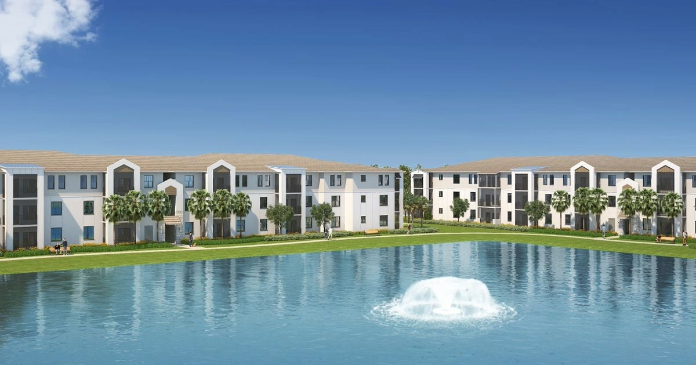 In 2021, Kaplan Residential tied up nearly 20 acres in Englewood, Florida, roughly 80 miles from Tampa on Florida's west coast, for an apartment community. After going through the design and approval process, the Bay Harbor, Florida-based developer closed on the land from a private seller in September.
"Englewood is a growing market," Nathan Kaplan, partner and managing director for the company, told Multifamily Dive. "We tied it a while ago, and the micro market has really improved a lot. So I think pricing for land has gone up in the area."
Generation Englewood's amenities will include a 10,000-square-foot clubhouse and a dog park with outdoor televisions, lounge seating areas and a bar. There will also be a walking trail around the property's perimeter, seating areas, benches and outdoor grilling stations with lake views.
Despite being only three stories, each building in the development will have an elevator. "We realized that the area has historically had a little bit of an older demographic," Kaplan said. "It's a nice lifestyle and climate. It's very attractive for retirees."
Though installing the elevators requires more investment, Kaplan thinks it will pay off. "While it may be an additional cost, we felt that it really differentiates us," Kaplan said.
But Kaplan doesn't think Generation Englewood will just attract retirees. The property is near Wellen Park, a master-planned community with high-end retail outlets, grocery stores and the Atlanta Braves spring training facility.
In addition, there has also been a lot of job creation and population growth in the Sarasota County markets. "There has been a lot of in-migration, whether it's from the Midwest or the Northeast," Kaplan said. "They've been moving south. We'll definitely get some retirees, but it will be a good diverse mix."