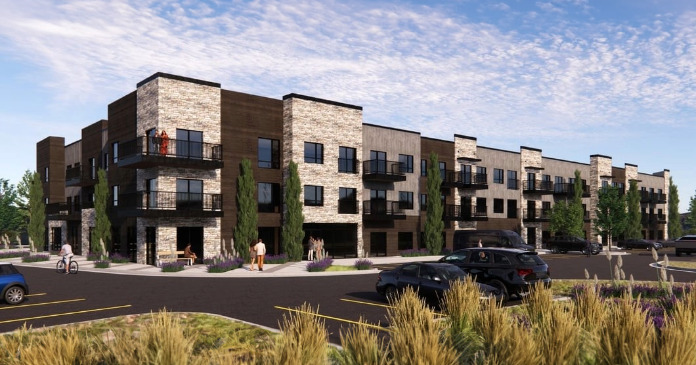 NewPoint Real Estate Capital has provided $22.5 million in HUD/FHA 221(d)(4) construction-to-permanent financing to facilitate the development of The Larkspur, an 86-unit market rate workforce housing community being built in Victor, Idaho by Plaza Equity Partners, a Miami-based real estate development company.
The loan was originated by Karen Kim, a Managing Director with NewPoint, and features a 22-month construction period followed by a 40-year term. Designed to achieve certification under the National Green Building Standard, The Larkspur qualifies for an upfront and ongoing Green MIP reduction (25 bps).
"The housing supply-demand imbalance is national in scope, and there is a severe housing shortage in the Teton Region – in fact, a full 80% of area businesses report that housing is the single largest hurdle to finding and retaining qualified employees," Kim said. "Our partners at HUD have shown that they are dedicated to addressing this issue in markets both large and small, and together with Plaza and their excellent development team, are committed to expanding access to high-quality housing for the local workforce and families."
"While this development is different from our typical Miami high-rise, The Larkspur holds special personal importance as someone who was born and raised in the Teton Region," said Anthony Burns, Co-President of Plaza Equity Partners. "From our financing partners at NewPoint and HUD to our local development team, we are incredibly proud of this partnership that will bring the first new 100% market-rate development of this scale to the area."
The Larkspur's development team includes Headwaters Construction Co., a general contractor based in Victor, Idaho; Syringa Property Management, a regional multifamily manager based in Boise, Idaho; and AE Urbia Architects & Engineers, a full-service architecture and structural engineering firm based in South Jordan, Utah.
Victor, Idaho is the largest city in Teton County, Idaho, which, along with Teton County, Wyoming, form the Jackson Idaho-Wyoming micropolitan statistical area. Victor, Idaho is a modest economic center and serves as a bedroom community for the travel and hospitality industries in Jackson and Jackson Hole, Wyoming, which center around hiking, mountain biking, fly-fishing, rafting and the winter ski resorts of Jackson Hole Mountain, Snow King Mountain and Grand Targhee.