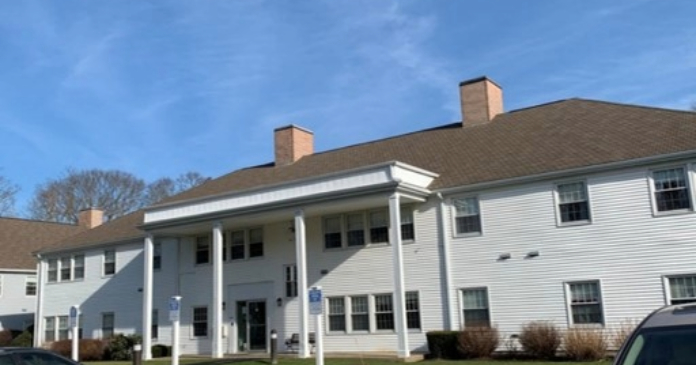 Senior citizens and residents with disabilities living at the 44-unit Shawme Heights Apartments in Sandwich will have affordable rents extended for the long term and the property will see approximately $1.6 million in improvements as a result of $6.2 million in MassHousing financing.
Among the improvements slated for the property are unit upgrades, exterior door, window and siding replacement, gutter and downspout replacement, roofing upgrades, elevator upgrades, security camera upgrades, emergency generator replacement, medical alert system upgrades, common area kitchen upgrade, and common area carpet replacement.
The non-profit Sandwich Senior Housing Corporation refinanced the property through MassHousing's Multifamily Accelerated Processing (MAP)/Ginnie Mae Joint Venture program with partner lender Rockport Mortgage Corporation.
"The Shawme Heights Apartments are an important source of affordable housing for seniors and residents with disabilities on Cape Cod and this transaction will not only extend their affordable rents for the long term, but significant improvements will be made to the property for their comfort and safety," said MassHousing CEO Chrystal Kornegay.
"The Sandwich Senior Housing Corporation is excited to continue to provide the community with excellent affordable housing for our residents at Shawme Heights. This refinance will assist in funding renovations and upgrades, continuing to provide our residents with wonderful living quarters," said Board of Directors President Joseph F. Giampietro.
MassHousing offers the MAP/Ginnie Mae loan program to the owners of rental housing through the U.S. Department of Housing and Urban Development (HUD). HUD provides expedited Federal Housing Administration (FHA) insurance approvals through the MAP program. MassHousing has surpassed $2 billion in cumulative MAP lending and the Agency has built the largest MAP lending program of any state housing finance agency in the nation.
The combination of FHA insurance and a Ginnie Mae guarantee enables borrowers to access taxable mortgage financing with lower interest rates, while preserving and extending affordability for hundreds of low-income individuals, senior citizens, and families. MassHousing provided the property owner with a $6.2 million, 35-year permanent loan.
"We are very pleased to have worked with the Sandwich Senior Housing Corporation and MassHousing on the refinance and extension of affordability of this important housing asset for the community of Sandwich," said Dan Lyons, Managing Partner of Rockport Mortgage. "In addition to extending the affordability of Shawme Heights, this transaction finances both community and in-unit upgrades, providing benefit to the seniors who call Shawme Heights home."
The 44 apartments at Shawme Heights are subsidized by a federal Section 8 Housing Assistance Payment contract. As part of the transaction, Sandwich Senior Housing Corporation executed a new 20-year HAP contract, which will include four years remaining on the previous contract. The transaction will extend affordability at the property for 24 years.
The management agent is C.A.N. Property Management Services, LLC.
In addition to financing for Shawme Heights, MassHousing provided home mortgage loans to 255 homebuyers and homeowners in Sandwich with an original purchase principal balance of $35.4 million.