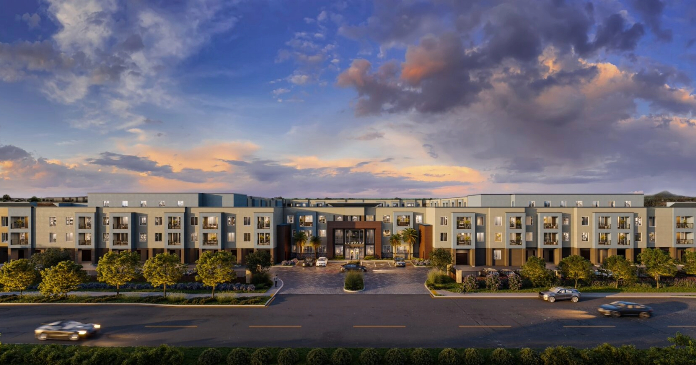 Toll Brothers, the nation's leading builder of luxury homes, through its Toll Brothers Apartment Living rental division, and Willton Investment Management have announced a new joint venture to develop Lumara, a four-story, 456-unit multifamily rental community in Phoenix, Arizona.
The community will consist of 456 rental apartments and more than 700 parking spaces, including some with EV (electric vehicle) charging stations. The apartment units will feature high-end luxury finishes and a best-in-class amenity package, including a heated resort-style pool, rooftop terrace, outdoor fitness lawn, putting course and virtual sport simulator, sculpture garden and private walking trail, and business conference room.
John McCullough, President of Toll Brothers Apartment Living, said, "With strong growth in the area, including a burgeoning tech manufacturing presence nearby, Lumara will be a welcome addition to this North Phoenix location that is poised for further expansion. The high-end finishes and luxury amenities we have planned for Lumara will truly set this community apart in the market."
Fred Cooper, Senior Vice President, Finance and Investor Relations for Toll Brothers, said, "We are excited to be partnering on our first transaction with Willton, whom we have known and admired for many years. We are also pleased to close another construction loan with Santander, whose relationship with us stretches across many projects and many U.S. markets, and to welcome Alerus to our lender family."
Chris Luo, Chief Executive Officer of Willton Investment Management, said "We are very excited to begin this new partnership with Toll Brothers and grow our investment footprint in Phoenix. Lumara will benefit from best-in-class sponsorship, market-leading design and quality, and convenient access to employment. We are grateful to the entire Toll Brothers team for their diligence, professionalism, and commitment to excellence throughout the development process."
The project is being financed through an $86 million construction loan facility from Santander Bank N.A. as agent and Alerus. The equity and debt were arranged by Toll Brothers' in-house Finance Department. Including Lumara, Toll Brothers Apartment Living has six multifamily community developments completed or under construction in Arizona totaling over 2,150 units.