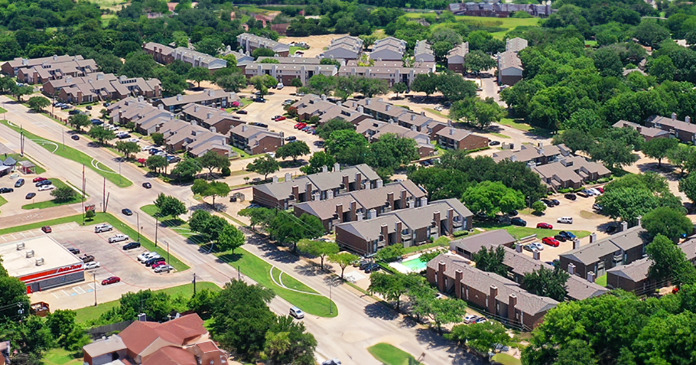 Trion Properties, a private equity real estate firm based in West Hollywood, California and Miami, Florida specializing in multifamily investments, announced the acquisition of Riverbend Apartments, a 471-unit multifamily asset in Lancaster, Texas. Once two separate properties, Riverbend now consists of The Riverbend section with 143 units (30%) and the Hunter's Creek section with 328 units (70%). The transaction was an off-market deal sourced through Trion's extensive broker relationship network.
"The Dallas area is an extremely attractive market for real estate investors with its high growth and business friendly environment. Riverbend Apartments is our first investment in Texas and adds nearly five hundred units to our portfolio across the Southern and Western United States. Even as many firms sit on the sidelines, Trion continues to seek out the best opportunities for investment in fast growing communities that can deliver the best returns for our investors," comments Max Sharkansky, Managing Partner at Trion Properties.
"One of Trion's strengths is our ability to source and execute deals before they hit the market. With off market transactions, we get improved entry prices that drive the overall economics of the deal," says Sharkansky. "Acquiring this property at a very low basis, we estimate a yield of 5.63% and with fully realized renovation strategy we target a 7.01% un-trended pro-forma yield."
The property is located in the expanding submarket of Lancaster, Texas. Near to the Dallas Inland Port, the surrounding submarkets have become a hotspot for industrial development, with over 100 million square feet of existing Class A industrial space within a 10-mile radius – 30% of which was built within the last 5 years and 15 million square feet currently under construction.
"In South Dallas County, the surging industrial growth will fuel job creation as several Fortune 500 companies have established themselves in the area," notes Farhan Mahmood, Partner at Trion Properties. "This, combined with a limited supply of new multifamily developments in the pipeline, makes us optimistic for long-term rent growth in the multifamily sector."
According to the most recent Yardi data, developers had 57,142 units under construction as of May 2023. In the first five months of 2023, the market had a transaction volume of $1.1 billion, its lowest level in nearly 10 years, as deal making remained slow. The majority of the assets that traded in the Dallas-Ft. Worth market were workforce housing.
"As 2023 closes, a year of transition will come to an end," adds Sharkansky. "Investors realize they are now living in an interest rate environment that is unlikely to return to the ultralow rates of the past decade. Moving into 2024, if you have capital to deploy and a strong investment strategy, you will want to seize the opportunities to invest, particularly in markets like North Texas that are extremely attractive for multifamily investors."