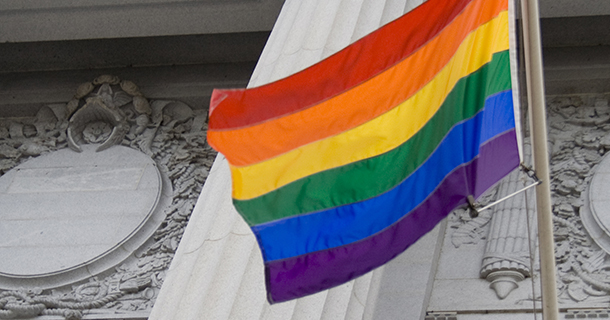 HUD Secretary Shaun Donovan said the new equal access to housing rule "says clearly and unequivocally that LGBT (gay, lesbian, bi-sexual and transexual) individuals and couples have the right to live where they choose."
Donovan made the announcement at a White House conference on lesbian, gay, bisexual or transgender housing and homelessness in Detroit.
Detroit has the only nonprofit agency in the Midwest that focuses on LGBT youth—the Ruth Ellis Center, which co-hosted the conference.
The new rule, Donovan said, represents "a real demonstration of how important this issue is to me, to the president, to the entire administration."
"If you're denying HUD housing to people on the basis of sexual orientation or gender identity—actual or perceived—you're discriminating," he said. "You are breaking the law, and you will be held accountable."
Barbara McQuade, the Detroit-based U.S. attorney and a panelist in one of the sessions at the conference, called the new rule "a big deal."
"I really applaud the administration, which isn't waiting around for Congress" to act on this issue, she said.
A letter on the new rule was sent out to HUD grantees, said Raphael Bostic, assistant secretary for policy development and research at HUD.
LGBT young people represent a dramatically high proportion of an estimated 600,000 or more homeless youths across the country—between 20 percent and 40 percent, according to the National Gay and Lesbian Task Force Policy Institute. But only about 5 percent of young people identify themselves as lesbian, gay or bisexual, according to the federal Centers for Disease Control and Prevention.
Lesbian, gay and bisexual youth are about four times more likely to attempt suicide than their straight peers, according to the CDC. And one in three is thrown out by their parents, according to data collected from yo uths across the country by the Family Acceptance Project at San Francisco State University.
Donovan plans to conduct the first-ever national study of LGBT housing discrimination. He called it a "historic and important study" that HUD designed based on town halls conducted on the issue. The study is designed to get "a clearer picture of the problem" and to make "the case that LGBT discrimination is real and that we need to do something about it."
---
Author: Mike Householder, The Washington Post