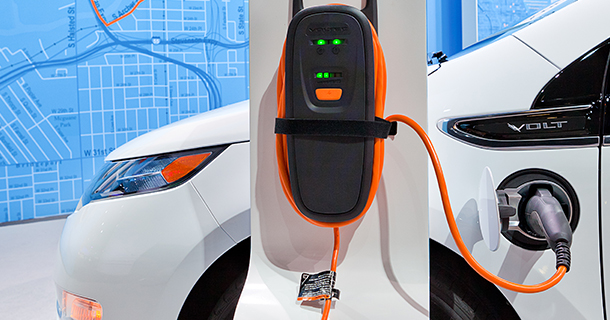 California is trying to promote green technology, but one of San Francisco's biggest landlords has told a tenant he cannot use a plug to charge his new electric car. Neither can the other tenants.
Richard Wiesner is pretty happy with his new electric car.
"Living in the Bay Area, you just feel like you have some obligation to be as green as you possibly can," Wiesner said.
As long as he can keep his car charged up, Wiesner hardly uses any gasoline anymore. He figured that would be no problem. He lives in a San Francisco high-rise and when he parks at his assigned space, there's an electrical outlet right there.
"This car is designed to be convenient; that's the beauty of the Volt," Wiesner said.
His Chevy Volt needs only an ordinary socket. The setup seemed ideal, until he told his landlord about it.
"The answer came back, 'We at Trinity Management do not allow any alterations to our premises,'" Wiesner said.
Wiesner explained it required "no alterations" and he would pay for the extra energy cost. Still, his landlord gave him a flat "no." Wiesner could park, but he could not plug his car to the socket three feet away.
The building manager emailed Wiesner saying simply "Trinity Management Services does not approve such requests."
Now Wiesner says he has to drive around looking for charging stations.
"I think as we see electric vehicles becoming more popular that we'll run into more situations where there are landlord-tenant disputes," San Francisco Tenants Union spokesperson Ted Gullicksen said.
Gullicksen believes Wiesner has every right to plug in his car.
"If the tenants had use of them in the past then they have use of them in the future," Gullicksen said.
However, an expert in landlord tenant law disagrees.
"I don't see any reason in the law why the landlord would be obliged to make that socket available," David Garcia said.
Garcia, a former superior court judge, now mediates civil disputes. Garcia says if the landlord lets one tenant plug in, he may have to grant access to everybody else. And since Wiesner's lease doesn't give him specific rights to the socket, the landlord can say no.
"It's not a part of his unit; that socket is part of a common area," Garcia said.
Gullicksen says just the opposite: if the lease doesn't prohibit use of the socket, it's fair game.
"That means they have the right to use the outlets without restrictions," Gullicksen said.
One thing everyone agrees on, this conflict is bound to spread, especially in a city where half the residents are tenants and more are buying electric cars.
"If every landlord were to take this position, then no tenant would be able to buy an electric vehicle," Garcia said.
"It's not fair because tenants have the right to have electric cars just like homeowners do and I think all of us want to see more gas guzzling vehicles taken off the road," Gullicksen said.
Wiesner hopes someday charging stations will be the norm and this dispute will seem silly.
The city's Department of Environment is encouraging landlords to install EV charging stations at their buildings. Other cities are taking similar steps.