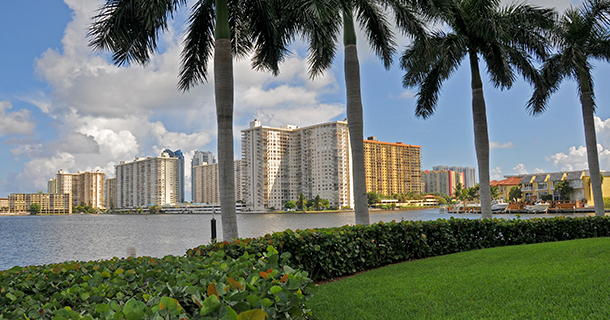 With the exception of Austin, Texas, the Orlando metropolitan area had the lowest apartment-vacancy rate of any of the two dozen metropolitan areas tracked by ALN Apartment Data Inc. during the second quarter of this year. With only about 7 percent of the units empty in the four-county metro area, Orlando-area landlords have largely dropped the introductory, "free rent" offers and deals commonplace a few years ago.
Metro Orlando rents averaged $857 in June, up from $822 a year earlier.
"The markets definitely tightened, and occupancy levels have improved-that's one factor driving the demand," said Richard Matricaria, regional manager for Marcus & Millichap.
Just three years ago, the metro area had an overall vacancy rate that was pushing 13 percent, and tenants could shop for discounts even in sought-after communities. Now, complexes that resorted to weekly leases several years ago have gone back to one-year terms.
In this region, University of Central Florida students have long had to endure waiting lists for apartments near the giant college campus in east Orange County. But now a few apartment projects in Osceola County's Celebration public-school district are filled and taking the phone numbers of prospective tenants, said Greg Wilson, director of multifamily-housing services for the Orlando office of Colliers International, a commercial-real-estate company.
"A few years ago, for the market as a whole, they were giving away what would equal one month's rent free," Wilson said. "That's pretty much gone to the wayside."
On the demand side, employment and population have edged up slightly in recent years, but analysts at Marcus & Millichap say the real change is an increase in the number of new renters who have either graduated from college, left their parents' house or gotten separated or divorced from a spouse.
But as these new renters snag the limited supply of available apartments, Orlando's depressed housing market could convert some of them into homeowners.
For example, former Nashville resident John Schumaker noticed both the shrinking pool of apartments and rising rents when he moved into a one-bedroom Maitland unit about nine months ago. At the time, he signed on for one of only two units available in the Village at Lake Lily, and began paying $1,025 a month plus a mandatory $15 rental-insurance premium for an 800-sq.-ft. apartment.
But when he faced a lease renewal for an additional $15 a month, he opted instead to buy a four-bedroom home in the Longwood area. His total cost will be $110 a month more than he would have paid for the apartment under the new lease terms.
"You can't beat this location. Everything is at your fingertips," Schumaker said of the Maitland complex he was moving out of Thursday. "But with interest rates so low, this made more sense. I work in Lake Mary, and I will be one exit away from work."
Central Florida vacancy rates were tightest during Q2-5 percent or less-and in the northeastern and southwestern portions of the Orlando metro area, according to Marcus & Millichap.
Even though it's uncertain where the market is headed, renters are unlikely to see the kind of disappearing apartment market that defined Orlando in 2005-06, at the height of the housing bubble. As an apartment-to-condominium conversion craze swept the region, so many individuals purchased former apartment units from developers that the area's overall vacancy rate dropped to less than 4 percent.
Developers have a handful of area apartment projects up or on their way. They include Camden Property Trust's 420 units in Lake Nona, completed in January; Pollack Shores, which starts leasing 326 new units in downtown Orlando next month; Post Properties, which recently won approval for a $58 million complex in Baldwin Park; and Ustler Development, which plans 230 units as part of Florida Hospital's emerging Health Village development just north of downtown Orlando.
Even though only a few new projects have been built, the pipeline of projects with government permits has swollen recently, "adding to the likelihood that a significant development cycle will be under way by late 2013," according to Marcus & Millichap.
Author: Mary Shanklin, Orlando Sentinel