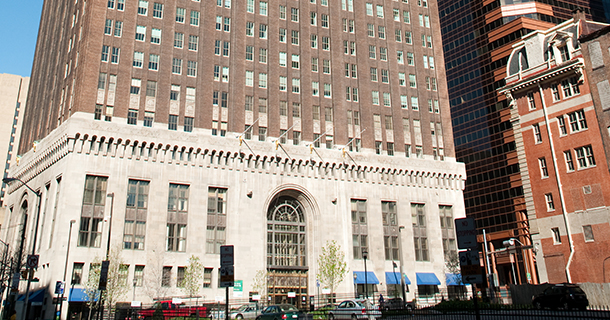 "The 520,000 square foot, 34 story structure will be converted to 445 for-lease residences," according to Metropolitan Partnership Ltd., the Reston, Va., development firm that purchased the building in November for $6 million.
Ten Light was completed in 1929, and last sold in 2002 for $5.3 million to the Nellis Corp. That company, based in Rockville, Md., sold the building to Metropolitan Partnership after working with city agencies "on plans for its sale and conversion to residential use."
The building's history is a rich one. Opened on the eve of the market crash in October of 1929, the depression drove the Baltimore Trust Co. into bankruptcy, and the building was vacated less than a year later. It stood mostly empty for a decade. The empty structure was subsequently used by the New Deal's Public Works Administration.
From the 1940s into the 1960s, the building was known as the Mathieson Building, then the O'Sullivan Building, named after its major tenants. In 1961, the building was purchased by Maryland National Bank, which was, itself, purchased by NationsBank in 1993. It inherited its current name following the NationsBank merger with BankAmerica in 1997.
Major portions of the building have been restored in recent years, including the copper-clad dome, which is once again floodlit at night.
The roofline is said to be an example of Mayan Revival architecture due to similarities with Mayan pyramids, when viewed straight on.
"The Art Deco building is fashioned from Indiana limestone and local brick over a steel frame," Metropolitan Partnership said. "The building's exterior is decorated with carved, Mayan Revival-style images, and is capped with a copper and gold mansard roof. The ornate, four-story main colonnaded lobby is decorated with mosaic floors and historic murals depicting Baltimore's history."
At 509 feet, 10 Light Street is the second-tallest building in Baltimore-about 20 feet shorter than the Transamerica tower.
The law firm Miles and Stockbridge, 10 Light's only office tenant, has agreed to move into the Transamerica building early next year. Ten Light has been home to the law firm for more than 80 years.
The building contains a Bank of America branch. After the conversion to apartments, the first floor of the building will continue to house retail tenants, according to Baltimore's Downtown Partnership.
Author: Steve Kilar, baltimoresun.com