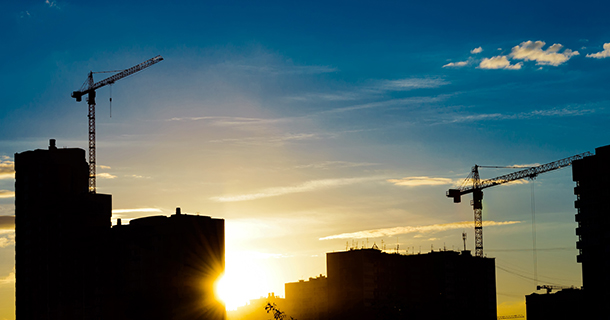 In more evidence that the single-family housing recovery is strengthening, U.S. builders in October started construction on the most homes and apartments since July 2008, according to Commerce Department numbers. Apartment construction, more volatile from month to month, than single-family building, rose 10 percent in October, to an annual rate of 285,000.
Building permit applications, an indicator of future construction, fell 2.7 percent to 866,000 after jumping 12 percent in September to a four-year high. But applications to build single-family homes still rose to their highest level in more than four years.
Multifamily starts are continuing to ramp up and have increased by two-fold since the low levels of 2010, hitting the 50,000 threshold for the first time since 2009, according to the Third Quarter 2012 Multifamily Review and Outlook by CoStar Group.
"Apartment developers aren't going to slow down anytime soon," said Erica Champion, senior real estate economist with CoStar Group's Property & Portfolio Research (PPR) division, who presented the report with Luis Mejia, director of research/multifamily, and real estate economist Francis Yuen. "Next year will be the first year of supply additions at historically normal levels since 2009. So, the 'reprieve' in supply has come to an end."
Seattle stood out among markets expected to see a spike in supply with a whopping 12,000 units expected to be delivered in 2012 and 2013. But the Washington, D.C. market will add even more, approximately 13,000 units over the same timeframe. Other active development markets include San Antonio, which will add 8,000 new apartment units and Raleigh with 5,500 units.
"Those are big numbers and that will cause vacancy increases," Champion said. Meanwhile, construction levels remain muted in other housing-boom markets such as Tampa, Las Vegas, the Inland Empire of California, and Phoenix, which are now starting to notch significant occupancy gains. Separately, the Beige Book of current economic conditions released by the Federal Reserve Districts confirmed that construction and commercial real estate activity generally increased across the country since the last Fed report issued Oct. 10.
In another sign that the apartment supply pipeline is filling up rapidly, the burst of multifamily residential projects on the drawing board pushed billings at architecture firms in October to their strongest pace of growth since December 2010, according to the American Institute of Architects (AIA).
The Architecture Billings Index (ABI) score was 52.8, up from the mark of 51.6 in September. The index reflects an increase in demand for design services, a leading economic indicator of construction spending and activity nine to 12 months in the future.
The new projects inquiry index was 59.4 in October, compared to 57.3 the previous month.
"With three straight monthly gains, and the past two being quite strong, it's beginning to look like demand for design services has turned the corner," said AIA Chief Economist Kermit Baker. "With 2012 winding down on an up note, and with the national elections finally behind us, there is a general sense of optimism."
"However, this is balanced by a tremendous amount of anxiety and uncertainty in the marketplace, which likely means that we'll have a few more bumps before we enter a full-blown expansion."
Multifamily projects led all architecture index sectors by a wide margin at 59.6, followed by mixed-practice (52.4) and institutional construction (51.4). Commercial and industrial projects, typically office, retail and other sectors of CRE, remained below the growth threshold with an index reading of 48.
Author: Randyl Drummer