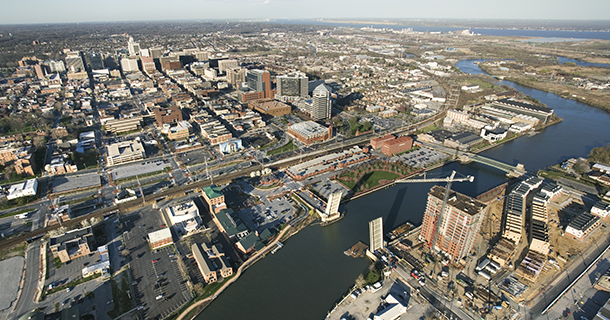 The newly -constructed rental community spans 76 units of affordable housing. Built by Bozzuto Construction Company, the new townhouse community will house low- and moderate-income families, as well as individuals with disabilities.
"The unwavering support of the city and the state, as well as residents, community groups, and local businesses, is really what made the difference in moving this development forward," said Ava Goldman, president of The Michaels Development Company. "We are excited to now begin transforming their vision of a vibrant, diverse and sustainable community into a reality."
For years, Baltimore City, the State of Maryland, and the Housing Authority of Baltimore City (HABC) have sought to replace the outdated public housing complex, originally built in 1942 and last modernized in 1983.
The plan to transform the important O'Donnell Heights neighborhood-encompassing more than 60 acres near Johns Hopkins Bayview Medical Center-into a community to serve families with a variety of incomes was crafted by the HABC in concert with local stakeholders, including O'Donnell Heights residents.
In 2010, the HABC selected the Michaels/AHC team as its private sector master development partner through a competitive process. The phased development plan, crafted with significant input from the O'Donnell Heights Tenant Council, was designed to minimize the interim relocation of the 300 households currently residing there.
"High-quality new development in the O'Donnell Heights community is long overdue. We are proud to have worked with the many stakeholders to successfully bring significant financial investment to a deserving part of Baltimore City," said Andrew M. Vincent, director of Greater Baltimore AHC.
The construction of O'Donnell Heights Townhomes will include new roads and public infrastructure, and is expected to generate 120 jobs for the local community.
The apartments will be Green Communities certified, and units are designed to meet Energy Star, and sustainability standards that will ensure long-term operating savings.
Landscaped micro bio-retention facilities designed throughout the site will properly manage storm water runoffs.
Residents will have access to on-site social services, including after-school programs, job training, and other programs to be developed by Interstate Realty Management Company, in conjunction with the O'Donnell Heights Tenant Council. Interstate Realty Management, an affiliate of The Michaels Development Company will manage the property.
Michaels Development Company, Interstate Realty Management and Prestige Affordable Housing Equity Partners, are part of The Michaels Organization, a family of eight integrated, but independent companies dedicated to affordable, mixed-income, military, and student housing.
Their mission is to create residential communities for families, seniors, military service members, and students that stand the test of time, and are managed to maximize longterm value for residents, as well as investors.
The company serves more than 100,000 residents in 340 communities across 33 states, the District of Columbia, and the U.S. Virgin Islands and with a development portfolio valued in excess of $3 billion.
AHC Greater Baltimore is part of AHC, Inc., headquartered in Arlington, Va., a private, not-for-profit developer of affordable housing in the Mid-Atlantic region providing quality homes for low- and moderate-income families.
Bozzuto Construction has built or renovated more than twenty million sq. ft. of mixed-use and multifamily residential. With revenues of $250+ million, Bozzuto Construction's portfolio includes urban infill, high-rise, mid-rise, senior living, affordable housing and garden style apartments; along with retail, theatre, and student housing.