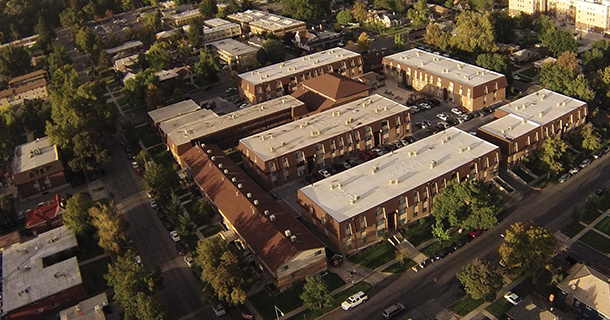 According to a December article in the Wall Street Journal, a flood of new student housing development from large REITs and private equity firms is squeezing out smaller owners.
More supply than demand is driving down rents and occupancies in some markets, says Axiometrics, which tracks privately owned student rental properties at 240 universities around the nation.
Certainly the growing number of dedicated student housing REITs and investors drawn to the sector as a recessionary hedge, diversification play or just plain higher yields have driven up prices for well-located assets.
MJW sets itself apart by going after the ugly ducklings, older B and C class market-rate apartments and smaller assets close to select university campuses that most of its competitors wouldn't look at twice. Some already operate as student housing and others are traditional multifamily, but all offer significant repositioning opportunities in their respective markets.
Calculated risks aren't new to MJW founder and president Mark Joel Weinstein. He was drawn to opportunistic investments and philanthropic pursuits when the attorney-by-trade was in law school at Loyola.
Even as a student, "I knew I wanted to 'do philanthropy' in a big way," he said.
In order to do good, one must first do well.
Though Weinstein was pretty certain he would succeed as a lawyer, his entrepreneurial spirit steered him toward a business that would allow him to give back to the community.
After seeing others make a profit in real estate, he went around campus asking fellow students to give him "their student loan money, their work money, or their savings, saying 'We're going to buy apartments,'" said Weinstein.
At the age of 21, he and his investor friends purchased their first apartment building, a five-unit property in South Los Angeles for $148,000. "We bought a property we could afford and managed it for the cash flow and that was how we got our start," he said.
He passed the bar, launched MJW Investments in 1983 and purchased three old buildings at the corner of Raymond and Green St. in Old Town Pasadena, Calif., turning them into an upscale mix of live/work lofts above restaurants and retail on the ground level.
The project helped transform the area into the burgeoning business district it is today, boasting posh outdoor cafes, pubs, comedy clubs and retail stores with trendy loft and apartment living on the upper floors and gave Weinstein his first taste of development.
Pioneering pays off

He continued to invest and cobbled together a portfolio of apartments until the recession of the 1990s gave him pause.
"I said to myself, 'Gosh, this is kind of scary, I need a countercyclical business," said Weinstein. He became a receiver working for the courts and taking over properties that were in default.
"I became known as the entrepreneurial receiver," he said, "because I was able to take properties that were in disarray, fix them up and raise the rents, which allowed the lenders to sell the buildings for more than the loan on the asset. The borrowers were happy because they had no guarantee problems," he said.
Weinstein gained contacts within the lending community during those years and resumed acquisitions in 1995, amassing $200 million of properties between 1998 and 2001.
Most prominent among them were ten garment and textile manufacturing buildings built between 1908 and 1928 in the heart of downtown L.A.'s fashion district.
"I knew I wanted to do something creative with them and I saw that this guy Tom Gilmore was doing loft conversions downtown," said Weinstein.
Along with Gilmore, Weinstein was one of the first developers to take advantage of L.A.'s adaptive reuse ordinance and the first to obtain approval for individual condo buyers to participate in tax abatement through the Mills Act Program that was enacted in 1972 to provide developers with tax relief for restoration and preservation of historic buildings.
But before taking on the first phase of Santee Court, Weinstein traveled around the country studying similar adaptive reuse projects and meeting with mayors, traffic engineers and developers, learning what worked and what didn't.
He transformed the buildings into a mixed-use project that includes 800,000 sq. ft. of retail, loft apartments built as condos, some of them work-force affordable with a 20 percent low-income allocation, 300 condos and 10 retail condos. The project boasts amenities such as a basketball court on the roof, ground floor retail, a parking structure and a food court.
Timing is everything

The challenge for any investor is the ability to know when to take risks, when to hold, to sell and even take a loss.
As the housing crisis began to unfold in 2007, Weinstein decided it wasn't prudent to move forward on the 1.8 million sq. ft. Sears building redevelopment project he had been working on for three years.
"I told the mayor of L.A., Antonio Villaraigosa, who really wanted me to build it, 'I don't want to be married to a building. I want to be married to a woman,'" Weinstein said.
He put the project on mothballs and turned his focus to student housing as a hedge against the recession.
Although 2007 was a great time to be a seller, it would take MJW another six years to find a buyer for the Sears building.
"I lost money because of the carrying costs, but if you look at the time and effort to build a $600 million or $700 million project, it would take an astronomical amount and, if you look at the other opportunities that would have been lost, including my life, it was the best loss that I ever took.
"A year later I met and married the woman of my dreams and the day the people released the nonrefundable money for the sale of the Sears building, four months ago, our twins were born, so everything has come full circle for me," Weinstein said in January.
Importantly to Weinstein, his real estate investments have allowed him to donate to a long list of charities, including The Jewish Federation's Real Estate Principals Organization, a group of company leaders who share their expertise and funds to help others in the community.
"When I teach classes, I always tell kids there are things you have to consider–things outside your control. Everyone always tells you about their successes, but I think the best way other people can learn is if you are honest and share when things are not successful. People can learn from that. I never had a mentor. That's why I do a lot of philanthropy and mentoring and I always tell people, 'know your downside,'" said Weinstein.
Formula for success

MJW has been investing in traditional value-added apartments since 1998 and owns properties in Los Angeles' Koreatown and the San Fernando and San Gabriel Valley submarkets, but student housing has been the company's main focus since 2007.
Even in the worst economy, people still go to school and if you pick schools that have the right kind of sports programs, where enrollment is growing or stable, places where it's not that easy to build, you have a proven formula for success, said Weinstein.
Today, MJW owns the 770-bed Capri in Eugene next to the University of Oregon, the 385-bed Capri at Isla Vista near Weinstein's alma mater, the University California at Santa Barbara and the 816-bed Liberty Square in Provo, Utah, just blocks from Brigham Young University–a total of 2,000 beds–and expects to close in March on another $12.5 million property in the state of Washington.
MJW purchased Liberty Square in November for $27 million through a $200 million fund established with MHE Enterprises and is spending around $5,000 per unit on upgrades.
Occupancy was 94 percent at close of escrow, but had been 99 percent in the past, despite weak management, because rents were below market.
"When we took over, a lot of the leases were already done so we couldn't have a huge impact for this school year on occupancy or rents. But the cash flow going into that deal was between 11 and 12 percent because we were able to immediately cut expenses and that gave us a big pop and we didn't have to raise rents much to get it, but we also had great financing," said Weinstein.
The trade off, he said, is that market rent increases will not be as high there as they are at the Oregon property, for example, where MJW doubled net operating income in two years.
MJW rents by the bed, not the unit, and has been able to add beds at some of its properties during rehab.
At UCSB, the company transformed units that would have had one occupant into three-bed units by creating an alcove in the living room and separating it with a slider.
"We added another bed in the bedroom so that where once we were getting $1,100 as a one-bedroom, now we are getting $2,200 because we have three beds in a one-bedroom unit. But it had to be tastefully done and look like it was construction, not Mickey Mouse, for it to work and have good ambiance," said Weinstein.
Know your renter

Important to MJW during the Santee Village project was discovering the psychographics of the project's potential residents.
"We had to be customer-centric and we are applying the same principals to student housing. At Santee Village, we took old things and made them new inside–old world charm with new world interiors. We are doing the same with student housing, taking older B and C buildings right next to pedestrian-oriented campuses and making them really great inside by paying attention to what students want, not what we necessarily like," said Weinstein.
While others in his industry had costly suggestions for upgrades to the properties, Weinstein instinctively knew most were not what the students wanted. Surveying students at the property and the university proved him right.
"The most important thing to students is being right next to campus," said Weinstein. A number of studies reveal students are willing to pay higher rent to be within walking distance of the center of campus.
That proximity is critical to renting by the bed and competing with newer properties. The farther away from campus, the cheaper the rent, so it might be possible to afford a one-bedroom and not have to share, if you are a mile or so out, said Weinstein.
When it comes to competition, "you are never going to be able to offer the amenities that A class properties have, but because you are an older property your price point will be less than the A's, so if you pay attention to what else is important to students rather than what you think is important, you can be successful, even if someone delivers new properties in the market.
"At BYU, we offered a giant Snickers bar to every kid who would answer our survey questions and 75 percent of the students answered and we are going to save a lot of money because we'll do the things they really want and not spend foolishly on things they don't," said Weinstein.
BYU is known as a "marrying" college–the place where more students find their spouse than any other school. A Facebook Data Sciences study released in October suggests that 60 and 62 percent of women and men at BYU, respectively, attended college with their spouse.
"So obviously, social life is huge at BYU. Students there don't spend a lot of time in their units. While they might want new appliances, the social events were more important.
"Instead of haircuts, we'll add a yoga studio and a new gym with 24-hour card-key access, better furniture and parties. We are redoing the outside of the building because they said that would be nice, but they didn't care about new flooring or granite counters.
"They wanted better management because they were ignored before and through Facebook and other social media that we have created with the property there is a lot of positive response.
"We go in very fast and do stuff. We like to make an immediate impact and the students are very appreciative of both the new management and the physical things that are being done and there's been really good energy," said Weinstein.
Full-time focus

This year, MJW would like to purchase $100 million in student assets with a significant value-add component and will consider properties close to universities with minimum enrollment of 15,000, strong employment growth and barriers to entry, with as little as 50 units/150 beds, as long as they are close to campus.
"We are able to do smaller deals, if we already own something close by. In Oregon, there was a 20-unit building and a pizza place right across from campus and it gave us a big-parcel assemblage. Now an assemblage right across from the main part of the University of Oregon is not only doing well as apartments, but it is great land.
"It's hard to get properties at a good price in the right location, so we will buy smaller stuff to add to our bigger stuff to be strategically located," he said.
Weinstein said the biggest stumbling block in student housing is the number of unsophisticated investors driving up prices. Sometimes it's competition from apartment people who don't know student housing and sometimes they miss the mark.
"They go into a school that is overbuilt or going to be overbuilt. They are not close to campus. They overpay for the asset and they don't understand the turns timing," he said.
"If you can't deliver units when school starts, especially when doing a rehab, you miss the whole year," said Weinstein.
He believes student housing is much more of an operating business than is typical market-rate multifamily and more of a full-time focus than a hobby.
"So we are dedicated to student housing. And I don't know anyone who has exactly our niche," he said.