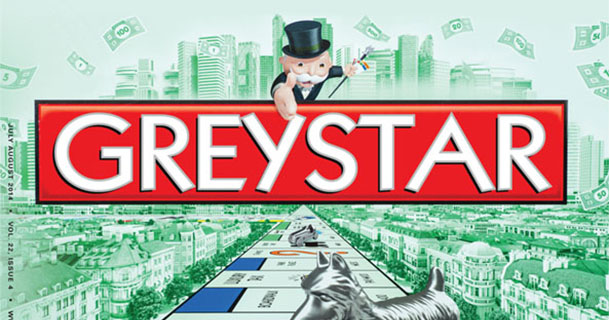 With Greystar Real Estate Partners' acquisition of Riverstone Residential in June, the nation's two largest privately owned apartment management companies are now one mega-firm with almost double the number of managed units than that of its next largest competitor-Lincoln Property Company with 153,445 units.
Both Greystar and Riverstone have been in growth mode for years, chasing market share in an increasingly competitive industry.
They also share roots at Trammell Crow, where Greystar Chairman and CEO Bob Faith was first employed after earning his MBA from Harvard Business School in 1986.
Riverstone had been the management arm of Trammell Crow Residential (TCR), Trammel Crow's residential subsidiary, before co-COOs Christy Freeland and Terry Danner purchased the firm in early 2006, when TCR exited the fee management business to focus on development.
London-based CAS Capital Ltd., a wholly owned subsidiary of the Regis Group PLC, owned by Nick and Peter Gould, bought controlling interest in the firm several months later, providing capital for Riverstone's next growth steps.
The Goulds have specialized in the creation and management of residential platforms for more than 30 years. They saw an opportunity in 2012 to capitalize on the growing inventory of single-family homes in foreclosure after the housing crash. With financial backing from the Blackstone Group, they established Invitation Homes, spending $8 billion to purchase 43,000 homes in distressed markets at auction prices, then renovate and rent them to many of the same people who originally lost them to the lenders, allowing those former homeowners to remain in their houses as renters. The partners also created a rental-backed bond issue and a subsidiary that provides mortgage-to-rent loans to other investors.
"The Goulds had a lot of success with Invitation Homes and were in a position where that company was demanding a lot of their time and focus. Nick Gould is the chairman of Invitation Homes and they have a lot of work to do there. They reached a point where it just made sense for them to focus on their other activities, but they still wanted to put Riverstone in good hands to continue their vision of becoming the leading multifamily services firm," said Greystar Executive Managing Director Andrew Livingstone.
With little corporate debt and the ability to quickly raise capital, Greystar was the obvious choice to purchase the company.
Faith's longstanding relationship with the Goulds helped with the principal-to-principal negotiations.
"Over the years, each of us had expressed an interest in doing a deal at one time or another. When Riverstone was offered for sale in December, we immediately expressed interest," said Faith.
Over the previous 12 months, Greystar had acquired 4,371-units from Inland American Real Estate and, partnering with Goldman, Sachs and Co., 27 properties with 8,010 units valued at $1.5 billion from Equity Residential (EQR) that closed from start to finish in approximately 90 days.
The speedy EQR acquisition was negotiated during the holiday season, when most people normally take time off to be with their families. "Our teams sacrificed a lot personally in order to see the EQR deal through to fruition," said Faith.
The Riverstone transaction was negotiated over a longer time period of around six months and, by its nature, is more challenging because it involves integrating the best business practices of the two companies, said Faith.
"There were offers and counteroffers and we were finally able to come to a deal," he said.
Proving ground
In many large mergers, the buyers get mired in the details of integrating the new company into the existing corporate culture.
But Greystar's criteria helps ensure proposed acquisitions are successful. An acquired company must be culturally compatible, geographically and strategically accretive and bring aboard talented people, who subscribe to Greystar's standards of quality and integrity.
Riverstone ticked all those boxes.
Greystar already proved itself capable of integrating a large group of employees on a smaller scale with the purchase of JPI Management Service's 120-property, 41,000-unit portfolio in 2008.
"That transaction was larger than any Riverstone had closed-1,150 employees-and it gave us a huge amount of confidence," said Livingstone, who is heading up efforts to integrate Riverstone and Greystar. He honed his skills during previous transactions with JPI, Archon Group L.P. and Glacier Real Estate Services.
In 2010, Greystar purchased the 28-property management portfolio from Archon, further expanding its presence in key markets. Later that same year, Greystar purchased Glacier to gain a foothold in the Pacific Northwest.
Each successive transaction was strategic to gaining market share. Glacier gave Greystar a small initial presence in Seattle, while JPI represented Greystar's foray into student housing management and added to Greystar's position in around 88 markets, including the Northeast, California and the Pacific Northwest, where previously it had little to no footprint.
The Riverstone merger has given Greystar the leading market share in many of its markets and transformed the company into an industry Goliath with 385,000 managed units and a staff of roughly 10,000 employees.
"If you do the math of 2.5 people per unit, about one million people in the United States sleep under a roof managed by Greystar," said Hunt.
Bigger is better
While the firm is now a Goliath, the company's leaders vow they will remain nimble.
Key to Greystar's flexibility is its fee management business; an evergreen platform that allows the company to ride the market cycles, building and buying when the timing is right.
Faith's belief in this business model was forged during his time as a Trammell Crow partner during the S&L crisis of the late 80s, when even Mr. Crow wasn't financeable, said Hunt.
Being nimble also means not being too proud to take on more modest assignments when times get tough.
"Only a few years ago, we had 28,000 units we were running for CMBS lenders and life companies and almost all of that is now sold. But we are not arrogant. If we can make money, if the country gets into trouble, we'd be back managing REOs. We are that flexible," said Hunt.
"I am very proud that we have a team of professionals that is so passionate about our business and dedicated to our clients and residents," said Faith about the days after the financial crisis of 2008, when many of Greystar's clients ended up taking back troubled assets.
"As their REO portfolios ballooned, it was important for us to let them know that we would stand by them in good times and in bad. Taking on REO assignments, where the bills haven't been paid for some months and there is a lot of deferred maintenance and upset residents, was extremely challenging for our teams, but it was necessary work that needed to be done," he said.
While the management business is the platform for Greystar to enter new markets, the markets are the platform to build the company's teams. Greystar doesn't exit markets once it plants a footprint. "That staying power and commitment to markets allows us to recruit and retain the best people in each of our local markets," said Faith.
Greystar's merger with Riverstone and global expansion has opened up opportunities for the career-oriented team members Greystar wants and needs for its continued growth.
"We want a leasing professional who wants to be a community manager and a community manager who wants to be a regional property manager or director," said Hunt.
"People are interested in working for a company where seemingly impossible growth and opportunities can happen. We want to be the top provider in our markets that can attract the best people to work at our offices and our properties and these professionals want to stay with Greystar because of the opportunities we offer," said Faith.
Having those local boots-on-the-ground teams with intimate market knowledge in markets from coast to coast and now country to country also benefits Greystar's clients who are looking to buy or sell assets.
"At any given time we have 40 or 50 properties for sale and we'd like to see them sell to someone else who will retain Greystar to manage. We are almost matchmakers, to a certain extent. If we know of a property that fits the mold of one of our clients, we can help them cut to the chase," said Hunt.
The investment side
Faith takes the lead on Greystar's investments, traveling around the globe raising equity from the four corners of the world.
Greystar just closed its eighth investment fund, raising $800 million in equity from global investors ranging from domestic and international pension funds to private wealth managers, to purchase value-add apartments, with an initial investment of $150 million for 10 properties, including one in Los Angeles and others in Texas and Oklahoma.
Fund 8 follows closely on the heels of the $600 million Fund 7, which opened in 2011 and closed in Q4 2013. Some of the first assets purchased in that vehicle have been renovated and are turning rents for the second and third time.
Last year, the company expanded into the UK with a student-housing venture and into Mexico, managing a portfolio of luxury high-rises, opening offices in both countries with plans to become a leading player there through property management, acquisition and development.
"We had clients that wanted us to look at student housing in the U.K. with them and we found it to be a very exciting opportunity," said Faith, referring to Greystar's October 2013 acquisition of 21 distressed student housing properties with 6,900 beds located in London, Manchester and Leeds that had been on the company's radar for some time and another three student housing properties in London that the firm purchased six months later.
"I think that it is highly likely we will expand our presence in both Mexico and the UK, as well as other countries in Latin America and Europe. We will certainly consider opportunities for traditional apartment management, as our property management platform has always provided the foundation for our investment and development activities," said Faith.
Development front
On the development side of the business, Greystar is active and targeting key markets in the U.S. and internationally to source new deals.
But just a few years ago the landscape was much different-the recession had brought development activity nationwide to a standstill, and Greystar's was no exception.
Greystar was able to build and buy quickly after the downturn to take advantage of the distress in the market, while other companies were still reassembling their teams.
"We have a big management company that does great work and there are always properties that need to be renovated for our clients. We just shifted our development guys to rehab or value-add work and when the time came to ramp up again, the team was still onboard and ready to go," said Hunt.
Today, Greystar has 38 projects with around 12,000 units fully capitalized in various stages of development and another 20 properties representing 5,000 units that are in pursuit and in the entitlement phase, not all of which will get built, said Hunt.
Dallas-based industry research firm Axiometrics predicts rising labor costs and diminished rent growth for Class A communities increases the likelihood that some of those higher end projects could stall, since they may no longer be justified at current rent levels.
Greystar has had a good run over the past six years.
"The apartment industry continues to perform well and market conditions tend to support continued growth," said Faith, who also sees development moderating a bit in line with long-run historical levels.
"We have not seen banks reduce their lending standards and you just aren't seeing less qualified developers bringing projects to market, as they can't get the equity or the construction financing.
"Development activity is slowing a bit, mainly because it is becoming increasingly difficult to find developable sites for apartments. The limited supply of land, coupled with rising construction costs, is helping to keep overbuilding in check," he said.
Warnings of overbuilding have so far proved overblown, but a March multifamily trend report from Freddie Mac suggests there will be pockets of potential overbuilding that could negatively impact vacancy rates in some communities.
Hunt thinks that Houston, which is included on the NAHB's 2014 overbuilding watch list, with 10,900 units expected to come online this year, could hit a soft patch during the next 18 months-which is about how long it takes to entitle and complete a project in most Texas markets, where barriers to entry are low.
Even so, he points to the turnover rate across Greystar's 35,000-unit Houston portfolio, which dropped 14 percent year-over-year from 66 percent in 2012 to 52 percent in 2013, as evidence of favorable market fundamentals that include job creation from a wide array of industries.
"That (turnover rate) means, in rough numbers, there were 5,000 people who did not move out who had moved out the year before. We didn't have to re-lease those units-we renewed them. We didn't have to pay the cost to make the unit ready for a new tenant or pay a locater fee or a referral fee. That's one of the things that's rewarding about what's going on in the country the last four or five years," said Hunt referring to the recent paradigm shift of college grads waiting until later in life to start a family and buy a home, choosing instead the freedom and mobility that renting affords.
Greystar, even with its now massive size, still has room to grow, both internationally and domestically, said Faith, but future growth likely will be organic as Greystar's clients continue to build and buy assets.
While the Riverstone transaction came as a surprise to many of Greystar's clients, by and large they were very supportive of it, as they could understand the synergies and the potential benefits to their portfolios and properties, said Faith.
The longer-term benefits of greater efficiency and innovation should come through integration of the two companies, a monumental task that began in earnest three weeks after the merger was announced, said Livingstone.
A steering committee made up of senior leaders from both companies is overseeing integration teams working to combine best practices. They will identify key milestones that must be reached before Greystar puts a stake in the ground claiming "integration complete" with a tentative target date of Q1 2015.
For now, however, it's business as usual, said Faith, who isn't expecting any speed bumps. "Our platforms are very cohesive. As the two largest competitors in our industry, we have had to support the major property management systems in order to meet the needs of clients," he said.
Greystar has invested heavily in Yardi's accounting program, as well as the entire RealPage suite and both Riverstone and Greystar rely on RealPage's Yieldstar revenue management program-Greystar has 168,000 units leveraging the program.
"There may be some minor challenges ahead in combining databases to standardize controls or to simplify portfolio reporting, but we don't anticipate any significant difficulties," Faith said.
Yieldstar senior VP Keith Dunkin notes that, "RealPage will continue partnering closely with Greystar as the company designs its industry-leading organization, business process and technology strategy for the future."
Big size, big benefits
With the ink drying on the Riverstone transaction, competitors are still trying to understand what a deal of such proportions means to the industry. Some hope to convince clients that only smaller companies will be able to provide the personalized attention that a firm with such a large footprint cannot.
Faith responds: "That might be true, if we operated like many of our smaller competitors. A lot of smaller competitors manage apartment communities remotely, covering vast geographies from a central office. Most do not have enough of a presence in the local markets they serve to be able to provide adequate support to their teams.
"We operate differently. We believe real estate is a very local business and having more scale in each market gives our onsite teams far greater support and resources and our clients much more personalized service than our smaller competitors can provide."
Meanwhile, Greystar plans to leverage its increased size to negotiate better pricing from vendors. "We always treat our vendors as partners, respecting them and making sure they are paid in a timely fashion and recognizing them for being involved in support of the apartment industry associations. But with our new size, we will be asking them to sharpen their pencils, and we expect to be able to drive more NOI to our clients," said Livingstone.