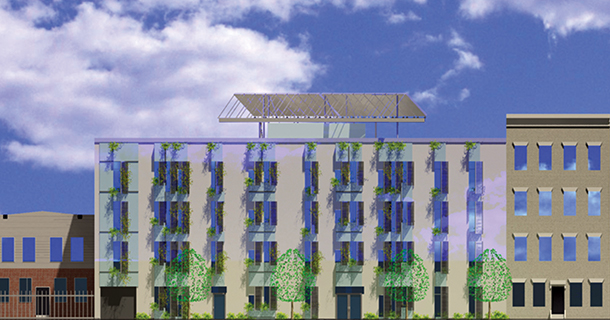 When the innovative foam-and-stucco structure at 803 Knickerbocker Avenue in Brooklyn couldn't hold up to the blower door test that's a standard trial of airtightness, the architect sent her staff scrambling throughout the six-story, 24-unit building. She and the Ridgewood Bushwick Senior Citizens Council, the project's developer, anticipate that the building will consume 90 percent less energy than conventional structures, save $23,000 a year in energy bills and beat air pressure assessments. As for the present day, the crew had found the problem: there was a window open on the sixth floor.
With that oversight corrected, the building called Knickerbocker Commons easily passed the blower door test, confirming the building's air sealing ability. So-called passive houses like this $10 million Bushwick property use at least 75 percent less overall energy than conventional buildings and 90 percent less fuel for heating and cooling through strict insulation and tactics involving facades and ventilation systems. Such structures can help the city cut out 27.8 million tons of fuel emissions and reach the European Union and New York state's goal of reducing emissions by 80 percent before 2050, according to the city's latest report on the complicated path to sustainability in the metropolis that's responsible for 0.5 percent of total global emissions.
Experts agree that the city must traverse that difficult terrain primarily through its 975,000 buildings, but the way forward is proving fraught. New York will have to enforce new requirements rolling out on the owners of the largest buildings, encourage bold approaches like passive house standards and the methods of leading companies like the Related Companies and Paramount Group and rethink the Leadership in Energy and Environmental Design (LEED) standard.
"Whatever the issue is that you care about in New York City, you're probably going to end up in buildings," said Russell Unger, the executive director of the Urban Green Council. "If we want to do anything about any of these issues, we have to come to buildings. We have to look at the short-, medium- and long-term."
City officials have been trying to do just that, especially since Mayor Michael Bloomberg's 2007 PlaNYC report called for reining in carbon emissions by 30 percent by 2030, a goal the city is quickly nearing, with a 19 percent reduction since 2005, primarily through using less carbon to generate electricity. But those pushing for further cutbacks are hoping to slash the 33.9 million tons of carbon dioxide-equivalent emissions, or roughly 75 percent of the city's carbon footprint, produced annually by the city's buildings.
The city's 2009 Greater, Greener Buildings Plan governs the energy use of New York's 15,000 properties larger than 50,000 sq. ft.-the 2.5 percent of city buildings accounting for 45 percent of citywide emissions-by subjecting owners to requirements that they report their energy use to the city, conduct audits and tune-ups every 10 years, stay in good standing with a constantly-greening energy code and make lighting and sub-metering upgrades. The changes on their own will cut greenhouse gas emissions by 5 percent and save the city $7 billion. While failure to comply will cost building owners violations and fines, staying up to date could prove expensive too, with procedures like the audits running owners up to $50,000.
But the process will serve as a worthy investment to developers, said Gina Bocra, the chief sustainability officer of the Department of Buildings and the official tasked with enforcing the slew of laws on the staggered timeline the 2009 legislation spelled out for building owners.
"If they improve the energy efficiency in their space, they see an improvement in their bottom line," said Bocra in an interview at the agency's offices. "I'm sure they'd like to use that capital for something else besides their energy bill."
Yet even though Bocra called PlaNYC and its associated components a "landmark sustainability plan," several experts-Benedict, in particular-say the true path to large-scale emissions reductions will require a much more radical approach.
Benedict is trying to convince as many property owners as possible to develop new buildings of all sizes along the more rigorous passive house principles, she said during an exclusive tour of the soon-to-open Knickerbocker Commons. Projects like her next building, a 40-unit market-rate passive house apartment complex by Synapse Capital on 153rd Street in Harlem and more high-volume developments in Europe and China make her hopeful of convincing developers, construction companies and fellow architects to build on standards that are based more on airtight, sealed buildings than expensive gadgets.
While the Knickerbocker property with a wedged exterior that soaks in sunlight during winter and provides shade during summer looks space-aged in a neighborhood of low-slung walkups, it cost no more to build than a conventional building, according to both Benedict and Scott Short, Ridgewood Bushwick's housing director. The building, with six units for residents with incomes less than 30 percent of the area median and the rest for residents with incomes lower than 50 or 60 percent of it, attracted 10,000 applications to a Department of Housing Preservation and Development lottery. Benedict and Short also collaborated on a new multifamily property elsewhere in Bushwick, at 424 Melrose Street, that they believe to be the first affordable multifamily passive house in the country. And while negotiations with the city over the designs for the buildings sometimes proved difficult, they say local officials have become much more receptive to their approach.
"We had to do a lot of pushing, a lot of educating and a lot of talking at every forum we could get into," Benedict said. "Now it seems as if this stuff is in front of them. Before, it was something like me coming in and begging. There's been a huge change."
Perceptions of LEED standards, which only produce energy-use reductions of up to 40 percent, according to the LEED-certifying U.S. Green Building Council, have also evolved, at least according to some passive house practitioners. LEED guidelines, which judge a building on its projected energy efficiency as well as on its location near public transportation and other factors before awarding designations ranging from "certified" to the highest-level, "platinum," have spurred the market toward many more energy-efficient practices but have now fallen behind the curve, said Ken Levenson, an architect who is a co-founder of the nonprofit New York Passive House.
"The detriment of LEED has really been that it's never taken on climate change by the horns," said Levenson, who counts at least 24 passive house projects in the city. "Twenty and 30 percent isn't going to get us to where we need to be."
With a growing chorus calling out LEED, even the local affiliate of the Green Building Council lends a receptive ear to critics of the status quo, Levenson said.
The Urban Green Council, a nonprofit coalition of architects, building owners and construction companies that started as the Green Building Council's local partner in 2002, has for two years been pointing out the inability of modern glass towers to store heat and cold air in reports critical of floor-to-ceiling glass exteriors. The latest report, entitled "High Cholesterol Buildings," slams the shiny structures as offering Medieval-era insulation. And the group's executive director, Unger, sought to put the LEED standard in context.
"I don't think anyone today would say that a building that's LEED platinum is what we want buildings to be 30 years from now," Unger said. "LEED is a means toward a greater good and a greater mission. It's wonderful that there's something like passive house, but we're here because of LEED and it's easy to take that for granted."
A development like Related Companies' five new office towers on the Far West Side at Hudson Yards looms too large to be taken for granted, and company officials have planned an area with energy use linked by a "thermal loop" and mechanisms for saving wasted heat and converting food waste into fertilizer. The company, which sent representatives to the New York Passive House Conference and Expo last month, implemented more efficient automated lighting in its MiMA building at 450 West 42nd Street and made it one of the most efficient properties of its type in the city, according to Charlotte Matthews, Related's vice president for sustainability. She added that the city's requirements for energy audits and upgrades every 10 years won't pose a challenge to Related's properties.
"In our portfolio, we were already doing that," said Matthews. "But that's not the point. I think a lot of owners just don't know the energy they could be saving."
Meanwhile, Paramount Group cut energy in its 14 properties in New York City, Washington, D.C. and San Francisco by a collective 12.1 million kilowatt hours last year, according to the company's senior vice president of property management, Ralph DiRuggiero. One of the firm's D.C. properties, at 425 Eye Street in the city's downtown area, took home D.C. Mayor Vincent Gray's sustainability award this year in honor of a two-year renovation that has the space performing better than 97 percent of similar buildings nationwide and saving nearly $250,000 on energy per year. The company embraced energy reduction for two reasons, said DiRuggiero.
"It makes sense to do in terms of the environment," DiRuggiero said. "It also makes us more competitive. It's a win-win for everybody, the way we think about it."
Paramount and Related exemplify just two of the companies innovating on energy usage, but there's a long way to go, experts agree. Only a combination of changes-from wrapping buildings in higher-performing exteriors, to improving building management systems and changing the sources of energy-can net the significant carbon emission cuts New York needs to implement, according to the city's December 2013 Pathways to Deep Carbon Reductions report, which calls the goal of reducing emissions by 80 percent before 2050 achievable yet "exceptionally difficult." But the city is making progress, said Bocra of the Department of Buildings.
"I think it's important and we have a lot more we can do," said Bocra. "Nobody can do everything, but we're taking a lot of important steps."
Author: Tobias Salinger