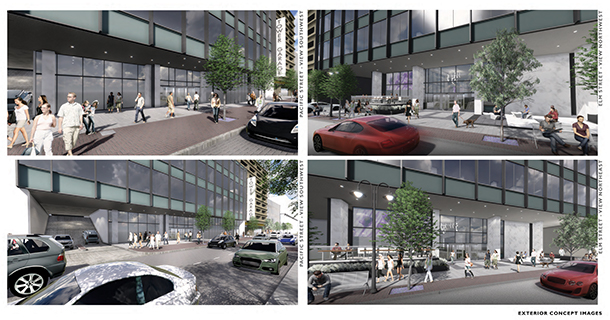 "Great cities of the country are usually led by people living and coming downtown on a 24-hour basis, so we at HRI are glad to be a part of a renaissance in downtown Dallas," Pres Kabacoff, CEO of the 32-year-old company he founded in 1982 with his late partner Edward Boettner, said during the May 29 ground-breaking ceremony for the historic reconstruction of the 50-year-old LTV Building.
Interior work was already underway during the celebration of the launch of HRI's sixth hotel-apartment combo, following similar historic reconstructions in New Orleans, Houston, Richmond, Va., and Jackson, Miss.
"We're going to bring a couple hundred apartments, 180 hotel rooms, restaurants and parking as part of a resurgence and return of people to live in this city of Dallas," said Kabacoff, adding that Dallas is "blowing us away in terms of growth."
In 1999, only 200 people lived in downtown, but the next six years saw the addition of another 3,100 downtown dwellers. The population grew to 7,000 by 2010 and today around 8,500 people call downtown home and the city expects that number to grow to 10,000 residents within the next two years.
By the end of this year, 1,500 apartment units will break ground or be under construction in downtown.
According to Marcus & Millichap's Q2 2014 report on the Dallas/Ft. Worth metro area, the increase in apartment completions this year will be met by an increase in renter demand, thanks to expected home price appreciation, accelerated employment growth and outsized population growth.
"As a leading metro for job creations, Dallas/Fort Worth will continue to attract new residents. In 2014, net in-migration will total nearly 78,000 individuals, generating significant new demand for local housing," the apartment research firm predicted.
At the end of the first quarter, 23,775 units were under construction in the Dallas side of the metro and developers are expected to deliver a total of 19,000 apartments to the DF/W Metroplex this year, "a sizeable increase from 2013, when 13,000 units came online."
With professional and business services leading job creation, luxury apartments like those planned for the residential side of the LTV reconstruction will benefit from the expected corporate relocations and expansions, as companies like Toyota, USAA and State Farm create thousands of professional-level jobs in the Metroplex, hastening the absorption of luxury apartments.
"Toyota recently announced plans to relocate its North American headquarters to a planned one million sq. ft. campus in Plano. The move, which will consolidate operations in California, New York and Kentucky, could generate up to 3,750 jobs in the Metroplex. As part of its tax-incentive package, Toyota agreed to transfer at least 2,900 workers to the new campus by 2017," Marcus and Millichap reported.
During the May 29 re-birthday party celebration of the LTV building's $80-million reconstruction launch, Kabacoff explained that many of the office buildings that were built in Dallas' downtown in the 50s and 60s and 70s no longer work as office and are now eligible for historic tax credits, "which is an incentive that you can utilize to finance complex projects like this."
"We love the fact that we could do a rooftop pool, have parking within the building, have a restaurant on the ground floor and combine uses," the New Orleans native said, adding, "When you combine hotel with residential, you actually make your residential very happy because they can take advantage of hotel amenities."
"We're a neighborhood builder. We like to revitalize cities by creating diverse, vibrant and sustainable communities," he said, explaining that HRI has done more than $2 billion worth of similar projects in cities across the country. Since its founding, HRI has completed more than 68 large-scale projects which total 5,114 apartment and condominium units, 4,116 hotel rooms and more than 1.3 million sq. ft. of retail and office space.
"We go into a city, we meet the power structure-the mayor, the business community, the civic communities, the council, and say, 'Where do you want your Soho?' And, we work in public/private partnership to help that city rebuild neighborhoods, 24-hour life, office, retail, artists' housing-whatever works to make a downtown revitalized," said Kabacoff, who recently told an interviewer, "I don't think of myself as an opportunist developer. I think of myself as on a mission."
Looking to the future, Kabacoff says, "We're going to have to find a way to get out of the car. And, so, we're going to have to concentrate living activities near work, near play, near transportation."
The LTV site offers all of those opportunities. The 32-story, 5,000-sq. ft. building, which will house a 171-room Hilton Garden Inn on the first and fifth through 14th floors with parking on the second through fourth floors and apartments on the 15th through the 32nd floors, is located right across the street from Thanks-Giving Square, which includes a landscaped park, a major section of the underground pedestrian network and the Bullington Truck Terminal, all within walking distance of a DART station and a number of office buildings.
The hotel amenities will include a first-floor lobby with a restaurant and bar and outdoor seating. Among other hotel amenities will be 2,000 sq. ft. of meeting space on the fifth floor, an outdoor pool deck and a private fitness center. Hotel guest rooms will feature all the Hilton Garden Inn brand's standard features, including 42-inch flat-panel TVs and in-room refrigerators. Apartments will boast condominium-quality finishes and will include washers and dryers and views of the Dallas skyline. Separate resident-only amenities will include a fitness center, a rooftop deck and community space, in addition to access to the public amenities of the hotel, like the restaurant and bar.
HRI closed April 30 on its purchase of the black glass tower, that was designed in 1961 by architects Harwood K. Smith and Dales Young Foster and opened in 1964, from its previous owner San Antonio-based Ricchi Investments, which had planned to transform the structure the company purchased in 2009, as the Great Recession ended, from a previous owner that went bankrupt, into a hotel and condominiums.
But the effort of the developer, which specializes in luxury condominium development, commercial real estate, land development and asset management, stalled after the completion of the initial clean-up, which included asbestos abatement, interior demo and a new HVAC system and was funded by a $12.8 million contribution from the city.
HRI also is the beneficiary of funding support from the city, which is pumping another $17.5 million in tax-increment financing (TIF) funds into the tower's rebirth effort. Other financial partners in the deal include Capital One Bank, Fidelity Homestead Bank, First NBC Bank of New Orleans and Stonehenge Capital, said HRI's Kirsten Vaselaar, project manager for the historic restoration that is expected to be completed in September 2015, during the reconstruction launch ceremony.
"It's great to hear the noise from construction crews in downtown Dallas. I love it," said Dallas Mayor Mike Rawlings, recalling an earlier renaissance in the area 50 years ago that included the construction of the LTV building, where banking facilities for the National Bank of Commerce were located on the second and third floors and the executive headquarters of LTV (Ling-Temco-Vought) Electro-Science Investors and American Life Insurance Company were housed in the 28-story tower portion of the building.
A pedestrian passage on the ground floor that included a marble and granite pedestrian mall was open 24 hours a day and drive-up bank customers could conduct business over a closed circuit television system at the innovative motor bank Teller-Vision. Terraces and gardens were located on the roof of the three-story base and the top floor of the building was home to the private Lancers Club.
Covered with 125,000 sq. ft. of dark glass and strips of aluminum molding, the building's facade boasted the world's largest electronic signboard, consisting of thirty windows on each of 25 floors that were individually controlled and could spell out messages. It often spelled out "LTV" and even sported a figure of Big Tex in lights during the State Fair.
The building was sold in 1968 and again in 1975 to Dresser, Inc. followed by a series of owners that intended to turn the building into residences but, due to economic conditions, none of those plans came to fruition.
"A lot has changed in those 50 years and it is great to have a new rebirth in downtown Dallas since that time," Rawlings said, predicting that Dallas will continue to grow, if downtown grows. "It's something that is a key strategy of ours and we, as a city council, believe that, whether you live in far north Dallas or far south Dallas, the future of Dallas is based in downtown Dallas."
Philip Kingston, the city councilman whose sphere of influence includes Dallas' District 14, which encompasses the city's downtown, said the LTV building's rebirth is an exemplar for what the city is trying to do in the old heart of the city's CBD by bringing working people into downtown to live, work and play.
That's exactly the vision that Downtown Dallas Inc., the city's economic development engine, and private stakeholders determined was essential for the revitalization of the city as a whole in the creation several years ago of The Downtown Dallas 360 Plan, which was built upon past studies, weaving together those initiatives to ensure coordinated future development and advancing Dallas-Fort Worth's regional vision of better multi-modal integration, reduction of auto-oriented land use and focusing on a more diverse downtown urban experience through increased housing choices, reuse of existing buildings and a more engaging pedestrian environment.
"The successful redevelopment of downtown means transforming old office buildings into new uses," said Karl Zavitkovsky, head of the city's office of economic development, in March 2013. "Adaptive reuse projects are complex, expensive and require significant city support. They also require strong and experienced private sector development partners. HRI meets all those criteria and we are very comfortable recommending this deal to the TIF Board and City Council," he said.
"This feels like policy put into practice through the good works of our economic development department," Kingston told the crowd that gathered outside the LTV building for the recent reconstruction celebration ceremony. "And, it is one of the last vacant buildings in the old core," he said, adding that he is pleased to see Dallas-based partners like Merriman Associates/Architects, Inc., which is working with HRI's architectural arm, HCI Architecture, Inc.; general contractor Andres Construction Services and interior designer Looney & Associates involved in the project.
Once it is completed, HRI Lodging, HRI's affiliated hotel management arm, will manage the Hilton Garden Inn Hotel and HRI Management will manage the apartments, where rent for a 700 sq. ft., one-bedroom apartment will start at $1,800 and $2,200 for a 1,100 sq. ft. two-bedroom unit.
Meanwhile, the historic restoration expert is in the midst of a similar project in the company's own backyard. In May 2013, HRI purchased 225 Baronne, a 30-story former office tower in downtown New Orleans. And, in early July 2013, announced that it had closed on $100 million in financing to complete the building's conversion.
The transformation of the 51-year-old, 30-story, 550,000 sq. ft. former office building will include 192 apartments, a 356-space public parking garage and New Orleans' first hotel under the Starwood Hotels and Resorts' Aloft brand that is scheduled to open early next year.
In its heyday, 225 Baronne was one of the most prominent office buildings in The Big Easy. The offices of Boeing and Chrysler, the British and Canadian consulates, a law firm and oil companies like Tidewater, Shell, Mobil, Gulf and British American once occupied full floors there.
The building that was instrumental in keeping downtown New Orleans alive in the early 1960's, when a migration to the suburbs was eroding Mardi Gras City's population, has been vacant since 2005, when it fell victim to Hurricane Katrina.
"Just as this building in 1962 asserted the viability of downtown New Orleans in an era when other cities were abandoning their historic centers, the redevelopment of 225 Baronne continues HRI's mission of adaptive reuse of historic properties in city centers," said Josh Collen, HRI VP of development.
"A new life for this building will lead to the elimination of blight along the Baronne corridor, bringing the revitalized, healthy core of the CBD toward Loyola Avenue."
Also in July 2013, HRI received approval from the New Orleans city planning commission and city council to transform the building's second through 10th floors into a garage and to demolish an adjacent two-story structure to make way for construction of an enclosed structural steel ramp to provide access to the parking garage.
"It's a pleasure to see a developer coming in to move these buildings back into commerce," said Planning Commissioner Joseph Williams, when he expressed his wholehearted approval of HRI's plan.
The transformation of the structure that was one of the first major buildings built in the central business district after World War II and one of New Orleans' first high-rises was expected to create 300 construction jobs and 76 permanent hotel jobs.
In late December 2013, asbestos abatement and internal demolition work began at 225 Baronne, which will join other successful HRI reconstructions in the birthplace of jazz, including the conversion of a six-building facility that manufactured steel cans into the 268-unit American Can Apartments in 2001 and the former home of Blue Plate Mayonnaise that HRI Properties transformed into the 72-unit Blue Plate Artist Lofts in 2011.
HRI plans a unit mix of 124 one-bedroom apartments, 63 two-bedroom units and five rooftop penthouses with private balconies. Apartment sizes will range from 715 sq. ft. to 1,850 sq. ft. and will feature condo-level finishes including stone countertops, hardwood floors, in-unit washer and dryer and stainless steel appliances. Amenities included in the reconstruction will include an on-site property management office, a multi-purpose room, an exercise room and covered bicycle parking.
The building also will feature a rooftop pool, community room and fitness center and a separate pool for hotel guests.
HCI Architecture, HRI's in-house design affiliate, is architect for the project and Roy Anderson Corp., a subsidiary of Tutor Perini Corporation with an office in Metairie, La., was named general contractor for the reconstruction last November and awarded the contract valued at $61.3 million.
Last year, Collen said the plans for 225 Baronne are the culmination of a nationwide search for a building located in an urban downtown setting that was eligible for state and federal tax credits, as well as federal new market tax credits.
"When you line all those up, you don't have too many places in the country. We have been looking in places like Philly, Denver, Baltimore and some Texas markets," he said.
Construction began in November 2013, with anticipated project completion in February 2015.