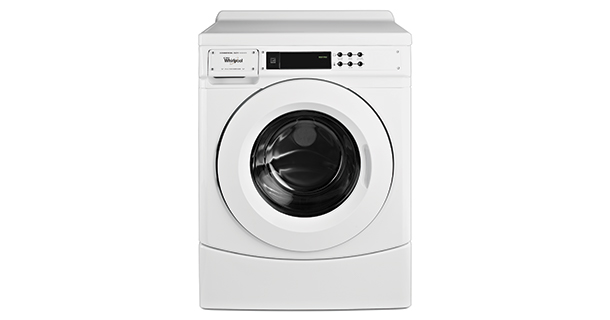 Speed Queen, Whirlpool and Maytag all offer laundry systems that also have less impact on the environment than previous models, while making life easier for residents of apartments and student housing and saving money for the communities that offer them.
Going green while getting clean
Comparing a 10-year-old Speed Queen top load washer to a 2015 Speed Queen Quantum front load washer, using national average electricity, gas, water and sewer prices, the company figures utility savings of $318.60 per machine per year with the new washers, according to Craig Madson, North American sales manager of Speed Queen's Multi-Housing division, which provides commercial-quality laundry equipment for community laundry rooms.
The 10-year-old Speed Queen top loader has a 14-pound capacity and uses 31.5 gallons of water per load. The 2015 Quantum front load washer that debuted last January uses just 11.7 gallons of water and has a capacity of 21.5 pounds. All Speed Queen front load washers have qualified for the ENERGY STAR rating by exceeding the U.S. Department of Energy standards for commercial washers' energy and water usage.
The new washers feature increased rpms, up to 1,200 from 1000 rpms, wringing out more moisture, so less time in the dryer is required.
Whirlpool's 3.1 cu. ft. high-efficiency commercial front load washer also promises utility savings. The company is producing clothes washers today that use 73 percent less water than those made in 1975 and are ENERGY STAR qualified, with a CEE Tier II rating.
Maytag's High-Efficiency series commercial front load washers with Energy Advantage, which are ENERGY STAR qualified and CEE Tier III rated for the highest level of energy and water efficiency, promise savings of up to 60 percent on water, energy and sewer costs, compared to previous models. The washer's 1,000 rpm high-speed spin extractor that removes more water than the company's previous models reduces dryer time, further reducing the cost of energy.
The company's Turbowash technology combines Maytag's spray baffles that deliver water directly where it's needed for maximum saturation with less water use while programmed tumble patterns continuously turn laundry through the wash cycle.
Reducing noise while eliminating dirt
Speed Queen's new front load washers not only save their owners money but also feature redesigned suspension and advanced sensing logic, delivering smoother cycles and less vibration and noise.
"Apartment, condo and dormitory residents often complain about machine noise that carries into their units," said Madson. "This issue was a key consideration while developing the new front load washer, which reduces noise by limiting vibration while providing superior wash quality."
The new washers feature Dynamic Balancing Technology, which manages and redistributes out-of-balance laundry loads, resulting in smooth uninterrupted wash cycles.  It minimizes negative effects on nearby residents by reducing vibration to deliver 2.5 times less noise without sacrificing spin speed or cycle times.
Likewise, Maytag's smooth balance suspension system provides quieter action.
New dryer technology
New technology also has improved the efficiency of dryers in recent years.
Speed Queen dryers feature an axial airflow system that brings hot air in through the back of the machine's inner drum and exhausts it out the front of the inner drum, forcing hot air through the clothes basket, no matter how large the load.
Speed Queen's new T45, 45 lb. stacked commercial tumble dryer stands as the most efficient commercial tumble dryer the company has ever built. The machine has 50 percent more rated capacity than Speed Queen's 30 lb. stacked dryers and the potential for up to 44 percent increase in profit per sq. ft. of laundry room space.
Maytag dryers also feature an axial airflow system and their drums have tapered, uneven ribs for better load distribution and faster drying. They use two thermostats to monitor heat in order to protect laundry against damaging overheating.
The system, Maytag asserts, is faster and more efficient for larger loads than competitors' radial systems, which allow some of the hot air to escape around the tumbler. The company's advanced moisture sensing devices eliminate excessive drying and save on utility bills.
Maytag's heavy-duty traditional rear trunnion drive system provides a longer machine life with less maintenance than competitors' belt-around-drum drive systems, according to the company.
The company's commercial dryers also are designed with dryer venting needs in mind. TurboVent technology, which was developed for Maytag's Dependable Care and Super-Capacity dryers, offers 100 feet of venting capability to provide maximum performance and shorter drying times, while helping save energy costs in poorly vented situations.
Maytag created TurboVent technology because many apartment buildings, university housing, hotel guest laundry areas and even coin laundry facilities were designed without proper venting for laundry which leads to poor drying performance and a serious waste of energy.
With TurboVent technology, the blower spins 25 percent faster than in previous Maytag Commercial Laundry models, without affecting the speed of the tumbler. The extra blower speed makes it possible for the dryers to be used in longer vent installations without sacrificing performance, so drying time is reduced, even if the vent system is poor, which also helps reduce wear on internal parts.
Maytag's 75-pound Commercial Energy Advantage dryers also feature tempered glass doors and solid dryer drums to help keep warm air in the drum, which forces more heated air through the load to reduce energy use. Moisture sensor bars measure the dampness level of the load to prevent over-drying, a major cause of wasted energy.
A reverse tumble feature reduces dry times on large items like sheets, blankets and comforters and microprocessor controls allow operators to pre-program dryer times, temperature and cool-down time.
Keeping in touch
Advances in laundry room technology also include communications systems that keep users and owners informed about the progress and health of commercial washers and dryers.
Available on its Quantum Control-equipped washers and dryers, Speed Queen's WashAlertTM allows laundry rooms to be networked to a website or property cable channel, giving residents the ability to remotely check machine availability and remaining cycle times, and can send an email or text message to notify the user when a machine is available or a cycle is complete.
Rick Arcuri, university director of business operations and auxiliary services for the past 27 years at Marquette University in Milwaukee, Wisc., had a lot of complaints from students about the inconvenience of doing laundry before the installation of the new Speed Queen machines with WashAlert made his job a lot easier. Since the installation of the new equipment, complaints have been replaced with gratitude.
"We go into a residence hall meeting and ask, 'What are we doing well?' Every time, the new laundry system comes up. I've had people come up to me and say, 'Hey, thanks for the new laundry equipment,' as though I did it myself," said Acuri.
"I don't spend my time worrying about out-of-order machines anymore. Before we had this technology, we would constantly have to walk through the laundry rooms and check for down machines one by one. Now I just monitor their status on a computer screen," he said.
Whirlpool machines incorporate 6th Sense Live Technology that allows appliances to be controlled remotely via a computer, smartphone or tablet and offer notifications and alerts to consumers to deliver real-time information, such as energy rates and consumption.
Whirlpool commercial laundry also offers machines that connect with owners and users and the company's E-Z connect auxiliary harness makes connection to popular university payment systems possible.
Maytag commercial laundry appliances also feature a full set of remote management and feedback features that provide full control of machines from any location.
Maytag Connect 360º offers real-time information accessible through a cloud-based system from anywhere that has access to the internet, via computer, tablet or smartphone.
The system helps an owner set and adjust prices from afar by gathering practical data on operations behind the scenes and putting it all together in reports that include current machine state (in-use/available), total machine cycle counts per location and revenue collected within date ranges set by the owner.
"Our exclusive monitoring system allows owners to keep an eye on profits from anywhere. We're offering yet another way to reduce downtime, increase profits and attract today's technically savvy customers, all while simplifying operations for an owner," said Maytag Commercial Laundry General Manager Bob English, when the web-based laundry room communication and management system was introduced.
The ability to connect wirelessly, via Connect 360º, to their laundry facilities is also a desirable amenity for residents of apartment and student housing communities. A website gives end users easy access to all the information they need about the progress of their laundry without requiring continual visits to the machines.
By upgrading to today's water- and energy-efficient laundry equipment, owners and operators of multifamily and student communities not only reduce utility costs, while increasing convenience for both owners and users, but also improve their property's image as an environmentally friendly member of the community.