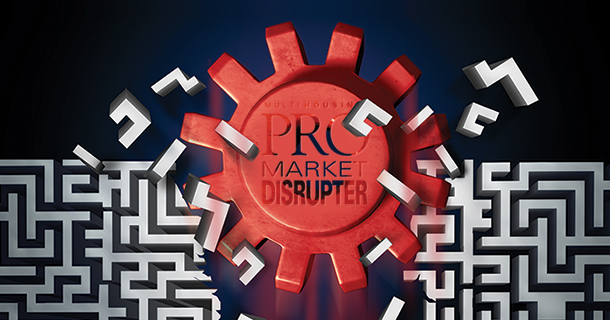 Whether you subscribe to GenFlux (those who seek constant disruption) or hold to the adage that history repeats itself ad infinitum (the future is found in the past), we as owners and managers, even residents, follow one common desire across demographics, psychographics and cultures.
We're looking for a better, faster, more efficient way to do things, whether to save time, cut costs, or improve our margins.
So here we proffer some breakthrough products and services that have delivered results and show promise of helping owners and operators become more profitable.
Matterport

Matterport camera and software lets owners and managers capture, edit, and share virtual models of their apartments and communities. Its 3D modeling delivers an online and virtual experience of the community as if the prospect was there.
Matterport says that its product helps shorten the sales cycle, pre-qualify prospects, fill vacancies quickly, and generates more qualified leads. They add that those communities using the product triple their web engagement with prospective renters versus photographs alone.
Industry giant, Apartments.com uses Matterport for 3D tours and says that it produces 49 percent more leads (source: Apartments.com internal data, based on average leads 7/15 through 5/16) and that site users spend triple the time engaging with property listings that offer the Matterport 3D tour than those without.
Matterport believes that stagnant photos are no longer enough so they've worked to make the process simple.
The company's algorithms, machine vision and automated capture process create a blueprint and visual imagery that build a dimensionally accurate 3D experience that doesn't require complex operations or manual processing. It was designed to be as simple to operate as a toaster; no previous photography experience necessary.
Launched in 2014, the Matterport kit includes a Matterport Pro Camera for mapping space, the Matterport Cloud for processing, organizing and hosting, and 3D Showcase, the embedded web player for viewing Matterport Spaces.
Founder Matt Bell previously worked for a gesture recognition company that used a $50,000 camera and expert operators to produce CAD files that were accessed through a proprietary application. Bell was amazed at the power and simplicity of the $150 Microsoft Kinect motion-sensing device, and saw the potential for a relatively cheap device that could let anyone map rooms to create 3D models.
He teamed with David Gausebeck, formerly of PayPal, and they combined their passion for real-life 3D experiences at a reasonable price. Matterport first made a successful launch in residential real estate, which caught the attention of a couple major multifamily players.
Forty-Two, LLC

Forty-Two LLC. is an apartment management firm specializing in revenue optimization. The firm drives net operating income through a 5-point strategy: acquisition and training of top front-line talent; focus on the asset's brand; tracking and quantifying the property performance to measure progress; compare metrics against market; and identify and prioritize best practices.
Forty-Two says its success comes by way of increasing residents quality. This means attracting a demographic with higher disposable income, those compliant with lease terms and those willing to pay more for great service. This, in turn, increases the asset value and lifetime profitability.
Forty-Two customizes plans with the goal of optimizing the property's income through a proprietary system.
The company also consults on product design, and market timing and positioning. Some of their touch points include a property's marketing effectiveness, new product development or renovation at pre-construction, product content development for industry software, new business development and asset performance and management.
Jennifer Nevitt, founder and CEO, has developed ROI strategies for multifamily portfolios since 1993. Her firm has worked with over $6 billion in aggregated assets to create successful income growth strategies and considered one of the nation's most innovative real estate marketers.
Forty-Two has developed $300 million of multifamily for-lease assets and was responsible for the lease-up process, investor exceeding committed returns, and instrumental in packaging to sell assets managed by Nevitt and her team.
Nevitt is also a contributing author of the Urban Land Institute's book, Developing Multifamily Housing, and co-author of the National Association of Home Builder's book, How to Excel at Leasing Apartments. Nevitt was also chief executive officer, inventor and founder of YieldStar Technology, LLC, a yield management, B2B software application that optimized revenue for the multifamily industry. The assets were eventually acquired by RealPage.
Nevitt found herself viewing profit and loss statements that showed thousands of dollars left on the table due to unengaged management teams. This inspired her to create her own platform to increase such companies' revenue, as well as an expense management program to boost overall financial performance.
SightPlan

SightPlan believes that accessing a multifamily property's full history should be as simple as point and click.
By analyzing how work gets done on site and the way updates and aggregate reporting is routed to regionals, executives and asset managers, they've honed in on the information work flow of site teams throughout the lifecycle of a property. This begins at construction through to lease-up, years of operation and eventually rehab or acquisition.
Fixed asset tracking is just one part of this complex mapping. There's been little improvement in the hand off of asset details from construction to operations because short-term thinking is the norm—management just wants to get in and start leasing.
It's only when appliances, carpet, and air conditioner issues arise months or years later do people wish that the transition would have been more organized. There's real value for property managers and owners alike in knowing the condition of assets in the field in order to discern failure rates, and systematically track, repair and replacements and their associated costs.
To improve this transparency, SightPlan has created a new kind of operating platform with powerful, easy-to-use technology at a price that pencils in time saved, negotiating power, better financing and easy compliance with certain regulations.
The geo-location feature precisely maps buildings, assets and amenities on properties. Any selected asset or group of assets is bar coded and tracked. We then use this information to help optimize maintenance operations and perfect a capital improvement plan.
Visual documentation and work verification to ensures that work is done right the first time, and that maintenance teams, including those who are not native English speakers, are empowered to reach their full potential.
SightPlan streamlines communication with residents and vendors while providing a better alternative to staff members texting each other. The software combines answering service and work order systems to deliver a single source for all maintenance matters.
Easy-to-use project management capabilities are placed directly in the hands of techs and vendors to help accelerate make readies, rehab and capital project work.
The software takes a different approach to system integration, too. It works alongside property management systems, avoiding disruption to accounting and leasing practices while enabling standardization and monitoring of resident service and maintenance operating policies.
But perhaps the greatest innovation is its fresh approach to usability, one that matches the expectations of technology savvy professionals and front-line team members alike. Mostly it delivers a top quality experience to residents.
Presently over 30 management companies use SightPlan, with a number of showcase clients in the group.
More renters-by-choice is raising expectations for operational excellence, increasing focus on asset preservation and revealing limitations in the traditional multifamily tool set.
With SightPlan, site teams can replace logbooks and paper work orders, build preventive maintenance programs and provide a modern resident experience while ensuring compliance with company policies and managing risk.
The company helps multifamily owners and operators develop and implement best practices by combining work orders, inspections and preventive maintenance into one solution. It boosts resident loyalty with status updates and by streamlining communication, and delivers insight so owners can make better decisions.
Property owners have SightPlan offers a verified view into the actions that have been taken through the life of the asset.
SightPlan company Founder, Joseph Westlake, announced the company's mission at the National Apartment Association Education Conference two years ago when accepting the trade group's Innovation Award. He shared that the company's focus was to empower leasing, resident service and maintenance teams with easy-to-use solutions, as well as deliver exceptional service.
SightPlan is designed for any asset or portfolio, no matter the size or property type including conventional, affordable, student, military and senior living. Getting started is often budget neutral.
The company offers two packages. SightPlan Answering Service is a smart answering service that integrates powerful voice recognition technology into the call experience of prospects and residents. SightPlan Operations Suite extends the capabilities of Answering Service with a resident portal, multi-channel communications, mobile work orders, inspections, preventive maintenance, asset tracking, and package acceptance.
The SightPlan team hails from Microsoft, Google and Yahoo along with experienced multifamily veterans all aligned to build an enterprise level platform, with a core concept rooted in site level experience.
Westlake, like many in the industry, got his start in the apartment business working on site. In his first job, he worked as a maintenance tech and learned the business with manual make ready boards, paper work orders and dusty logbooks just like most of us. He studied computer science in college and after a career in technology, including 10 years with Microsoft, he decided to address those out-of-date practices that have outlasted their usefulness.
Not only did Joseph have his personal experience to identify challenges in the industry, he also had the input of his family and friends who are also in the business. Joseph's wife, Nyla Westlake, grew up in the industry starting as a leasing consultant and moving into positions as varied as technology trainer, asset manager and developer. She's seen nearly all sides of the multifamily industry and found a lot of areas where new tools and approaches were needed.
The combination of Nyla's industry insight and Joseph's tech skills were the start of SightPlan, but the story has now expanded to include many other industry professionals that share Joseph's passion for delivering the best tools to help site level team members do their best work.
Inspire WiFi

Inspire WiFi provides bulk WiFi to apartment communities nationwide, and covers all units and common areas.
Their turn-key solution includes equipment, installation, dedicated Internet bandwidth, targeted marketing and on-going 24/7 U.S.-based technical support, monitoring and on-site maintenance.
Inspire considers themselves a marketing company that happens to provide WiFi, and aligns with apartment communities looking to increase occupancy and retention. Inspire says they accomplish this by providing a complimentary and customized marketing program including outdoor posters, window stickers, clubhouse signage, connection guides for existing residents and even postcards to send to prospective residents as in a recent program they implemented for Lincoln Property Company.
Inspire targets owners and property management companies who want to differentiate their community by offering WiFi; an amenity that every resident will use.
Over the past few years, free WiFi has become an expectation of Americans when visiting a coffee shop, hotel, airport or other public space. Unfortunately many apartment owners continue to treat WiFi as a profit making utility even though residents are accustomed to free WiFi by virtue of getting it in most places.
The owners and managers with whom we partner understand the concept of adding value to their asset, and differentiating themselves within the market. Always a popular amenity, free WiFi has helped shore up occupancy, retention and rent levels.
Inspire appreciates that they've added value to their apartment owners' assets. It's helped these companies align with their residents and is an easy cost to absorb since marketing materials, tech support and on-site maintenance is covered under one fixed monthly fee.
This success was not instant. When first founded, the company attempted to be all things to all people. It provided all types of telecommunications services to apartments, hotels, restaurants, schools and hospitals. Over time, the company honed in on apartment communities where they had the greatest expertise and knowledge, and in turn, greatest success.
Inspire WiFi was started by the Scheck Group, a family owned private-equity investment firm that has a long history in a variety of businesses such as technology, marketing and real estate. This combination of experience has helped build the business significantly over the last years. Inspire is headed by Steven Scheck who has a long history of business management, marketing and technology from his work with other Scheck Group companies.
While at one of Inspire WiFi's first connected communities, a leasing agent approached Scheck. "I love your WiFi. It's all I talk about with prospective residents," she said. When he asked why she didn't mention the other amenities (clubhouse, pool, lake view, fitness center), she pointed to the community across the lake and said, "That community has those amenities, too. WiFi is the only way to set us apart."
WasteCaddy

WasteCaddy has set out to save the world, one trash room at a time.
They manufacture the Dumpster Mover, a battery powered, motorized tugger that is used to easily and safely move trash dumpsters from the trash room of a multifamily property to curbside for hauler pick up.
Winn Companies, the 6th largest multifamily property management company on the NMHC Top 50 list, has standardized the WasteCaddy across their portfolio of more than 500 properties.
Winn properties that meet certain criteria will budget for and receive a WasteCaddy as part of the 2017 budget cycle. Companies like Winn, AvalonBay and Greystar all have multiple units in service today.
Insurance companies recommend WasteCaddy products to those multifamily companies they insure in order to mitigate risk and abate personnel injury. Risk advisors typically review a company's claim history and recommend ways to reduce risk and insurance premiums going forward. The county's largest Workers' Comp insurance broker, Marsh McClennan recommends the Dumpster Mover, as have risk consultants at both The Hartford and ICW Insurance.
Insurance statistics show that the trash room is the area of highest risk for injury on a multifamily property
For many multifamily businesses, employee safety is no longer one month's initiative, but part of the company culture. They've noted the statistics and have revised policies and procedures related to moving trash in order to reduce risk and injury. Employee safety has become a key driver for change in the trash room.
There is also a strong financial incentive to revise these policies. It should come as no surprise that the high incidence of trash moving related injuries results in a proportionate incidence of Workers' Comp claims. Industry statistics show that 20 percent of injuries related to moving trash on a multifamily property result in a lost time claim where employees can't come back to work for some period of time.
This is where rubber hits the road financially. The average Workers' Comp claim for an injury in the trash room results in the insurance company writing a check for more than $41,000.
That may be why property owners have insurance, but claims also impact a company's premiums going forward. So here's the shocker. The average increase to a company's insurance premium for that injury in the trash room is more than $30,000 per annum over three years. After which, the premium goes back to where began before the incident, assuming no additional claims. At a cost of about $5,000, the WasteCaddy provides a pretty compelling 8-to-1 return on investment.
Those using WasteCaddy have found that using a motorized dumpster mover can bring a dramatic increase in efficiency. In many cases, property managers have two employees moving dumpsters due to weight or safety compliance policies.
The WasteCaddy allows one employee of any size, age or gender to move heavy dumpsters by himself, without added risk. Antidotal claims by WasteCaddy fans claim that they save up to eight hours a week or 32 hours a month. One property owner paid for the purchase of the WasteCaddy in under one year. Here's the math: The product cost around $5,000 a unit. They figured they saved more than $5,600 annually using an hourly rate of only $13.50 an hour or 32 hours a month.
If you've ever seen the electric pushers used to move grocery carts in parking lots, you're already familiar with WasteCaddy. The grocery cart movers are another invention of WasteCaddy.
WasteCaddy for apartments was introduced about four years ago after Cart Caddy customers requested brackets that would connect to trash dumpsters. After a few of those calls, the light went on, and the company modified an existing product to become the WasteCaddy Dumpster Mover.
The parent company, DJ Products currently has 25 products in eight vertical markets. They manufacture products for diverse industries as materials handling, automotive, aircraft, hotel, hospitality and hospital, as well as the Department of Defense.
Owner, Jeff Berg, has cultivated a line of products in response to customer needs from the first product, Cart Caddy, 18 years ago.
The original Cart Caddy is a highly visible product since everyone buys groceries and sees kids using them to push grocery carts rather easily.
"People have seen the Cart Caddy and said 'that would work great for pushing (fill in the blank,'" said Berg. "Over the years we've received calls for moving just about everything from animals in barns, to trailers in factories, to airplanes in hangars, to dumpsters in multifamily buildings."
"We didn't know a lot about the multifamily market as a whole, but we did understand the obstacles facing the employees tasked with moving trash dumpsters. Over the years we began to notice that property managers who left one location with a WasteCaddy, would often order a WasteCaddy for their new property," said Berg. "We realized that most buildings belonged to a portfolio of properties owned or managed by a larger entity. So, we decided to get proactive and take the success stories of current WasteCaddy users to the regional managers, risk managers and vice presidents of operations so they could share this best practice with others. Creating this awareness has caused a domino effect."