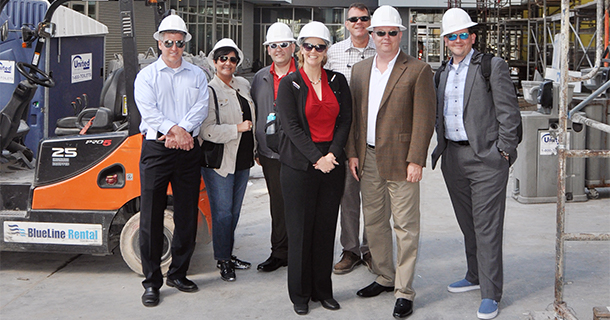 Cranes are on the horizon in San Francisco in a most unlikely place, South of Market's (SoMa) Harrison Street. The area with a most lively history is one of the last to relent to the City's unquenchable thirst for rental housing. Parallel to five lanes of Interstate, the new community of LSeven apartments, and over a half-dozen other developments along the same corridor, will deliver 1,500 apartment units to the area, as well as new retail, streetscape improvements, and historic commemoration, the likes of which remain in discussion.
For now, the up and coming thoroughfare remains surrounded by muffler shops, car washes and blocks of warehouses. Development has not been without its hurdles, some that may ring the bell of originality for city-required capital improvements. From moving power lines underground on adjacent streets, to a renewed streetscape design of the infamous Ringold Alley that honors the local leather community and its colorful past, LSeven has been quite the challenge.
Formerly a bus storage yard, the parcel is being developed as mixed-use, ground floor retail and multifamily residential by Toronto-based Brookfield Asset Manage-ment Inc. and American International Group Inc. (AIG) headquartered in New York, with assistance from Fairfield Residential of San Diego, Calif., and 4Terra Investments headquartered in Irvine, Calif.