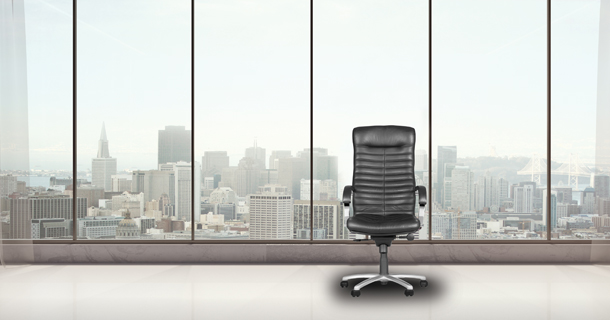 A couple of months ago, former NAA CEO and President Doug Culkin stepped down and Robert Pinnegar took over leadership of the organization that is focused on educating and advocating on behalf of a membership made up of multifamily housing owners, managers, developers and suppliers throughout the U.S., Canada and the U.K.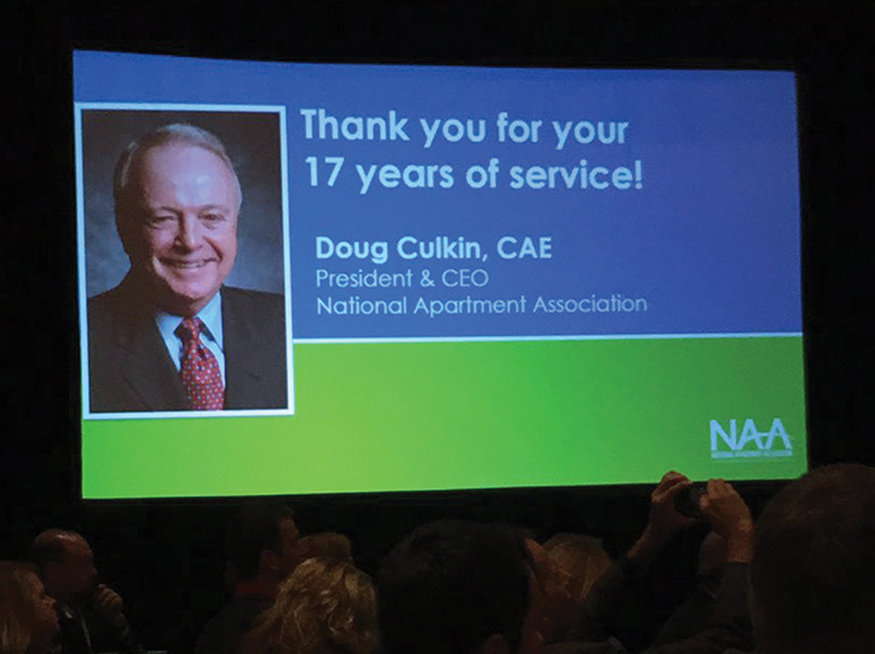 Since becoming NAA's top executive in 1999, Culkin has seen the organization more than triple in size, growing from 24,000 members to 74,000 members, while its revenues increased 750 percent, from $4.5 million to $34 million.
He was a driving force in turning around an organization that was not perceived as especially noteworthy when he took over the reins.
The effort to bring NAA into the forefront of multifamily organizations benefited greatly from the introduction of the Click & Lease program in 1999. That program is a service offered exclusively to NAA members. The lease-forms package includes lease contracts, rental applications, numerous addenda and pertinent resident notices. Powered by Blue Moon Software, the program is web-based and integrates with any property management software.
The program that takes the worry out of the lease forms management process includes leases that are vetted annually by attorneys in each state and comes with software to track onsite lease reporting. And, the NAA Lease Department retains attorneys in each state, who are familiar with the unique regulations placed on owners by state and local laws.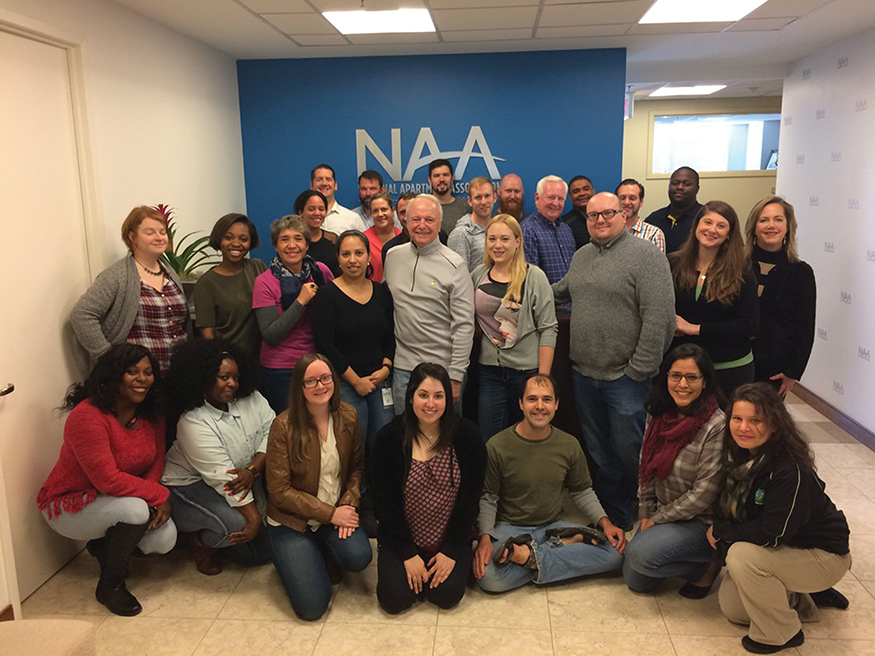 "The key thing was that you had to be a member in order to use the lease program, so that generated not only revenue from the sale of the leases, but membership revenue," Culkin said.
Since Click & Lease was introduced, he's seen NAA renewal rates of around 98 percent.
NAA's affiliates helped with the organization's impressive growth as NAA became more successful. "I think they had more faith in us and they went out and did a good job generating new memberships," he said.
Members join NAA at the local level and those who do are automatically members of the state and national organizations.
Also during his tenure as president and CEO, the NAA Education Institute (NAAEI) was formed and Culkin was active in raising funds to finance the Institute's goals and objectives, which are focused on the education and professionalism of the multifamily housing industry.
A couple of recent NAAEI fundraisers contributed more than $13 million that will be used to help update its certification programs and look at new education offerings, based on what is happening in the industry and what the industry needs.
"If there is a topic or something that's happening that needs to be addressed, those funds are used to do that. The funds have also been used to hire additional staff, so that, as the organization has grown, the staff is able to support the goals and the policies and procedures that are approved by the Education Institute's board of directors," said Culkin.
The Education Institute has its own board of directors that is separate from the NAA board, but there is a number of cross-over positions between the two boards and everything that is approved by the NAAEI must go through the NAA board for ratification, he explained.
A focus on the international multifamily arena also took root during his presidency, jump-started by NAA's participation in Expo Real, one of the two major real estate shows that happen in Europe every year.
About 12 years ago, NAA's leaders were approached by a German national, who had worked in San Diego for a number of years and was transferred back to Germany. He asked them if NAA would be willing to visit his country, which had just gone through the nationalization of all its apartments, which were sold to private investors.
"A couple of apartment associations had started in Germany and the leaders really didn't know what they should be doing on behalf of their members. So, we said we'd be happy to go over and we met with their board and kept getting invited back," Culkin recalled.
While in Germany, they learned about Expo Real and started to attend because it was a good way for NAA to see if there was an interest among European owners in joining NAA or creating an affiliate of NAA.
"It was also an opportunity for me to educate my leadership. I've always been a big believer in international growth and international membership because there is so much we can learn from each other and I wanted to see if my members felt the same way," he said.
NAA's membership agreed with his global expansion plans and, about seven years ago, the organization began to participate in the European expo.
"We really believe that we have common interests within the U.S., within Europe, within South America and throughout the world because we're all offering a product that everyone needs," he told an interviewer in an EUTV broadcast about the event in 2015.
Because 96 percent of the world's population lives outside of the United States, "for us to limit ourselves to only the territory of the United States would be shortsighted on our behalf," he said.
Two years ago, Culkin and other NAA representatives attended, for the first time, the annual conference organized by MIPIM (Marché International des Professionnels d'Immobilier, loosely translated as The International Market for Real Estate Professionals) that is conducted in Cannes, France.
NAA has committed to have a booth in the USA pavilion at MIPIM in 2017 and plans to buy a booth at Expo Real, he said in January.
"I talked to the board last year before I left and said, 'I think now is the time for us to go in there and be present. Not only to walk around and talk to people but to have a booth so that people can come and ask us what we're doing,' because we've started to see a lot of interest in local associations affiliating with NAA in some capacity, enabling NAA to increase its exposure and influence by having members and affiliates overseas," said Culkin.
Two past chairmen of NAA, Brad Williams, Lincoln Properties regional VP in the Dallas/Fort Worth area, and Tom Beaton, senior VP of management for Dolben Company located in Boston, will be the chairman and vice chairman, respectively, of NAA's global outreach committee in 2017 and, in 2018, their roles will reverse.
Both men are strong believers in the benefits of reaching out and growing NAA's membership globally, he said.
In 2015, Culkin told the EUTV interviewer that NAA wanted to establish itself as the matchmaker for investors traveling both ways across the Atlantic, to welcome them to the U.S., put them in touch with people in cities that interest them, show them around and answer their questions about various regulations and policies in this country.
That plan gained traction during his last year as president and CEO and has resulted in the creation of a British NAA affiliate—The United Kingdom Apartment Association—which, he said, has had a very good first year.
"There's a lot of excitement and we've created some good relationships with the folks in Ireland and Kennedy Wilson has a number of pretty substantial projects coming online in Dublin," he said.
When the United Kingdom affiliate was formed, championed by local owners in London, a dues structure was approved by the NAA board that provides the opportunity for people from other countries to join the organization.
"We've spoken to delegates from China and from Japan and we've talked to groups of owner/operators in Spain. There's a lot of interest there and I firmly believe there's a lot of growth potential there," he said.
Pinnegar, NAA's new president and CEO, who moved up to NAA's C-suite five years ago as COO, and into his new office on November 15, is just as enthusiastic about growing the organization worldwide.
In mid-January, he said global expansion is one of NAA's main focuses this year.
"We have an affiliate in the U.K., so we're continuing to look at other parts of the world where potentially we could either partner with an existing group or work with a group that wants to organize," he said, adding that there have been some conversations about Canada and NAA's Click & Lease product, which NAA is adapting for that market to the north, into which some of the organization's members are looking to expand.
The global market expansion is definitely a process that NAA is well underway with, he said.
"We have a consulting firm on board so we make sure we do things in the right way and structure it in such a way that makes sense," said Pinnegar, who introduced the German national to the NAA when he was working in San Diego, where he served as executive director of the San Diego County Apartment Association, and attended that first Expo Real gathering with Culkin a dozen years ago.
NAA and the consulting firm are looking at which foreign markets are ripe for the traditional multifamily model and where it is emerging. "That's going to be a real process to go through to really understand what's happening in the market and the appetite of investors," he said.
Another item on his current agenda is preparing for the much talked about tax reform effort in Congress. Through NAA's grassroots advocacy, he hopes to be able to represent the industry to ensure that the Tax Reform Act of 1986 debacle doesn't happen again.
"What I'm looking at there is how do we backstop the traditional lobbying that the industry has had so we put a true face on the industry. I think the key is having a human face with our elected officials, a real person that is going to be there at their community meetings, that is going to their different activities and events to really have a relationship, so when an issue comes up, we can really explain why and how it's going to impact our industry," he said.
He believes that many elected officials don't understand the consequences of their actions on housing in this country, so making them aware of those consequences is of critical importance to the industry, he said.
Pinnegar has said that he plans to ensure that NAA's voice also is strengthened in legislative and regulatory matters at the state and local levels.
With its 170 affiliates across the country, NAA has been a clearinghouse for information for quite some time and has recently staffed up to enhance that role, while focusing on technology and addressing the tenant group community that, he said, is "increasingly nimble."
"The National Renters' Day of Action occurred in September last year, which was really a warning for all of us to be much more aware of what's happening out there and to be able to respond quickly. We do have an infrastructure that we have laid in place. We have people that are trained in advocating with elected officials and that's something we're going to be committing more resources, more time and more effort to at the state and local level," Pinnegar said.
Internally, at the board of directors meeting he and NAA staff members attended in Charleston at the beginning of the year, the group kicked off a strategic planning task force and engaged a firm to assist with the effort that is a focus for this year.
"Over the holidays, we sent out an RFP (request for proposals), we hired a strategic planning firm to assist us and we had the initial meeting with that task force at our board meeting," he said.
Pinnegar is pleased that NAA leadership is committed to looking at how to align the organization, its products and services networks to meet the needs of the industry, which has been changing over the last three to five years in the realms of technology, consumer demand and the trends with regards to Millennials and the Baby Boomers coming back to rental housing.
NAA membership has grown by around 12,000 since Pinnegar accepted the position of COO in 2011 and he believes that the more NAA can position itself as a valuable resource to help its members navigate through the increasingly complex landscape of residential housing, the more successful the organization will become.
"We've had a very good growth curve and I anticipate that the economy will continue to do well and that we are going to continue to post bigger and bigger numbers between now and two years from now," he said.
The commercial real estate industry that has been on an upswing since 2010 is cyclical and, while people are cautious, they're still feeling like there's some life left in this cycle, he said.
And, he also was cautiously optimistic about the effect the Trump administration will have on the apartment industry.
"I think time will tell on this, but President Trump was raised in commercial real estate, so I would have to assume that he would understand the industry and I would hope that he would do no harm to us," said Pinnegar.
"He does understand it and it's the first time we've had somebody in that office that understands commercial real estate, so this could be a very good time for our industry and, again, that cycle could continue," he said.
The most challenging aspect of his role as president and CEO of NAA, he said, is the reevaluation and realignment of the organization to meet the current needs of the industry.
"So, as new CEO, it's a great time to turn over all the stones and look at everything and say, 'How do we do this and how can we do it better?' Change is always difficult, so it's going to be a challenge, but the result will be an organization that will be much better positioned to help guide its members through the increasingly complex landscape of the rental housing business," said Pinnegar.