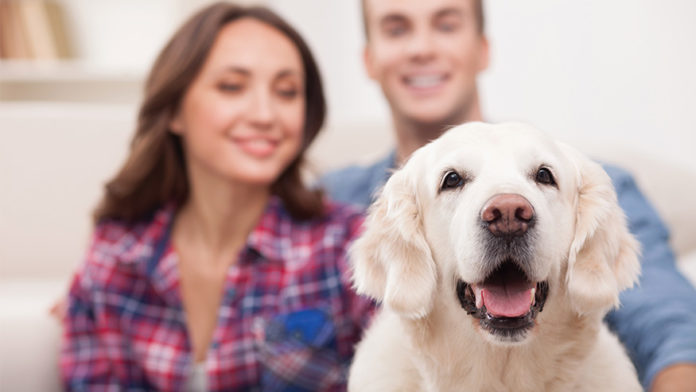 "It's all about the dogs," Woodbranch Management President Philip Schneidau said. "Seriously, you really have to take care of the dogs."
Woodbranch Management is the team behind one of Downtown Houston's hottest multifamily developments, Market Square. The project made international headlines for its glass bottom pool that extends over the edge 42 floors above the street. But Schneidau said Market Square's dog run was the best thing about the project.
The second-best part is the building's liquor license.
"What happens is you get home from work, walk your dog, grab a bottle of wine and meet your neighbors," Schneidau said. "It's a great life. That's the magic."
The number of households owning at least one pet jumped 35 percent during the past decade to 74.1 million, according to the U.S. Pet Ownership & Demographics Sourcebook, published by the American Veterinary Medical Association. Dogs are America's favorite pet, with 43.3 million households owning one, and dog ownership is surging among singles and renters.
"I'm not sure as an industry that we've done the best job in the past of catering to pet owners," ULI Multifamily Council Chairman and AvalonBay Communities Executive Vice President for Investments Sean Breslin said. "Now the younger generation has more pets, and they put more value on the social interaction that comes with having pets."
For decades the multifamily industry prohibited pets. But that did not stop residents. Bobby Lee, president and chief operating officer of Los Angeles–based JRK Property Holdings, estimated that as many as 40 percent of his residents had been keeping pets in their units. In the 1990s, begrudgingly, the industry began to accept pets
As the trend became more popular, being pet-friendly shifted from a competitive advantage to an industry standard. It is now a competitive disadvantage to not allow pets. Developers are starting to take things a step further to regain that edge, offering pet-friendly amenities like grooming stations, spas and boarding.
In addition to being cheaper to construct than other amenities like pools or spas, dog runs and parks are more flexible, allowing developers to be more space-conscious, often designing dog-friendly areas in parking garages or on roofs.
And then there are the fees associated with pets. Many complexes charge a nonrefundable deposit between $250 and $500, pet rent of $25 to $50, and a pet-floor premium of $25 to $35. With the soaring number of pet owners, those premiums can quickly add up, seriously boosting a complex's bottom line.
On the other hand, pets can do serious damage to a rental unit. Developers are designing units with more hardwood floors and tile, eliminating the need to replace the carpet after a pet moves out. Pets can also wreak havoc on window shades. Moving from low-quality aluminum to PVC or faux wood increases durability. Higher cabinet heights make it harder for large dogs to scratch the millwork and countertops when standing on their hind legs. Access to service elevators is also an important consideration as sometimes pets have unfortunate accidents before making it outside.
Policing people picking up after the pets has also become an issue. The Environmental Protection Agency says dog waste is an environmental problem on par with toxic chemical and oil spills. Providing bags and plenty of disposal stations can go a long way.
For complexes with chronic problems, companies like PooPrints and P.E.T can catch culprits with DNA testing. For $40 at move-in, dogs' cheeks can be swabbed so property managers can keep the DNA on file, matching samples to catch residents who consistently fail to clean up after their pets.
And then there is the question of if all breeds should be allowed.
Still, for leasing agents, making the sale is often about removing as many obstacles as possible. In today's climate, not being pet-friendly can be the biggest obstacle of all—the tie-breaker or something that instantly rules out a property. But if developers and landlords see dogs as extended family members, they can go from pet peeves to a property's best friend.
Excerpt: Kyle Hagerty, Bisnow Houston