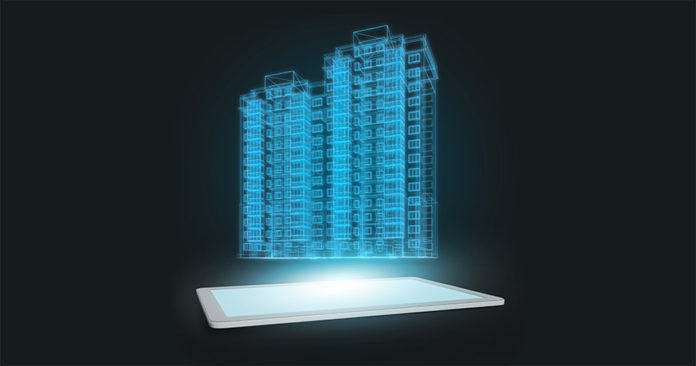 And, if speed of lease-up and the ability to charge higher rents at the newly built 70-unit Excelsior Park apartments in Saratoga Springs, N.Y., is an indicator that smart technology is part of multihousing's future, Burns Management and Epproach Communication are ahead of the game.
When Shana Cubas relocated from Denver to upstate New York for a new job, the addition of automated features at Excelsior Park sold her before she ever set foot on the property.
Cubas leased her one-bedroom unit during a FaceTime meeting with the leasing agent. And, she chose the premium "smart" technology package that provides her with secure dedicated gigabit capacity Internet—branded as the Gigaburns package—and activates her smart apartment, enabling her to control door locks, lights and thermostat through the use of the management company's downloadable mobile phone app.
Cubas said the higher rent she paid for the upgrade that includes faster Internet speeds and home automation was less than the price of a standard Internet package from the local cable/Internet provider added to what her rent would have been without the upgrade.
She wasn't alone. Around 96 percent of the property's residents also picked the Gigaburns package provided and managed by Wilmington, N.C.-based Epproach Communications, which began offering managed Wi-Fi services to resorts in 2007 and expanded service to include HOAs, student, senior and now traditional market-rate multifamily.
Comprised of two 35-unit buildings, and another planned for the site, Excelsior Park is Burns Management's first ground-up development. Peter Rosecrans, president and co-owner of the 43-year-old management company that currently operates 2,300 units and has an equity stake in 75 percent of them, touts it as one of the nation's first smart market-rate rental communities.
It was originally designed as condos, but sidelined during the recession in 2005 and sat vacant for years.
"Based on data collected from the residents of the units we already manage, we pinpointed certain trends in fit, finish and price and rolled with them rather than a 'build it and they will come' approach," said Rosecrans.
Future-proof planning
Being a new developer in the market meant that Burns needed a differentiator over and above high-end finishes to minimize the development risk.

"We realized we couldn't bring a product into the market that is going to be just slightly better than the competition. We had to be exceptionally better. That forced us to think outside the box and ask how we could do something others can't," he said.
Rosecrans also was aware of very archaic building practices utilized in the industry with regards to cable and Internet.
"When you build an apartment, you traditionally go to the local cable provider, sign an eight-year agreement to pay a monthly fee per unit and they install cable across your property. We've done a lot of that and it has left a bad taste in my mouth because it's a fixed cost on your books that's going to be there for eight years and has a significant potential to erode your NOI.
"With everyone offering cable and Internet, it's more difficult to get rent increases to keep up with a fixed operating cost of anywhere from $30 to $40 per month per unit," said Rosecrans, adding that he was uncomfortable going down that path while believing technological obsolescence was a foregone conclusion for standard cable packages in the industry.
Feeling pressured to conform to "the way it's always been," Rosecrans said, he looked to the experts at Epproach Communications to help him strategize alternative options. They worked with him to develop a scalable future-proof, network infrastructure capable of distributing Internet throughout the entire property, both wirelessly and hardwired.
But, before a managed Wi-Fi infrastructure could be installed at the property, a dedicated fiber optics line had to be run to the building and Burns Management had to determine the best available options.
The local cable providers expressed no interest in supporting Rosecrans' proposed business model, so he traveled to conferences in the western U.S., where companies like GigaMonster and Google Fiber were providing better options to the big cable companies.
"They were wiring entire communities with fiber optics. The problem was none of them were in our market," said Rosecrans.
But Albany-based First Lite Fiber did serve the region and they brought a fiber optics-based Internet circuit to Excelsior Park for a monthly fee based on bandwidth.
"A competing bid from the local cable company came in at $50,000 just to trench and bring fiber optics to the building node.
"First Lite Fiber said, 'We'll bring it to the building at no cost and start charging you by the month for the bandwidth you need and what you do with it after that is up to you," said Rosecrans.
With the fiber optics line in place, Epproach was able to install a campus-wide Wi-Fi system with wireless access points throughout the building.
Epproach already managed Wi-Fi solutions for student and market-rate apartments all over the country and had developed an app that enhanced communication between residents and management staff. Rosecrans thought the technology offered a good opportunity to enhance the property's "wow" factor and add to the resident experience.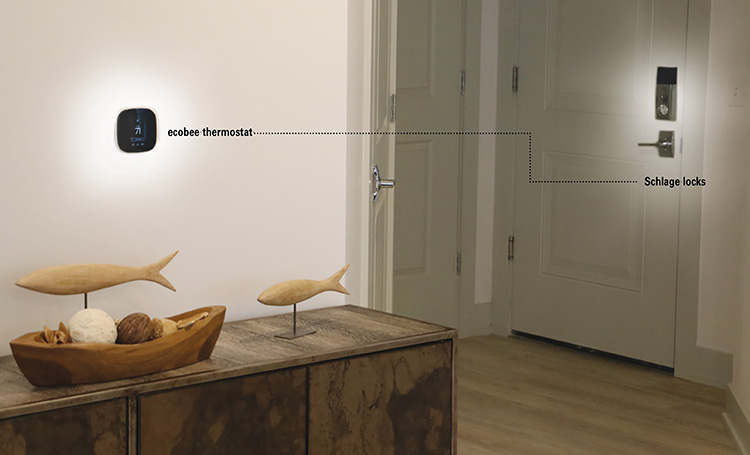 Completing due diligence

But Rosecrans left no stone unturned on the path of due diligence.

He solicited bids from other companies that provide smart tech and Wi-Fi to the hospitality industry, but found they needn't be as robust as those for student or market-rate housing, where people live full time, since hotel guests typically stay just a few days.
He went to Wilmington, N.C., toured a student housing community there and spoke to the property manager, who had great things to say about Epproach's troubleshooting abilities, before turning with confidence to Epproach to manage Wi-Fi at the property and bring smart technology to Excelsior Park.
Epproach gets smarter

The wireless bug bit Epproach president Marty Hollingsworth in 1990, when he was involved in a startup technology business that provided software applications that better enabled first responders to do their jobs.

Today's technology for wireless wasn't yet in place, but when Wi-Fi began to take off in the early 2000s, Hollingsworth knew he wanted to participate. He sold his shares in the other company and invested the proceeds into Epproach as a startup technology integrator of managed Wi-Fi.
A few years ago, he recognized a need for better communications between property managers and their residents and saw the emergence of smartphone apps that would eventually enable residents to pay rent, receive package delivery notifications, and access a property's portal to keep abreast of current events on their mobile phones.
"So we created a unified messaging platform called Communiqué for our customers like the Priess Company, a student housing management firm that uses the app across its entire portfolio. Our concept was to take all that communication and roll it into one app and allow our property manager customers to brand it as their own." he said.
"The next logical step was integrating the Internet of Things (IoT) into our services," he said.
But how? The company needed a centrally connected hub to allow residents and site managers to control smart devices from an app or management dashboard.
Smart technology was available, but Epproach found nothing that worked well for multifamily. Devices for sale at Best Buy and Home Depot were created for single-family homes and sold as DIY components that homeowners must link themselves.
"A lot of our competitors in multifamily are doing more of a proprietary system, where they provide their own hubs and a list of compatible devices that will work with it," said Hollingsworth.
But Epproach decided not to reinvent the wheel. Instead, the company formed a partnership with WINK, a leader in smart home automation. WINK's hub is a proven technology that already links to hundreds of different components from dozens of manufacturers.
Epproach created a middleware platform that works with WINK and other IoT hubs to provide the capabilities for property managers to deploy single-family smart solutions across an apartment property.
"We took the DIY model and flipped it on its head," said Hollingsworth. "We provide a complete turnkey solution that is configured and fully managed so that our customers and residents simply have to log on and start using the technology.
"Our Communique' app was a good starting point for IoT. We already created resident accounts and offered features like rent payment, event scheduling and texting.
"Together with Burns Management, we are working to more tightly integrate RealPage's OneSite into the branded app so that it is a more seamless experience for residents and property management," he said.
The Epproach solution consists of a wireless, multi-IoT protocol product set controlled by a community branded smartphone app. Residents can use the app to remotely control thermostats, door locks and lights and connect with Amazon Alexa for use with voice commands.
Epproach also provides a dashboard that allows property managers to control and monitor permissions as residents move in and out and remain in control when the units are vacant. Epproach tech experts are available to provide support to residents and staff round the clock, 365 days a year.
Learning curves
Despite Rosecrans' due diligence before pulling the trigger on smart solutions, the onsite staff still faced a steep learning curve.

"I'd like to say this technology is simple to learn, but it's not. Everybody wants change, but dreads the transition, so you have to focus on educating staff on how to use the system and then on how to market and promote the system, and we could have done a better job and that's a great lesson learned," he said.
Rosecrans believes full immersion in any change is critical to its success and must start at the top. He educated himself on every piece of the smart equation—fiber optics, Wi-Fi, smart products and how they integrate, and wiring in general.
"It became an overwhelming massive amount of information. Most people at that point just stop, but if you don't have the tenacity to move forward, you might as well wait until something easy comes out, but you won't differentiate yourself in this industry if you do," he said.
Rosecrans is a proponent of slow growth and cautions other developers against rolling out too much smart technology too quickly.
"We have to make sure we are utilizing it to its full capacity and not just dropping in crazy functionality that will never get used. The new process must be carefully controlled to make sure the system is not going to fail.
"We are working now to keep the smart apartment smart and not a one-hit wonder where, 'Yes, it's smart, but we stopped using some of the features because people were overwhelmed and went back to a physical key,'" he said.
The smart payoff

Epproach purposely kept the first iteration of its smart solutions simple so as not to overwhelm clients and their residents.

"As we all get more experienced with the basics and gather more resident feedback and manager experience, we can add more capabilities and new features," said Hollingsworth.
On the horizon, as options, are moisture sensors in the kitchen cabinets and at the hot water heaters that will notify maintenance of excess moisture and help detect slow leaks, and interfaces to control hot water heaters, televisions and stereo speakers, ceiling fans and window treatments.
Rosecrans hopes to use the system to install smart shut-off valves in the third building planned at Excelsior Park, once staff becomes completely comfortable with the technology.
Cubas finds her apartment's smart features advantageous and user-friendly. "After using it once or twice, I am comfortable with the app and could show others how to it works," she said.
She rates smart technology as high on her list of apartment must-haves as an in-unit washer and dryer, but values the security aspect of the system above its many conveniences.
Smarter returns

According to Rosecrans, pinpointing exactly how long it will take to realize ROI after installing smart solutions is difficult. "But, we were able to eliminate the cable companies' 'bulk purchase' per-unit cost, which typically runs around $35 per unit per month and, multiplied by 100 units (including the third building), equals a savings of $42,000 per year.

"We invested around $120,000 in our network infrastructure, door locks, video intercom, thermostats and security/access systems. While that cost sounds significant, we've eliminated the potential recurring costs of a long-term bulk purchase agreement," he said.
"Calculating ROI on those factors alone, the payback is only a couple of years out and when we factor in that we are able to offset our monthly bandwidth and Wi-Fi expense by charging $25 or $60 more in rent for the technology packages, while we would get nothing for cable, you can see ROI is greatly accelerated," said Rosecrans.
"Plus, when you remove the per-unit cost of bulk-purchase Internet and cable, the value of your property is significantly increased, considering the cost of the building and Internet infrastructure will be financed through the construction loan, typically at a lower rate than a permanent financing program," he continued, adding that as the property is stabilized and Burns looks for permanent financing options, more favorable programs will be available thanks to the property's enhanced NOI performance and pro-forma.
Clearing hurdles
The challenge property owners and managers face today is figuring out how to retrofit with smart technology, which Rosecrans believes would be a definite customer experience enhancer.

"Epproach already has extensive experience delivering Wi-Fi into legacy properties. Our next step is convincing owners to make the investment in the networks and smart devices like locks and thermostats.
"Another way for owners to justify the expense is the savings they could realize through energy conservation and improved operational efficiencies," he said.
Smart devices do cost more today. But the ability to remotely lower thermostats and turn off lights should help to lower energy costs and realize significant savings when staff no longer has to rekey locks when residents move in and out.
Both Burns and Epproach are convinced there is an achievable ROI with smart solutions.
"Excelsior Park is proof that residents value the technology and are willing to pay for it.
"We are just starting to see the tip of the IoT iceberg," said Hollingsworth.