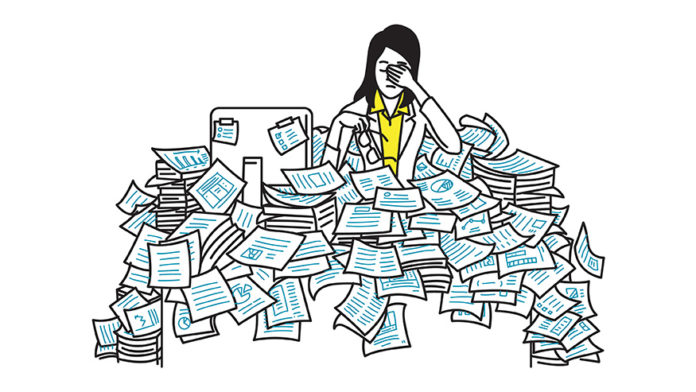 Cutting costs never loses appeal, even in a robust industry and a thriving economy. Inescapable expenses such as insurance and taxes, along with competitive pressures, have forced property owners to become increasingly creative in finding opportunities to cut costs and work more efficiently.
Processing payments for the various products and services that keep properties running smoothly is one of those inevitable expenses. This historically has been a manually intensive and paper-heavy process. Routing one paper vendor invoice through payment can take as long as 30 days and cost up to $35, according to data compiled by property management software company, Yardi, headquartered in Santa Barbara, Calif. With potentially thousands of invoices coming in every month, those costs add up fast for property owners and managers.
The same study found that businesses submitting five or more invoices per month, which account for just 7 percent of vendors but 75 percent of invoices, often require accounts payable or property teams that spend significant amounts of time scanning, keying and verifying these large invoice volumes. Even vendors submitting a low volume of invoices—four or fewer per month—can spend an inordinate amount of time on invoices, often repeatedly calling client properties for status checks or sending duplicate invoices until they are paid. All this activity takes up significant time and effort from accounting departments and property-level staff.
Streamlined approvals and vendor management
Fortunately, the procure-to-pay process has become dramatically more efficient in terms of labor and expense in recent years. Real estate management software producers have created electronic processing capabilities that have significantly streamlined the ordering and payment of maintenance, repair and operating (MRO) supplies.
In response, many real estate companies have completely outsourced invoice handling and processing, relieving themselves of a non-value-added paper-handling task. New procure to pay systems virtually eliminate paper invoices and reduce the time and money needed to store, sort and mail printed invoices by automating the manual steps involved in receiving, entering, coding and approving invoices.
Advanced procure to pay systems also centralize vendor information and mitigate risk with a clearly defined onboarding process. Online portals that move purchase orders through the approval process electronically is one technology that can help multifamily property managers reduce paper and streamline vendor onboarding. Vendors can update their profiles, submit and check the status of invoices, complete forms and upload insurance certificates, among other things, through a vendor portal.
Large and small volume invoice processors are using portals to drastically reduce the time and effort spent dealing with duplicate invoices, rejected invoices and voided checks. Apps that allow MRO orders and invoice approvals to be executed from mobile devices provide even more convenience and efficiency.
Customized approval criteria automate the approval process within the purchasing workflow and deliver automated notifications to the appropriate people. This enables advance capture of budget details along with significantly faster invoice processing.
More time for high value activities
An integrated, automated procurement system offers significant potential benefits. Leveraging electronic invoicing or outsourcing the scanning and keying of invoices can reduce cost per invoice to less than $5, along with reducing payment processing errors and making cash flow more controlled and predictable. Eliminating duplicate invoices reduces the number of reversed payables and voided checks. These and other new efficiencies can unlock immense time and energy for higher value activities.
Several prominent real estate companies attest to the benefits of a procurement system that integrates procurement, invoice processing and vendor management within a core property management system. Shawaun Alexander, initiatives manager for real estate services company Bozzuto Management Company of Greenbelt, Md., explained, "We had a very labor-intensive manual process for invoice approvals. A lot of times, stacks of invoices would be on a desk or in a drawer. People had to wait for regional managers to visit their properties to sign off a whole stack of invoices. We wanted to take that burden off the site teams."
"We streamlined the approval process and gained transparency into what was happening at our properties. If somebody is sitting on invoices, I can see exactly how much money is in their review, so it's very transparent," Alexander said.
For Westminster Management, owner and manager of more than 20,000 garden apartments in six Eastern and Midwestern U.S. states, the principal benefits of electronic invoice processing and automated, single-point supplier management are "the ease of reviewing what we're paying for, saving two to three days with electronic approvals versus having to mail invoices, and being able to order supplies from anywhere, with no typos, no worries, no misunderstanding with vendors," according to Joel Fox, the company's consultant. "Our system gives us greater transparency into our spend and an opportunity to streamline our supply chain," Fox added.
Apartment community developer, owner and manager Walton Communities of Marietta, Ga., has gained similar benefits from a procurement, vendor management and invoice processing system that integrates with the company's property management system.
"Our former procurement process would take up to three weeks depending on how long an invoice sat in a folder until the onsite team had time to process it," said Jennifer Price, IT systems trainer for Walton Communities.
"With our current system, our maintenance engineers can log in first thing in the morning, order what they need, get approval from and receive the order the same day. The beauty is, when they place an order, a purchase order is created instantly. That's what we love. It has eliminated coding errors and the time it took maintenance engineers to manually enter POs. Our maintenance team wants to be out serving the residents, not sitting at a desk," Price said.
Gary Shaw, president of Phoenix-area commercial property manager Arcadia Management Group, recalled the travails of invoice processing before he instituted an integrated procurement, invoice processing and vendor management system.
"I would have FedEx boxes full of invoices stacked on a desk that I'd spend my whole day approving, or somebody would take them home to work on them late at night, then their kids would spill apple juice on them or lose them in a drawer, and there was no transparency. Now, with push of two buttons, we can sort them by general leger code and email them off. It's the best, a huge time saver," Shaw said.
Bozzuto, Westminster Management, Walton Communities and Arcadia are among many real estate organizations that have grown weary of time-consuming, costly and highly error-prone procure to pay processes. They implemented new technology that shortened their invoice cycles, prevented lost invoices and other errors, and improved their relationships with small and large vendors. Giving vendors and property management staff the tools to work more efficiently offers potential benefits to all real estate companies, regardless of their invoice processing volume.
Author: Joel Nelson