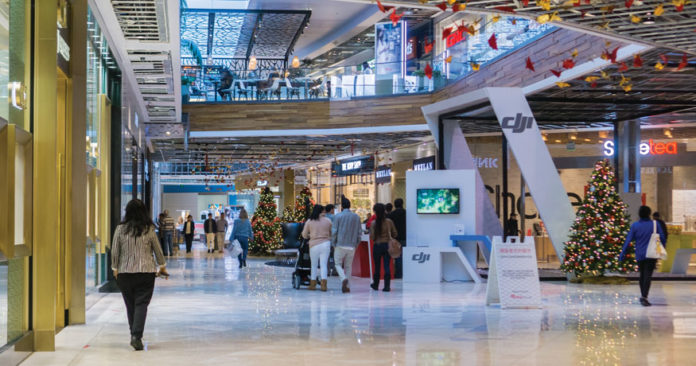 Construction has started on a 23-story upscale apartment tower at Westfield UTC, a one-million-sq.-ft. outdoor center in San Diego, but the project is much more than the redevelopment of an upscale retail center owned by the Sydney, Australia-based Westfield. Combined with a renovation that will be completed this fall, the rebirth of Westfield UTC suggests that relying less on brick-and-mortar stores will be a way of life for every shopping center.
"Increasingly, Westfield's destinations are not just places to shop, but places to live and work," according to Catharine C. Dickey, EVP of corporate communications at Westfield. "The company is incorporating modern residential towers—as well as office spaces—into a number of its global assets."
The company is exploring opportunities to create 8,000 homes on land that it currently owns globally. Westfield UTC will get 300 apartment units out of that 8,000, which will range in size from studios to three-bedroom units.
Westfield is the latest in a string of mall developers and landlords whose firms have begun adding non-retail uses to existing retail properties. This real estate densification has been going on for many years on an incremental level, according to Lisa Kaufman, portfolio manager with LaSalle Investment Management Securities, based in Chicago. Only the lack of available land has constrained the march of densification. The transformation of the retail industry is eliminating both competing retail uses and the scarcity of land as barriers to densification, according to Kaufman.
"Today, the rationalization of department store fleets is creating an opportunity for landlords to pursue densification," Kaufman says. "We expect to see an acceleration of this activity over the next five to 10 years as unproductive department store boxes are replaced with other uses."
Multifamily is likely to be a big component of densification, Kaufman says. Adding day-time and night-time populations on site creates demand for grocery stores, restaurants, gyms and other service-oriented tenants.
Residential and retail often serve as complementary property types in contemporary retail developments, whether they involve renovations of historic buildings in urban centers or new mixed-use centers.
Notable retail-to-residential densification projects include:
MerloneGeier Partners redeveloping one wing of Laguna Hills Mall and creating Five Lagunas, which combines restaurants, shops, apartments and a one-acre park.
GGP building apartments on a parking field around Columbia Mall in Maryland.
Macerich adding office, multifamily and hotel uses to Tysons Corner in Virginia.
But addressing struggling retail centers with multifamily additions is not a guaranteed hit. The apartment sector is facing its own challenges that require caution, according to industry experts.
In its most recent apartment sector update, Newport Beach, Calif.-based Green Street Advisors noted that two factors would constrain rent growth: new supply that is expected to remain elevated through 2018, and the slowing pace of job growth.
There are 600,000 apartment units currently under construction nationwide, close to a 40-year high. The average is about 300,000, says Conor Wagner, an analyst with Green Street's multifamily research firm. The apartment market is experiencing some delays in construction that could push deliveries into next year. But that delay might only alleviate the longer-term problem of slow employment growth temporarily.
"Part of the issue is the economy is approaching full employment and adding net new jobs will be more difficult," Wagner says. The sluggish employment growth is a national trend, and not too many markets can boast that rents are taking off, he adds.
One final factor to keep in mind for retail landlords looking to the apartment sector to shore up their properties: securing the right zoning permission. Municipalities that tend to prefer office, industrial or other commercial properties because they are a net tax positive.
"Apartments are usually a net drag because of the increased need for services—schools and things like that," Wagner says. "If a city had a mall, they would much rather replace it with a hotel, or something like that."
Excerpt Donna M. Mitchell, NREI online