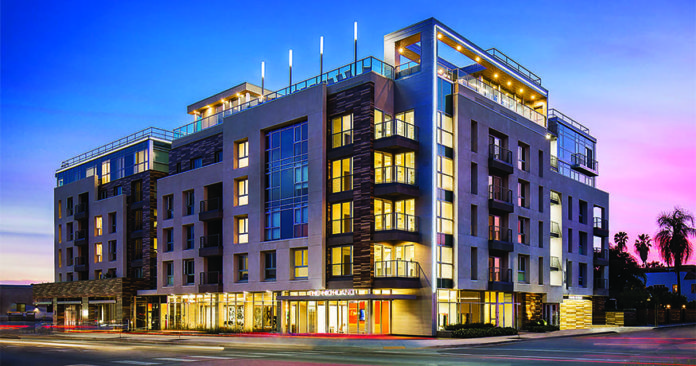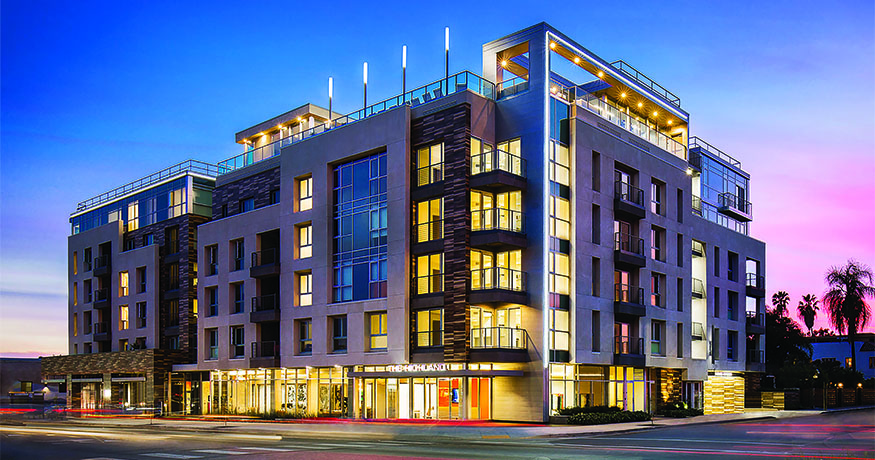 The mostly urban projects that captured the judges' votes echo a popular and growing trend—the inclusion of ground-floor retail and dining establishments that add another revenue stream to a community's earnings and enhance resident attraction and retention.
AvalonBay Communities' 58-story combination of the Avalon Willoughby Square luxury apartments and the more eclectic AVA DoBro in Brooklyn, N.Y. is a best high-rise finalist. The judges appreciated the sense of community fostered by the AVA Brew coffee shop, which was opened by Pushcart Coffee about a year ago.
The coffee shop, featuring tea, baked goods, craft beer and select wines is open to the public, exposing potential renters to the two different lifestyle options.
Residents of the 326-unit Avalon Willoughby Square, which occupies the top 27 floors of the tower, and the 500-unit AVA DoBro, which sits below it, share a 4,300 sq. ft. outdoor dog run on the third floor and accompanying wash room, curated by the AvalonBay WAG program.
The 634-foot-tall combo development, designed by SLCE Architects and completed last April, includes a 1,300 sq. ft. children's playroom with an enchanted forest theme and indoor and outdoor lounge areas on the top floor.
The studio, one-, two- and three-bedroom apartments at the community, which is located directly above a Jay Street Metro Tech subway station, include hard-surface plank flooring, stainless steel appliances and quartz-stone countertops in the kitchens, in-unit washers and dryers and floor-to-ceiling windows.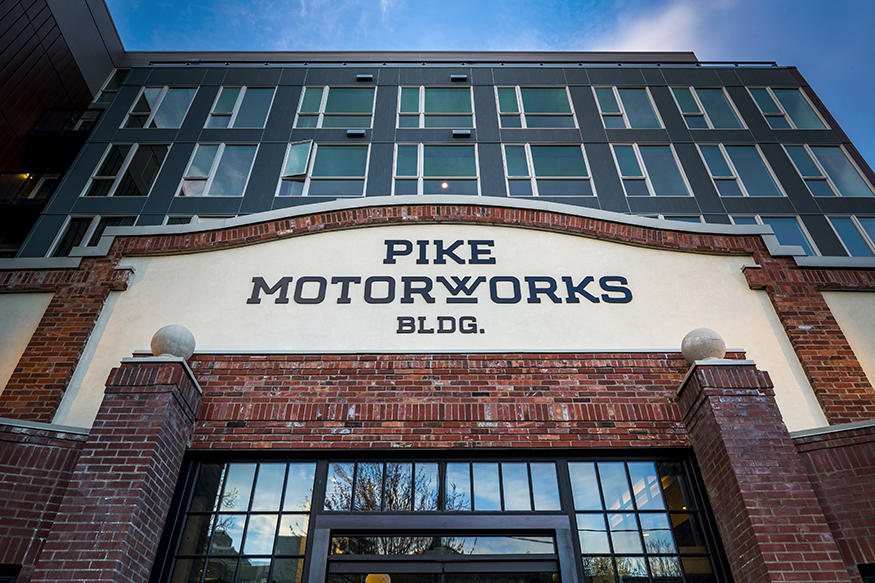 Pike Motorworks
The 243-unit Pike Motorworks in Seattle's Capitol Hill neighborhood was developed by The Wolff Company and designed by Weber Thompson architects. It is a finalist in the mixed-use category and also features a ground-floor pub. The 258-seat Redhook Ale Brewery Brewlab at the apartment community includes a 10-barrel microbrewery.
Located on land known in the early 1900s as Auto Row, the two-building multifamily community's block-long retail space includes a Plantation Design home furnishings outlet and Verge Bowls, a juice and acai bowl store. A Salt & Straw ice cream parlor is expected to open there next year, leaving some 4,000 sq. ft. of space for as yet undecided retail uses.
Thanks to the developer's preservation of Pike Motorworks' 91-year-old brick and timber façade, the community was permitted to rise to seven stories, one story above what the existing zoning would allow in Capitol Hill's Historical Preservation District.
The north and south towers of the community, which was completed in April 2016, include other industrial elements that pay homage to its Auto Row heritage. These include bent sheet metal sculptures and tire wheels in the courtyards and the use of sliding doors made of reclaimed wood, which was saved during demolition of the original structures.
The studios and one-and two-bedroom units in Pike Motorworks' south tower feature vaulted ceilings and expansive windows. The community's north tower units include black subway tile in the kitchens and the south tower apartments feature hardwood floors, imported Italian cabinets and European appliances. Community amenities include pet decks and wash stations, multiple lounges and a fitness center.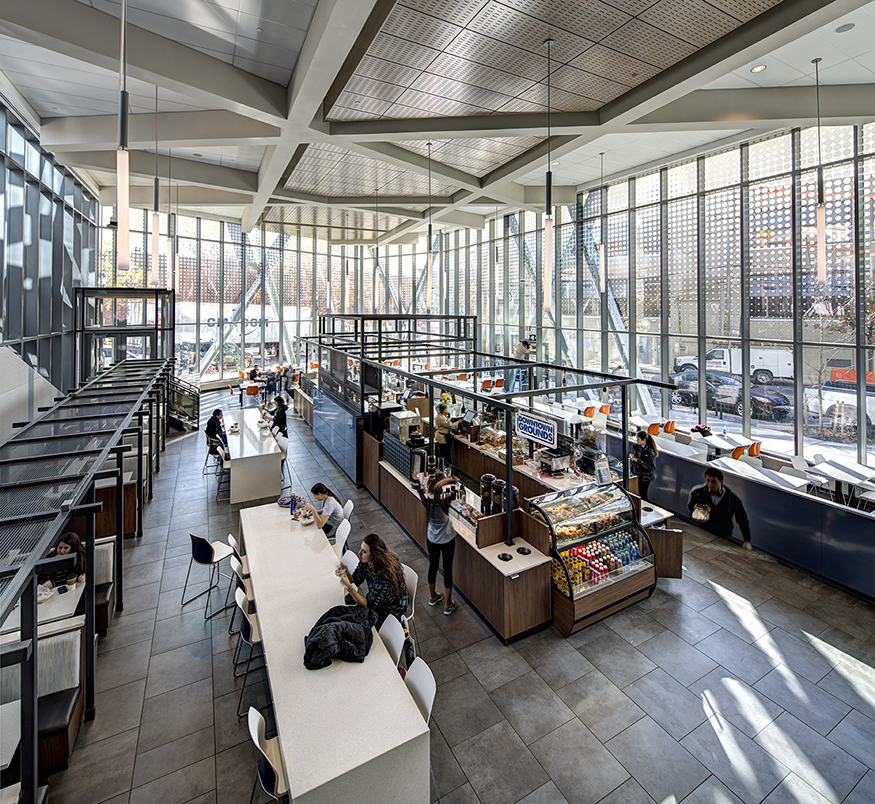 The Summit at University City
The 350-unit, 1,315-bed The Summit at University City, a finalist in both the student housing and mixed-use categories, includes a 20,000 sq. ft. full-service Urban Eatery dining facility with six unique dining platforms, including international street fare, a grill, Mediterranean-inspired cuisine, a New York-style deli, a salad and smoothie bar and a grab-and-go café. All of these are open to both students and residents of the surrounding neighborhood.
The 24-story community was designed by Solomon Cordwell Buenz architects and developed by American Campus Communities to house students at Drexel University in Philadelphia, Penn. Ground-floor retail at the site includes the 640 sq. ft. Insomnia Cookies bakery with bar stool seating, a Chipotle restaurant, a Ramen Bar, Blaze pizza, an Old Nelson Food Company market that sells sandwiches, coffee, snacks and groceries and a Starbucks coffeehouse.
Completed in August 2015, The Summit at University City offers two- to four-bedroom furnished apartments and suite-style units. Amenities include a 24-hour fitness center, a 25th floor sky lounge with a full kitchen, an outdoor kitchen with BBQ grills and a sun deck, a 24-hour recreation center with billiards, ping pong, foosball, air hockey and arcade games, a movie theater and community-wide Wi-Fi.
The community was designed to attract students back to on-campus housing and includes fully-equipped kitchens and kitchenettes with granite countertops and stainless-steel appliances, USB outlets, hardwood-style flooring and high-speed internet.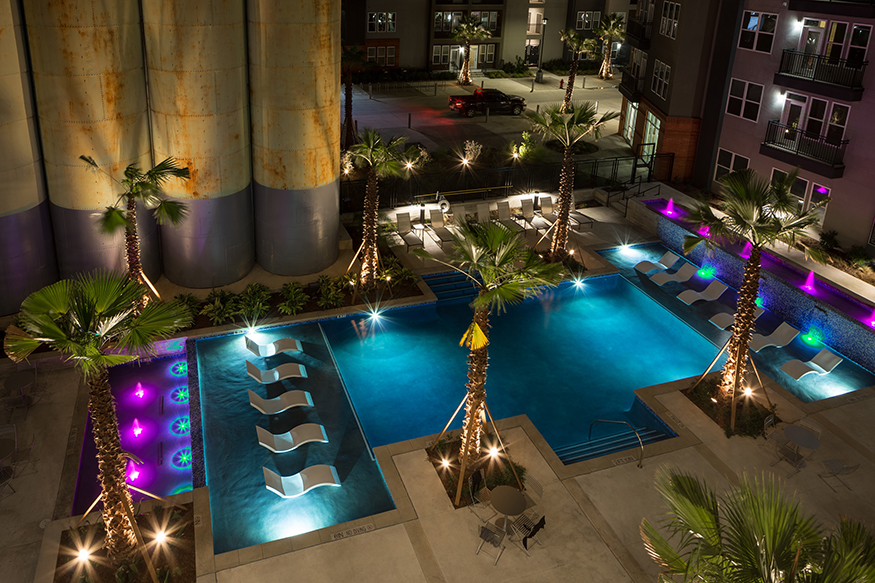 The Flats at Big Tex
A finalist in the best garden apartment community category, the 336-unit The Flats at Big Tex in San Antonio, Texas, is home to 6,000 sq. ft. of retail and restaurant space.
The three- and four-story community was developed by NRP Group LLC in partnership with Lifshutz Cos. LP and designed by Alamo Architects. It includes two restaurants owned by Chef Johnny Hernandez—Villa Rica that features Mexican seafood and Burger Teca, where apartment residents and members of the surrounding community can enjoy Mexican-inspired burgers and desserts.
The apartment community is located on a 7.5-acre former industrial site gets its name from the Big Tex Grain Company. The company exited the area in the 1950s, leaving behind silos that later hosted individual art galleries but the galleries closed in 2007.
Four of those silos have been refurbished and remain as a focal point of the development. The community retains its connection to San Antonio's arts scene through a partnership with the city's Blue Star Contemporary art museum. Eighteen art pieces from the gallery may be found scattered throughout the property, all created by local artists.
The Flats at Big Tex is part of the revitalization of San Antonio's Southtown neighborhood, a once-blighted industrial area that today is one of the biggest growth corridors near the city's downtown.
The community's studio, one-, two- and three-bedroom units include dark and light brown cabinetry, gray quartz countertops, gray subway tile backsplashes and stainless steel appliances in the kitchens and white gloss ceramic tile shower and tub surrounds in the bathrooms.
Residents have access to two dog parks, a social lounge with downtown skyline views on the fourth floor, an activity area with gaming tables and a bicycle storage area with a repair station and a resort-style infinity pool.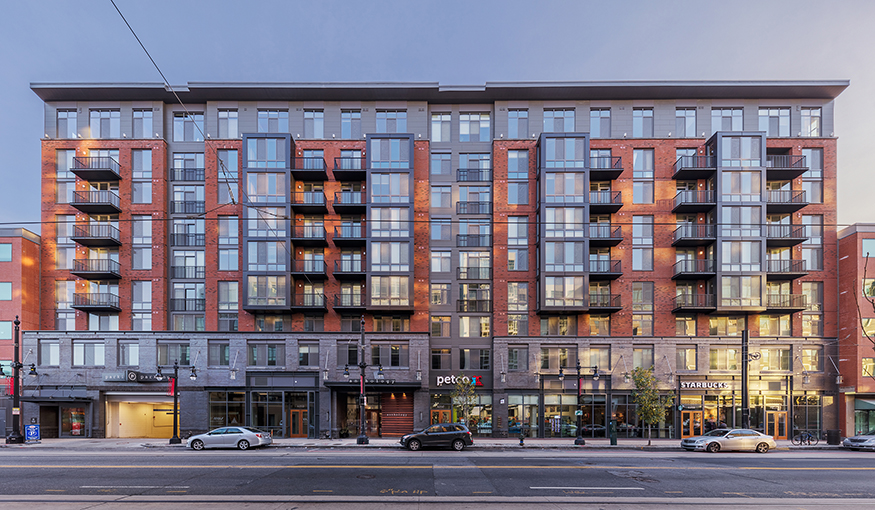 Anthology
The 307-unit Anthology, a finalist in the best mid-rise and best mixed-use categories, features ground-floor retail space that was fully leased before construction of the eight-story residential component was completed in July 2016.
The apartment community in Washington, D.C.'s H Street neighborhood combines concrete and wood frame construction. It was designed by Hord Coplan Macht architects and developed by Jair Lynch Real Estate Partners. It was sold about six months after its completion to an affiliate of institutional investor Bentall Kennedy.
The apartment community includes both restaurant and retail uses that stretch the length of the building.
Starbucks opened there about a year ago, soon joined by an Unleashed Petco store and a Buredo restaurant that serves burrito-sized sushi rolls and salads. A Farmbird grilled chicken restaurant opened in June.
The Pillars judges agreed that Anthology "fits the H Street vibe well" and appreciated the "unique industrial, yet contemporary feel" of the mixed-use, infill project located between two office buildings.
Anthology boasts views of the Capitol and houses studio, one- and two-bedroom apartments that feature in-unit washers and dryers, and dishwashers, stainless steel appliances and islands in the kitchens. Other amenities include balconies and patios and hardwood floors.
Common amenities include a 24-hour billiards room, a courtyard with grills, an outdoor fire pit and movie screening and a roof-top lounge with a pool.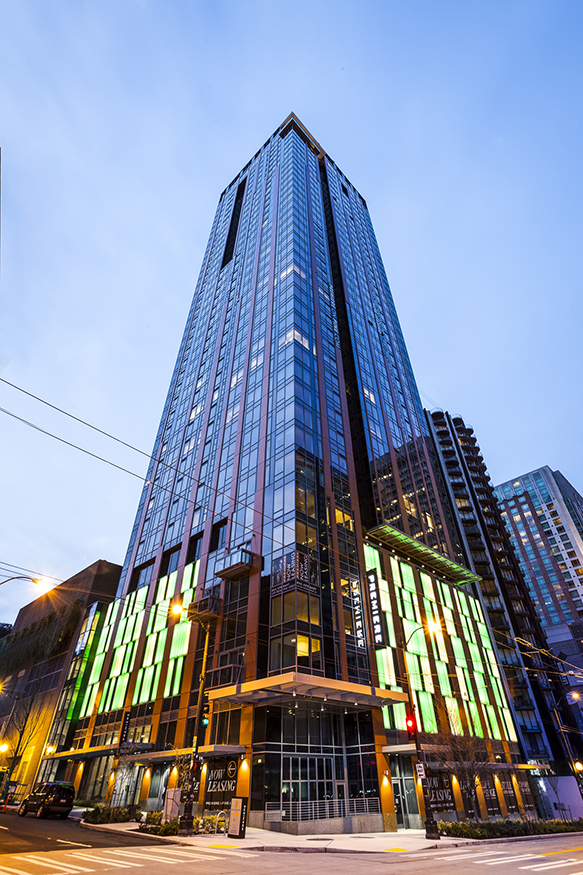 Premier on Pine
The 386-unit Premier on Pine, a finalist in the best high-rise category, soars 40 stories above a 3,500-sq. ft. Sansei Seafood Restaurant & Sushi Bar,. The restaurant is located next door to the community's lobby, running the entire length of its Pine Street façade.
Located in the heart of Seattle's Pike-Pine corridor, the apartment community was designed by Weber Thompson architects to capture the essence of the urban lifestyle. It was developed by Holland Partner Group in partnership with a New York-based pension fund and is one of the city's tallest residential towers.
The LEED silver-certified community boasts a host of sustainable features like a highly efficient boiler and chiller system that supplies hot and cold water to a water source heat pump in each apartment for heating and cooling. Its construction included locally harvested and manufactured building materials.
Inside its revolving front door, a doorman greets residents and guests as they enter the lobby. The lobby features a high-resolution, multiple-screen video wall that plays scenes from Seattle and around the world.
The 40th floor is dedicated to amenities including a large community room with a demonstration kitchen, four 80" TVs, a media room, an event room, a conference center and 2,500 sq. ft. of outdoor terrace with views of the city, Lake Union and Elliot Bay.
Premier on Pine offers studio, one-, two- and three-bedroom units ranging from just under 500 sq. ft. to more than 1,500 sq. ft. The units feature large picture windows with roller shades, quartz countertops and backsplashes and stainless-steel appliances in the kitchens, full-size in-unit washers and dryers and plank flooring.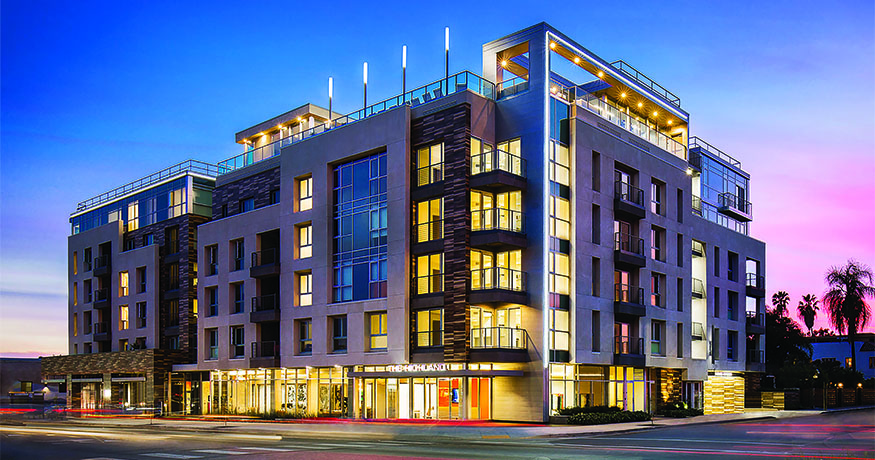 The Highland Residences
The 76-unit The Highland Residences in Hollywood, Calif., a finalist in the Pillars category for best mid-rise community, features 2,500 sq. ft. of ground-floor retail space that has yet to be rented.
The six-story urban infill community that was developed by Lennar Multifamily Investors, Inc., a subsidiary of Lennar Corporation, and designed by Withee Malcolm Architects. It includes studio, one- and two- bedroom units with penthouses on the sixth floor.
The commuter-friendly community is located within walking distance of a Metrorail station, just south of Sunset Boulevard and four miles from Universal Studios.
The property's highly articulated facade blends stucco, glass and aluminum panels, referencing the mid-century classic homes in the nearby hills, while the project's U-shaped form orients the façade toward Highland Avenue.
An open courtyard and planting along the rear of the property provide an amenity for the residents and privacy for the near neighbors.
Amenities include glass-enclosed showers with a master suite view, quartz countertops in kitchens and baths, stainless steel appliances in the kitchens, hardwood-style flooring, in-unit washers and dryers and floor-to-ceiling windows with views of the Hollywood sign and the downtown Los Angeles skyline.
The apartments also feature the LMC Dream Suite by Lutron, where residents can control their lights, window shades and apartment temperature from their smart phones.
Residents share a rooftop deck with a swimming pool, a tech supported co-working space on the ground floor, a pet park, an outdoor fireplace and BBQ areas, and an Active Building resident portal and mobile app.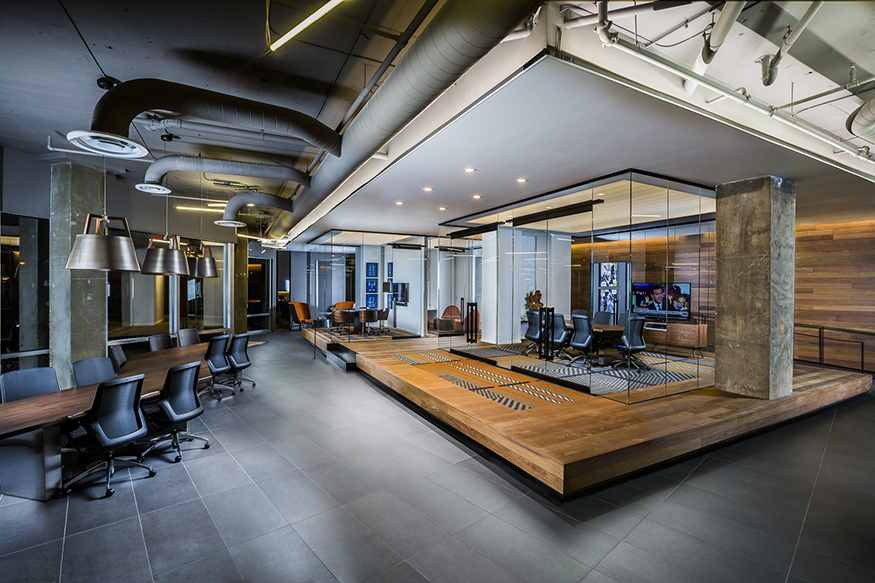 e-lofts
The developer of the 200-unit e-lofts, a finalist in the best adaptive reuse category, transformed the shell of an obsolete 1980's-era office building in Alexandria, Va., into live-work units targeting couples who want lots of living space, work-at-home singles and couples, and small businesses of 10 employees or less.
The apartments in the hybrid residential-commercial community was designed by Gensler/Lord Aeck Sargeant architects and developed by Novus Residences, a subsidiary of Cafritz Interests, Inc. They may be reconfigured with sliding pocket doors between the rooms that can be opened to create one large loft or closed to separate the bedrooms from the living and working spaces.
The property was already zoned for high-density mixed-use when Cafritz Interests purchased it in 2015. It opened in September 2016. The one- and two-bedroom units range from about 650 sq. ft. to 1,200 sq. ft. and include full-size washers and dryers, walk-in showers, soaking tubs and kitchens with pantries, quartz countertops and bottom-drawer freezers.
The community features a 30,000 sq. ft. deck with a pergola-covered patio and outdoor dining area, a 12,000 sq. ft. club lounge with raised glass conference rooms and a couple of amenities not found in most apartment buildings—hall toilets and water fountains, original fixtures that the designers kept to accommodate e-lofts' businesses and their visitors.
Winners will be announced during an awards recognition luncheon at the NAHB International Builders' Show in Orlando, Fla., on Jan. 9, 2018.