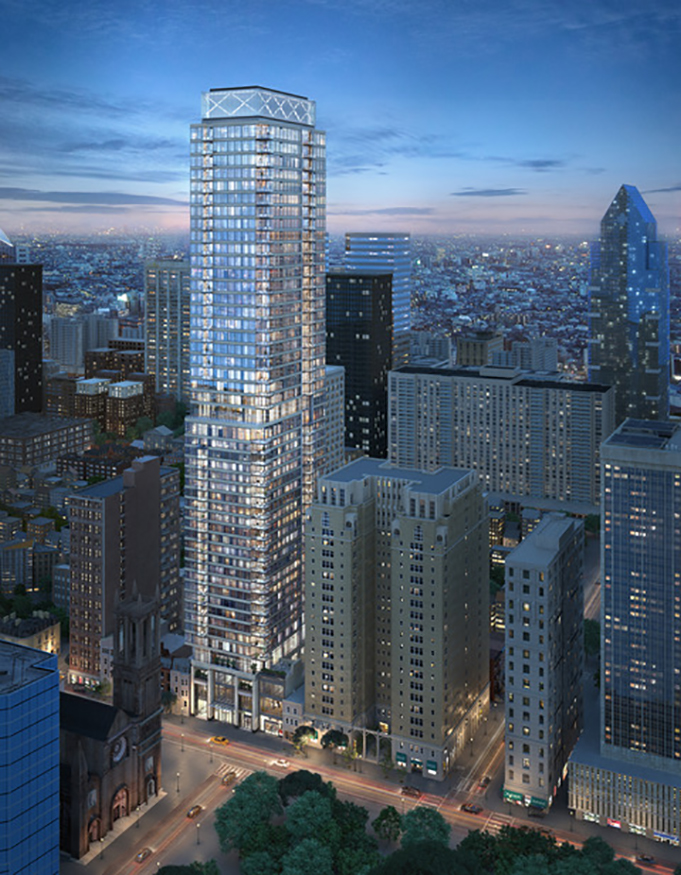 Southern Land Company has unveiled a new brand identity and updated project plans for 1911 Walnut Street, which will now be known as The Laurel. Named for the Pennsylvania state flower, The Laurel sets a new standard for urban luxury living in Philadelphia.
Designed by Solomon Cordwell Buenz (SCB), the 565,000-square-foot ultra-luxury mixed-use tower will include 54 condominiums in addition to long- and short-term residences with separate lobbies and entrances. The Laurel will also feature 24,000 square feet of high-end retail that wraps around Walnut, Sansom, and 20th Streets.
"We have the best location and the most sophisticated offerings of any residential project in Philadelphia —and now we have a name and a brand to match it," said Tim Downey, CEO of Southern Land Company. "The Laurel will set the market standard for luxury living in Center City, and we have spared no expense to ensure every detail is absolutely perfect."
SCB's design for The Laurel responds to its historic and urban surroundings. The stone-clad entry pavilion respects the historic street wall through its contextual materiality and rhythmic articulation, while the 48-story stepped tower of glass and metal panels provides a modern complement to the pre-war architecture of the area. The building is crowned with a glass-encased structural frame that will be illuminated in the evening.
The mixed-use nature of the project required the design team to develop two unique amenity programs: one for the condo owners and one for the residents of the apartments. The condo amenity deck is located on the 26th floor and is designed to be a peaceful retreat from the city below. Amenity offerings are focused on wellness and include an indoor pool, fitness and yoga studios, and a lounge with terrace overlooking Rittenhouse Square.
A larger amenity program for the apartments is located on the 3rd floor and seeks to engage with the spirit and energy of the city. The design for this floor is geared towards young professionals and fosters a sense of community among the residents. This floor features an outdoor pool and landscaped deck, fitness club, game room with demonstration kitchen/bar, as well as a library and music room.
---
About Solomon Cordwell Buenz (SCB):
SCB is an architecture, interior design, and planning firm that practices nationally from offices in Chicago and San Francisco. Since 1931, SCB has made a lasting impact on the nation's skylines, campuses, and neighborhoods, helping its clients across the country achieve their goals, serve their constituencies, and make their mark.
About Southern Land Company:
Southern Land Company builds quality communities that enhance the lives of our residents and tenants across the United States. With a comprehensive set of services that span the entire development cycle, Southern Land delivers distinctive settings where people want to live, work and shop. Founded in 1986, Southern Land is headquartered in Nashville, TN and develops properties in several key U.S. markets. For more information, please visit