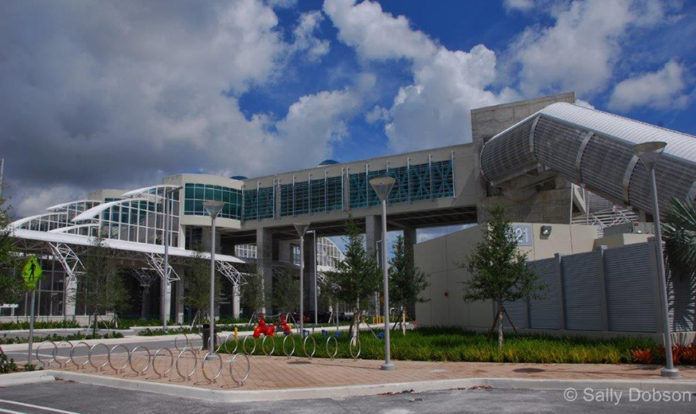 Stiles Property Management was recently honored by the Building Owners and Managers Association with a TOBY® (The Outstanding Building of the Year) award for the Miami Intermodal Center (MIC), a 19.3-acre transportation facility owned by the Florida Department of Transportation (FDOT). Stiles Property Management, a division of full-service real estate firm Stiles, is a leading provider of third-party commercial and facility management services throughout Florida.
Located at 3811 NW 21st St., adjacent to the Miami International Airport, the MIC is a massive ground transportation hub that provides connectivity via various modes of transportation between Palm Beach County, Broward County, and Miami Dade County, helping to decongest roadways around the airport. Stiles began managing the facility in 2015 when it officially opened to the public. In July 2017, Stiles commenced management services for the portion of the facility allocated to the South Florida Regional Transportation Authority, which includes Tri-Rail.
Under Stiles management, the MIC has maintained a high level of quality while offering a full range of amenities to its users. Stiles, FDOT, and SFRTA were honored for their continued strategic focus on security, emergency preparedness, sustainability, building improvements, community impact through local events, and onsite amenities that enhance the user experience such as 24/7 on-site security and free parking for monthly SFRTA and MDT transit card holders.
"Managing a facility of this magnitude is a tremendous responsibility that we take very seriously," said Devon Newton, Stiles Senior Property Manager for Tri-Rail/SFRTA at the MIC.  "Our focus has been to operate and maintain a clean, safe, facility that encourages people to explore public transportation as a viable option for their daily commute. These awards demonstrate how our quality programs combined with FDOT's vision helped to drive positive results. We are incredibly proud to be recognized amongst our peers and look forward to establishing the MIC as the highest rated transportation facility in Miami."
Stiles' top-quality management team at the MIC includes Newton, who has been awarded with numerous TOBY's and is the only South Florida recipient of an International TOBY Award since 1998, and Stiles Property Manager Christine Jarro, who has a proven track record of expertly managing facilities and has been the recipient of several local and regional TOBY awards.
In addition to the wide range of amenities, the MIC and Stiles are preparing to roll out future services, such as LimeBike, an Uber-like share ride service that provides access to local bicycles for a minimal cost. The bicycles come equipped with a built-in GPS system, auto-locking mechanism, alarm and runflat tires. ​
"Programs like LimeBike bring an economical transport option to our hub, which can be invaluable to many of our customers," added Newton.  ​
The TOBY Awards are the most prestigious and coveted awards of their kind in the commercial real estate industry. The awards recognize superiority in office and industrial buildings and reward excellence in building management. During the review process, all facets of a building's operations are thoroughly evaluated – from community involvement and site management to environmental and green policies and procedures.
---
About Stiles
Stiles is a full-service commercial real estate firm with a clear mission: Invest. Build. Manage. Stiles services include development, construction, tenant improvement, realty, property management, architecture, acquisitions and financing. Headquartered in Fort Lauderdale, Stiles maintains regional offices in Miami, Fort Myers, Tampa and Orlando, Florida, and has a development office in Charlotte, North Carolina. Stiles is responsible for more than 43 million square feet of office, industrial, retail and mixed-use residential projects throughout the southeastern United States.