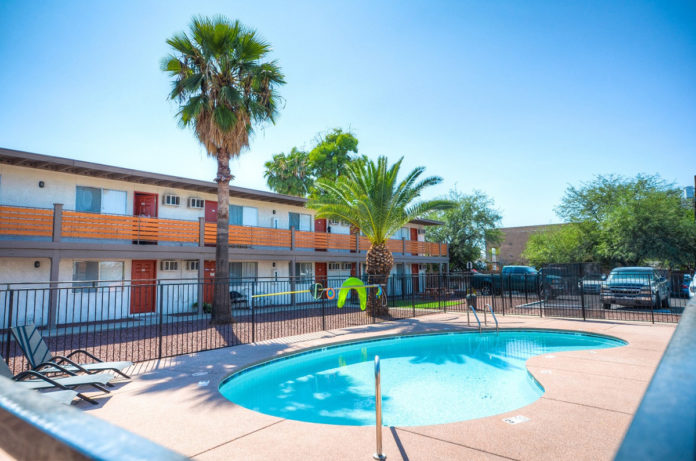 Alpha Wave Investors, a private equity investment firm specializing in opportunistic and value-add multifamily and hospitality assets in the Western U.S., has announced the sale of Sycamore Cove, a 67-unit apartment property in the Oak Flower neighborhood of Tucson, Arizona.
The firm, which acquired the asset in December of 2016, conducted an extensive renovation and repositioning program that increased property value by 80-percent during its one year of ownership.
"The key to this investment was a rapid and effective operating strategy," says Jordan Fisher, a Founding Partner of Alpha Wave Investors. "Our firm specializes in identifying well-located, under-improved properties that are poised for value creation. We then draw upon our in-house property management platform to strategically improve properties based on our knowledge of demand in the market, ultimately creating deep value and generating substantial returns for our investors."
During its ownership, Alpha Wave upgraded the property's exterior and interior with new paint and fixtures, repaired the asset's roof, parking, and balconies, resurfaced and replaced the pool and deck, upgraded landscaping, and added in-demand amenities such as a new pet park and fully renovated laundry room.
"By introducing amenities that local renters are seeking and conducting these upgrades in a cost-effective manner, we were able to revive this Class C asset and capitalize on its strong location in close proximity to local employment to drive a rapid lease-up," says Fisher.
Alpha Wave acquired the property at 50-percent occupancy and brought it to nearly 100-percent occupancy prior to the sale.
Sycamore Cove's proximity to major local employers including the University of Arizona, Tucson Medical Center, Banner-University Medical Center, Raytheon, and Davis-Monthan Air Force Base, positions the property to attract and retain renters seeking housing that is well-priced for the market.
Built in 1979, the apartment community offers one-bedroom apartments featuring balconies, air conditioning, walk-in closets, and upgraded kitchen appliances, as well as a swimming pool, picnic area and pet park. The property is located at 2458 N. Sycamore Blvd. in Tucson, Arizona.
Alon Shnitzer, Jon Ibrahim and Ryan Kippes with ABI Multifamily, an apartment brokerage firm, represented the seller, Alpha Wave Investors, and the buyer, a California based family partnership, in the transaction.
---
About Alpha Wave Investors
Alpha Wave Investors, LLC. is a Southern California-based private equity investment firm specializing in multifamily and hospitality investments in the Western U.S. Known for its creative, disciplined, and value-driven approach, the firm invests on behalf of individuals and institutions, and has acquired assets valued at more than $92.1 million to date.
Led by Ken Cruise, former CEO of a $5 billion publicly traded REIT, as well as Jordan Fisher and David Sloan, Alpha Wave Investors targets opportunistic and value-add investments and conducts management through its in-house property management platform.