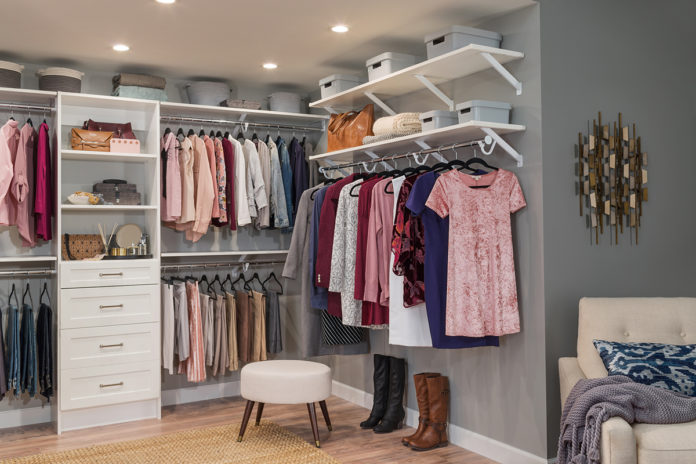 ClosetMaid® recently conducted a survey titled "Upgraded Closet Rental Impact Survey Analysis" to examine whether or not upgraded closets drive rental interest and demand higher rental prices. The survey tested select apartment features to understand whether upgraded features are preferred, how different features interact, and how combinations of these features influence rental prices.
The survey found that closets are the second most important upgraded feature for potential customers when choosing a rental apartment or home. In fact, 42 percent of respondents were willing to pay additional monthly rent fees for better utilized storage and upgraded closet spaces.
To qualify for the survey, respondents had to be US residents, 18 years or older, not employed by market research or advertising companies, currently renting their home for $800 or more, and have some decision-making authority over household purchases.
Additional findings were that the majority of potential customers interested in home improvements in general are also looking to better organize their closet spaces. 37 percent are currently interested in improving their homes—of this group, 63 percent are interested in purchasing home organization products, while 56 percent are interested in organizing their closet spaces specifically.
The survey's results are useful for ClosetMaid, property management companies and developers, and the multifamily industry as a whole. Now there is proof that renters are demanding better storage solutions, and are willing to pay extra for them. In this highly-competitive market where space is at a premium, owners and developers can impact leasing velocity, improve tenant retention, and increase revenue by providing the high-quality storage systems that renters currently seek and value.
---
About ClosetMaid
ClosetMaid, founded in 1965, is a leading North American manufacturer and marketer of closet organization, home storage, and garage storage products, and sells to some of the largest home center retail chains, mass merchandisers, and direct-to-builder professional installers. Headquartered in Ocala, FL, ClosetMaid designs, manufactures and sells a comprehensive portfolio of wire and laminated shelving, containers, storage cabinets and other closet and home organization accessories.

About Griffon Corporation
Griffon is a diversified management and holding company that conducts business through wholly owned subsidiaries. Griffon oversees the operations of its subsidiaries, allocates resources among them and manages their capital structures. Griffon provides direction and assistance to its subsidiaries in connection with acquisition and growth opportunities as well as in connection with divestitures. In order to further diversify, Griffon also seeks out, evaluates and, when appropriate, will acquire additional businesses that offer potentially attractive returns on capital.
Headquartered in New York, N.Y., the Company was founded in 1959 and is incorporated in Delaware. Griffon is listed on the New York Stock Exchanges and trades under the symbol GFF.