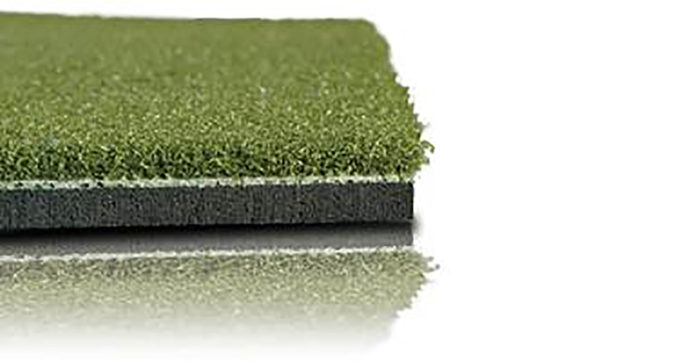 Ecore, a company that transforms reclaimed materials into unique performance surfacing, offers its Speed & Agility Turf, a flooring surface designed to enhance athletic training and performance through advanced ergonomic design and durability. Speed & Agility Turf is part of Ecore's growing collection of indoor athletic and fitness surfaces engineered to provide extreme durability and sound and shock absorption demands that drive athletic safety and performance.
Speed & Agility Turf features a dense, textured nylon wear layer fusion bonded to a 5 or 12mm vulcanized composition rubber backing. This consistent and tight surface is ideal for footwork and agility drills, sprints and other functional fitness activities, making it a vital piece of athletic equipment for indoor training. The composition rubber backing provides safety, ergonomic and acoustic properties that protect athletes from injuries with dynamic traction and shock absorption, while dampening sound transmission from dumb bells, sand bags, and slam balls.
"Modern student fitness centers and athletic facilities understand flooring is one of the most importance pieces of equipment in the space, "said Troy Kelley, director of sales for Ecore Athletic.  "Many of these facilities are adopting indoor turf surfaces to enable year-round activities without subjecting athletes to hard surfaces such as concrete that reflects sound and force. Ecore's patented itstru technology, which is incorporated into our Speed & Agility Turf surface diminishes the impact of force created during aggressive functional training and provides an ergonomically advanced surface to boost performance and reduce unnecessary noise."
Unlike other indoor turf on the market, Speed & Agility Turf does not require infill. Rolls goods are simply glued down; or, the 12mm backed version is available in an interlocking format that doesn't require any glue for installation.
---
About Ecore
Since 1871, Ecore has been transforming reclaimed materials into performance surfaces that make people's lives better. What started with simple cork closures has evolved into a diverse portfolio of products solving complex problems in applications ranging from playgrounds, weight rooms, and turf fields to hospitals, hotels, and retail environments. Ecore is driven everyday by a simple question, "Can a floor do more?" YES. At Ecore, we create products based on the simple notion that floors should elevate beyond current expectations. Ecore's energy is focused on the interaction between people and the surface. As a result, we engineer performance well beyond industry standards related to acoustics, ergonomics, and safety. Harvesting the unique power from a myriad of waste streams, Ecore creates products that align–substantial force reduction with a balanced amount of energy return to create dynamic surfaces that are catered to the individual and the application.