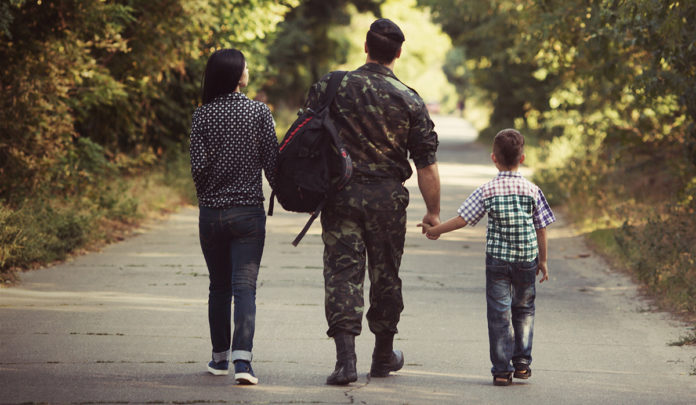 Financial readiness is a key challenge for career service member families, particularly among the military spouses who bear primary responsibility for managing household finances, according to the latest findings of the First Command Financial Behaviors Index®.
Results of the seventh annual financial readiness test and survey commissioned by First Command Financial Services, Inc., in partnership with First Command Educational Foundation reveal that the wives and husbands of service members in career military families (commissioned officers and NCOs in pay grades E-5 and above with household incomes of at least $50,000) earned an average grade of 63 on the nine-question test. Service members face similar readiness challenges, earning an average grade of 70. General population test takers with similar household incomes score slightly higher, earning an average grade of 72.
"Many middle-class Americans face financial readiness challenges, but we are particularly concerned about career military spouses in light of the critical role they play in supporting the financial security of their families," said Scott Spiker, chairman/CEO of First Command Financial Services, Inc. "Four out of five spouses say it is primarily their role to manage long-term investments and retirement savings accounts. And yet the husbands and wives of service members receive limited access to government financial education and training. These research results underscore the importance of finding new ways to help spouses make informed and knowledgeable decisions about the financial issues impacting their families."
The financial readiness of military spouses is especially important this year. Spouses expect to play a key role in financial decisions facing service members under the military's new Blended Retirement System (BRS). Eighty-two percent of spouses in middle-class military families expect to be extremely or very involved in the process of deciding between opting in to the BRS and sticking with their traditional guaranteed pension. The opt-in period ends on Dec. 31.
"Almost all spouses in our survey indicate they would find education and training to be a valuable tool in helping them understand the BRS opt-in decision," Spiker said. "This strong interest in learning more about the BRS makes sense as military spouses are deeply involved in preparing for retirement."
Notably, military test takers are significantly more likely than their civilian counterparts to say they've completed a financial literacy or education program (48 percent versus 22 percent). But the benefits are not reflected in test scores. Among military test takers who completed a financial education program, just 8 percent earned a perfect score. That's half the rate for general population families with similar household incomes.
First Command Financial Services is committed to narrowing the financial readiness gap by supporting training and education to the military through charitable gifts and hands-on assistance. Those efforts include proving ongoing support to First Command Educational Foundation, a separate 501(c)(3) charity that provides in-person and online financial readiness tools for service members across the globe as well as increased scholarship opportunities for service members and their families.
"We are dedicated to helping service members and their families weather financial storms that may come at various points in their careers," said Vickie Coleman, CEO of First Command Educational Foundation. "We are constantly developing improved methods to better provide financial readiness training to military families."
Perhaps most importantly, First Command seeks to improve financial readiness through face-to-face coaching.
"Financial training is important, but without action nothing happens," Spiker said. "Personal financial coaching is a time-tested way to improve outcomes. Career military families who work with a financial advisor are more likely to save more and feel more confident about their finances than their colleagues who do not work with an advisor. Working with a financial coach is an ideal way for military families – and the husbands and wives who manage their household finances – to make the most of their pay and benefits. Coaching helps to give military spouses an equal voice in retirement and other financial decisions and supports military families in their continuing pursuit of long-term financial security."
---
About the First Command Financial Behaviors Index®
Compiled by Sentient Decision Science, Inc., the First Command Financial Behaviors Index® assesses trends among the American public's financial behaviors, attitudes and intentions through a monthly survey of approximately 530 U.S. consumers aged 25 to 70 with annual household incomes of at least $50,000. Results are reported quarterly. The margin of error is +/- 4.3 percent with a 95 percent level of confidence.

About Sentient Decision Science, Inc.
Sentient Decision Science was commissioned by First Command to compile the Financial Behaviors Index®. SDS is a behavioral science and consumer psychology consulting firm with special vertical expertise within the financial services industry. SDS specializes in advanced research methods and statistical analysis of behavioral and attitudinal data.

About First Command Educational Foundation
First Command Educational Foundation (FCEF) has been proudly supporting scholars and their families since 1983. FCEF is a 501(c)(3) public charity, and has worked tirelessly to promote their mission to educate those who serve. To that end, FCEF has awarded over $4.5 million in scholarship grants to help offset the costs of higher education, and has educated over 60 thousand individuals on numerous financial readiness topics.

About First Command
First Command Financial Services and its subsidiaries, including First Command Financial Planning and First Command Bank, coach our Nation's military families in their pursuit of financial security. Since 1958, First Command Financial Advisors have been shaping positive financial behaviors through face-to-face coaching with hundreds of thousands of client families.