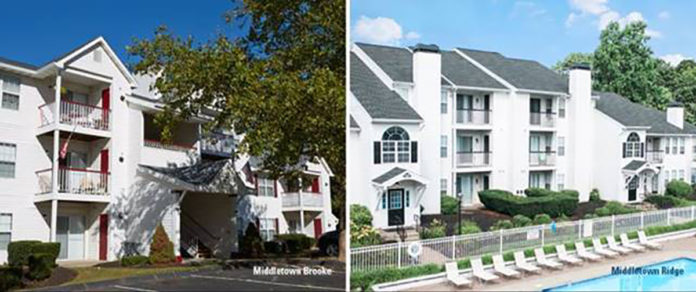 Institutional Property Advisors (IPA), a division of Marcus & Millichap, announces the sale of Middletown Brooke and Middletown Ridge, a two-property, 518-unit multifamily portfolio located in the Westlake District of Middletown, Connecticut. The portfolio sold for $62.65 million
"The Westlake District is a highly sought-after area for renters by choice, millennials, empty nesters and employees working in the greater New Haven to Greater Hartford metropolitan areas," says Victor Nolletti, executive director and lead advisor for the IPA Northeast team. "This location, which provides residents with access to two major employment areas, has consistently been one of the most stable multifamily submarkets in the state. These assets are well positioned to benefit from a combination of modest amenity and unit upgrades, further enhancing an already attractive in-place yield."
Nolletti, Eric Pentore, first vice president, and senior associate Wes Klockner represented the seller, Fairfield Midtown Ridge LP and Fairfield Midtown Brooke LP, and procured the buyer, Hamilton Zanze and Company.
"It was a pleasure working with Victor Nolletti and strengthening our relationship with Fairfield Residential," comments Anthony Cianciolo, acquisitions senior associate at Hamilton Zanze. "We will continue to target multifamily investment opportunities in the Northeast and expect to further expand our presence in the coming months."
The properties are located one-and-a-half miles from Interstate 91 and two miles from Route 9 in Middletown, which has a large national employment base that includes Aerospace Techniques Inc., Middlesex Hospital, Pratt & Whitney, Middlesex Mutual Assurance Co., MiddleOak and Wesleyan University. The location provides residents with a 10-minute commute to Downtown Hartford and is 15 minutes from New Haven's central business district.
Constructed in 1989 on almost 20 acres, Middletown Brooke is a 280-unit asset with eight two- and three-story wood-frame residential buildings, plus a clubhouse and leasing center. Middletown Ridge, built in 1988 on nearly 12 acres, is a 238-unit rental community within nine two-, three- and four-story wood-frame residential buildings.
---
About Institutional Property Advisors
With a network of senior-level investment advisors located throughout the United States, Institutional Property Advisors (IPA) is qualified to meet the needs of institutional and major private investors. IPA's combination of real estate investment and capital markets expertise, industry-leading technology, superior support services and acclaimed research offer customized solutions for the acquisition and disposition of institutional properties and portfolios.