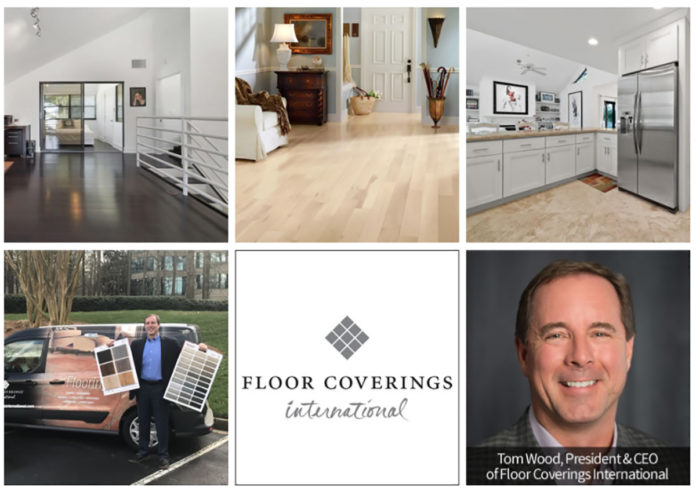 For years there seemed little variation in what home owners installed atop their subfloors—carpet went into bedrooms and on stairways, hardwood flooring was for hallways, living room, dining and family rooms, and tile was for kitchens and bathrooms. However, with so many more materials available today, thanks to new technologies, nothing is an automatic go-to anymore. The factors that play into what most home owners use underfoot range from price to durability, maintenance, aesthetics and concerns about how it may impact the environment. We recently discussed industry trends, home owner choices and home resale factors with Tom Wood, President & CEO of Floor Coverings International based in Atlanta, Ga., one of the country's largest flooring retailers. Here are 5 key points he covered:
Understanding home owner needs. No longer does one size fit all home owners and industry leader Floor Coverings International understands today's home owner. In the past, people wandered through carpet showrooms and big-box stores looking at hundreds of small samples, then sometimes taking them home to see how they worked visually in a space. Many, however, were confused and overwhelmed.
When Wood took the helm of the company 13 years ago, he realized quickly the company needed to do a better job of appealing to the female in the house—the primary influencer of what would be purchased—and the importance of meeting her in her home before she hit the stores. And he found the best way to do that was to make house calls with company-owned vans – mobile showrooms – that are stocked with 3,000 samples. These go-to showrooms are updated twice a year and travel to 145 markets throughout the country.
Get the right look and wearability. So many factors influence a flooring decision, from budget to lifestyle—whether there are pets and kids, the desired look and even the subfloor conditions. Factor in as well how many dinner parties a family may host, and if there are going to be women wearing high heels, Wood says. "Sharp heels can dig into a floor if it's not hard enough and mark it up," he adds. Nevertheless, wood in various iterations remains the fastest growing subcategory in terms of dollars spent and square footage covered, and it's still what often appeals to buyers.
While many home owners want "real wood", or old reclaimed boards, there are also variations that look like wood but may be as durable or less costly, such as porcelain planks and tile. "You can put them comfortably in rooms where you might have shied from using wood, such as kitchens and bathrooms," says Wood.
Specific choices in length and width of boards or planks has also changed with wood now often 4 to 5 inches wide, and porcelain planks up to 36 inches long and 18 inches wide rather than 30 and 12 inches. One helpful, healthy trend related to real wood boards is that they're rarely finished at a home owner's site but rather completed at a factory. This makes installation easier and quicker. Even protective seals are performed off-site, which means home owners are no longer required to vacate the premises to avoid walking on the surface or inhaling fumes.
Another very popular choice because of its wearability, is laminate. Newer laminates have a much higher density, so they're less susceptible to scuffs and dings. Laminate floors can closely resemble wood or stone because photographs of natural materials can be screened onto the top surface, making it difficult to differentiate composite surfaces from natural surfaces.
Luxury vinyl tile – or lvt – is another fast-growing category "Ten years ago, they were only available in entry-level quality. Now they've been improved, reveal more texture or graining and often have beveled edges," Wood says. "And they've become so durable and affordable you can't kill them." Larger format tiles that may resemble wood and marble are also very popular. And many home owners favor installing different patterns in the same room whether on a wall or floor.
Carpet or area rugs. Although it's a far less popular overall choice in homes today, carpet is often selected to cover a bedroom floor, particularly a master and kids' rooms, as well as stairways in the form of a runner. And apartment and condominium buildings may still require a certain percentage of floor surfaces to be covered by carpeting to reduce noise. Both wool and synthetic remain equally popular, though some prefer synthetic since it's easier to clean and less costly. "Wool is not as great for getting out stains," Wood says. Ask whether certain blends can be treated to make removal easier. Area rugs remain popular and 92 percent of all hardwood floors get some type of area rug placed on top of them.
Right choices for resale. Making a house look its best before resale includes cleaning all floor surfaces, or possibly replacing those that can't be cleaned or repaired. Replacing a floor can be done affordably and may make the difference when it's time to sell. A new floor may be the single factor that grabs the buyers' attention when they enter the home.
Green is not yet a must-have. As more Millennials purchase homes, companies like Floor Coverings International expect to sell more green floors. That means different woods that are harvested in such a way that is not harmful to the environment, all-natural carpets and other natural materials like bamboo, cork and rubber. But as of now, the average buyer is still reluctant when it still may mean a higher price tag. "Many may be interested but not if there's a price differential; then the value proposition loses its luster and they look at other options," Wood says.
---
About YourHome1Source.com:
YourHome1Source is the optimal online resource for home buyers and home owners. No registration required, no questions, no zip code search restraints, no unwanted emails or calls. Visitors freely and conveniently browse all home-related information to find ideas, advice, home products and home remodel solutions. The site features original content home industry articles, how-to, what-about, emerging products, home trends, etc.  Visitors can view hundreds of short videos on more than 30 home categories on Your Home TV, a dedicated portal within YourHome1Source. Tools & Resources:  The site also features home plans, topical books, expert tips, home budget worksheet, mortgage calculator, photo galleries, outdoor ideas & products, interior décor, home furnishings, and checklists on home loans, home buying & selling and home building.