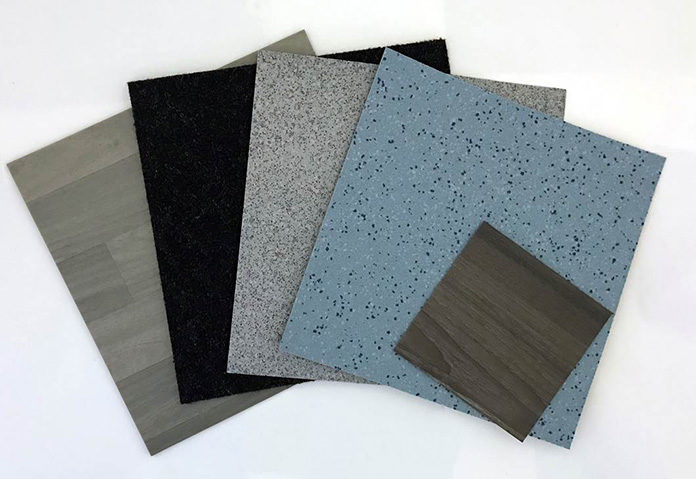 The latest collection of performance flooring products from Ecore, a company that transforms reclaimed materials into unique performance surfacing, is designed to elevate every aspect of today's modern fitness spaces – from the entryway to the locker room. The Elevate Collection, with its portfolio of five unique surface offerings, provides fitness facilities with the ideal combination of performance, functionality and safety features to exceed the demands of even the most intense workouts and highly trafficked common areas.
"When it comes to fitness facilities, there's no such thing as a one-size-fits-all surface," said Troy Kelley, director of sales for Ecore Athletics.  "Each area, from the lobby to the locker room, weight room, studios and pool, requires a surface uniquely designed to meet that area's needs. The Elevate Collection was created with today's multipurpose fitness facilities in mind, and provides architects, designers and owners with comprehensive solutions for any athletic or fitness space."
Ecore's Elevate Collection includes these flooring solutions:
Bounce 2: Featuring a synthetic wood-grain surface that is fusion bonded to a 5mm base layer, Bounce 2 is beautiful flooring that looks like real wood, but is more economical, durable, and easier to clean. It's the ideal surface for group fitness and multipurpose areas, while being durable enough for cardio equipment and light weights. Lines can also be painted on its surface, making it well-suited for indoor basketball, volleyball and squash courts.
Roster: A unique, non-woven surface that is fusion bonded to a 5mm base layer, Roster is a portable flooring solution offered in an interlocking format that doesn't require glue for installation. This surface is ideal for entryways or transition areas, because it contains contaminants coming in from the outdoors.
Spectator: Offering a high-end look – but designed for heavy commercial use – Spectator is a 2.5mm luxury vinyl tile intended to enhance common areas such as lobbies, cafes, locker rooms, corridors and retail spaces. With 16 different high-end wood and texture visuals, Spectator provides facilities with the ideal aesthetic to enhance the consumer's experience.
Frictional: A 2 mm vinyl safety flooring, Frictional is manufactured with an enhanced coefficient of friction to prevent falls in traffic areas where slipping may occur, making it ideal for use in restrooms, locker rooms and food service areas.
Aqueous: As the name implies, Aqueous is designed to be used in continually wet areas, such as pools and locker rooms with shower areas, where people may be barefoot. This 2mm vinyl safety floor is engineered with slip-resistant particles and a raised emboss for aggressive slip resistance.
---
About Ecore
Since 1871, Ecore has been transforming reclaimed materials into performance surfaces that make people's lives better. What started with simple cork closures has evolved into a diverse portfolio of products solving complex problems in applications ranging from playgrounds, weight rooms and turf fields to hospitals, hotels and retail environments. Ecore is driven every day by a simple question, "Can a floor do more?" YES. At Ecore, we create products based on the simple notion that floors should elevate beyond current expectations. Ecore's energy is focused on the interaction between people and the surface. As a result, we engineer performance well beyond industry standards related to acoustics, ergonomics and safety. Harvesting the unique power from a myriad of waste streams, Ecore creates products that align substantial force reduction with a balanced amount of energy return to create dynamic surfaces that are catered to the individual and the application.