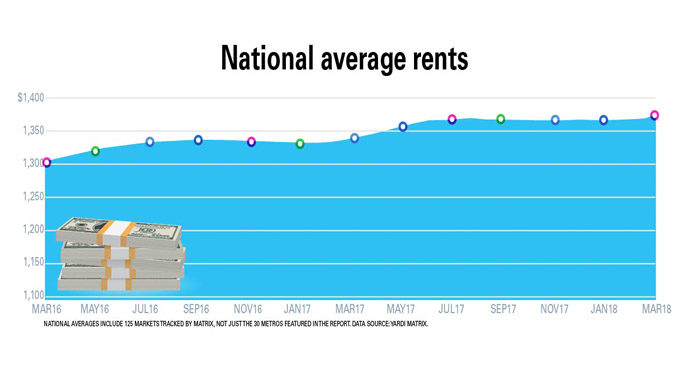 The Yardi Matrix monthly multifamily report for March was released this week. It shows, that while rents rose nationally in March, the rate of apartment rent growth is lower than it has been in recent years.
The report shows that, when looking at the nation as a whole, the trend for rents in the last two years has been for them to start rising around March and to plateau around July. They then remain relatively stable until the next March when the pattern repeats. The process seems to be under way again this year, with rents up $4 in March to a national average of $1,371.
The report indicates that the recent peak in the rate of apartment rent growth occurred a year or two ago, depending on the local rental market. It attributes the recent decline in the rate of rent growth to a parallel decline in the apartment occupancy rate. The addition of 620,000 units to the rental stock nationally over the last two years is cited as a primary reason for the latter decline.
Looking ahead, the forecast addition of 360,000 more units to the market in 2018 may put additional pressure on occupancy and rent growth this year. However, strong growth in the job market will act to support the rental market.
Your market may differ
In addition to the national picture, the report provides information on 30 major local markets. It found that the market with the fastest rate of rent growth over the last 12 months was Orlando. Rents there grew by 7 percent over that time. The lowest rate of rent growth over the last 12 months was in Austin, Texas at 0.1 percent.
The report cites Raleigh, Las Vegas, Orlando and Atlanta as local markets where strong job growth is expected to support apartments. While Orlando has exhibited strong rent growth recently, the other three markets have lately returned more mixed results.
The complete report has information about more local markets and also breaks the market down by asset class.