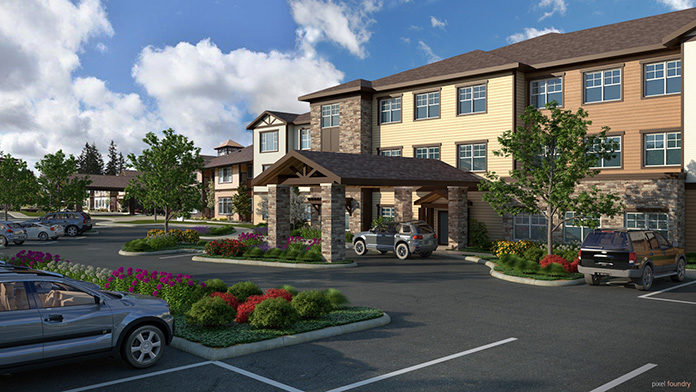 CA Senior Living LLC, the senior housing investment and development division of Chicago-based CA Ventures, today announced construction is underway on an expansion that will nearly double the number of units at Quail Park of Lynnwood, a senior housing community in the Seattle suburb of Lynnwood, Wash. A total of 122 residences – 96 assisted living apartments as well as 26 independent living units in 13 duplex cottages – will be added to the existing 130 units, with first deliveries in September 2019.
CA Senior Living and Seattle-based Living Care Lifestyles entered into a joint venture with an affiliate of Goldman Sachs & Co. to purchase the 15-acre, 130-unit community from affiliates of Living Care Lifestyles in May 2017. Living Care Lifestyles was retained as operator of the property, whose first phase was completed in 2014.
"This project represents CA Senior Living's ability to identify prime, value-add acquisition and redevelopment opportunities and quickly execute enhancements to maximize returns," said Ben Burke, president of CA Senior Living. "Fully leased with a wait list shortly after opening four years ago, Quail Park's favorable market fundamentals presented a compelling investment opportunity. We knew we could further increase its value by expanding both the number and type of units, including new enhanced assisted living units and independent living duplex cottages."
Located at 4015 164th St. SW, Quail Park currently comprises a three-story, lodge-style building with a mix of independent living, assisted living and memory care residences. The 96 assisted living units that will be added to the existing building as part of the expansion include studio, one- and two-bedroom plans ranging from 410 to 1,052 square feet. Like the existing units, the new assisted living apartments will feature in-unit laundry and private baths with walk-in showers. Modern kitchens and kitchenettes will showcase condo-quality finishes, including stainless steel appliances, quartz countertops and tile backsplashes.
Sixteen of the new assisted living apartments will be enhanced units that provide high-acuity assisted living services to residents in need of more direct and frequent care.
Meanwhile, independent living residents desiring more privacy will be able to choose from Quail Park's new duplex cottages, which will be developed separately from the addition to the main building. Located to the west of the existing community, they offer two-bedroom/two-bath floor plans measuring approximately 1,700 square feet. In addition to the same condo-quality finishes featured in the new assisted living units, the cottages will include walk-in closets, a fireplace, patio and private garage.
"Quail Park of Lynnwood provides several levels of care, enabling residents to comfortably age in place," said Burke. "Active seniors can customize the amount of assistance they desire, while higher-acuity residents have access to best-in-class care and diverse programming tailored to their interests and abilities."
The community's amenities include multiple places to eat, engage in activity or simply relax. Residents can dine with friends at the Rainier Dining Room, enjoy a burger and beer at Bailey's Pub or sip morning coffee at the Bistro. Other indoor amenities include a pool and fitness center, wellness center, salon and spa, and a community room for hosting events, presentations and performances. Outdoors, residents can enjoy walking paths, a gazebo, bocce ball court, putting green and sustainable garden where they can grow their own vegetables.
Quail Park of Lynnwood also provides complimentary transportation for shopping, errands and medical appointments. Alderwood Mall, located eight minutes from the community, contains several distinctive retailers and restaurants in an outdoor setting. Anchors include JCPenney, Macy's and Nordstrom. Other attractions near the mall include the community theater Edmonds Driftwood Players, Edmonds Center for the Arts, Heritage Park and nearby aviation museums.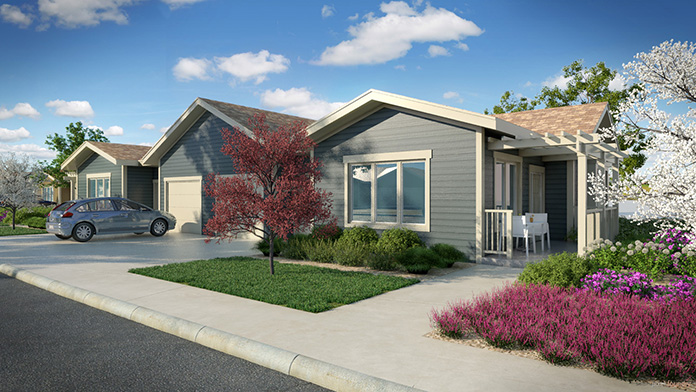 ---
About CA Ventures/CA Senior Living
CA Ventures LLC is a Chicago-based real estate investment holding company whose international portfolio includes $6.7 billion in assets throughout the U.S. and Latin America. While initially focused on student housing, CA Ventures has since diversified into other sectors, including office, senior living, multifamily and hospitality. In addition to development and renovation, the firm specializes in institutional joint ventures, value-add investing, equity and debt sourcing, and asset management services. CA Ventures serves as the holding company for the CA family of companies, including CA Student Living, CA Office / Vanderbilt Partners, CA Senior Living, CA Residential, CA International, CA Hospitality and CA Asset Services.
About Living Care Lifestyles
Living Care Lifestyles, founded in 1999, is the leader and simply the best in senior lifestyles communities. The organization has communities located in California, Oregon, Texas and Washington, and emerging communities in Arizona.  Lifestyle options include Independent Living, Assisted Living, Enhanced Assisted Living and Memory Care which includes the Tribute Program™. The unique program focuses on the needs of persons living with Alzheimer's, dementia and dementia-related diseases by paying tribute to each individual's previous accomplishments while focusing on the person's remaining strengths and present relationships. Living Care Lifestyles is committed to offering the best in senior living care.