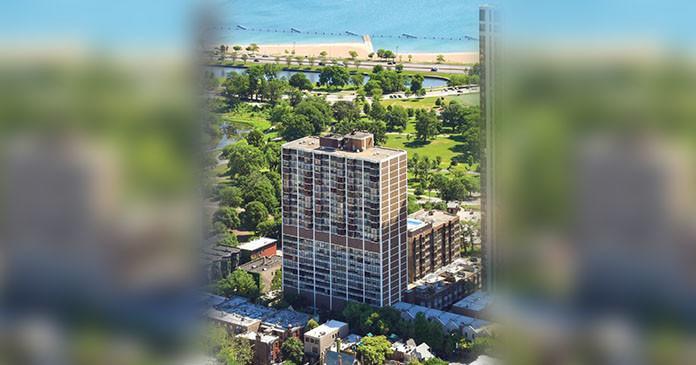 Meridian Capital Group, America's most active dealmaker, arranged $72 million in acquisition financing for the condo deconversion of Kennelly Square in Chicago, IL into multifamily rental units, on behalf of Strategic Properties of North America (SPNA).
The 24-month loan features a floating rate and two 12-month extension options. Managing Director, Shaya Ackerman, and Senior Vice President, Shaya Sonnenschein, who are both based in the company's New York City headquarters, negotiated the financing for this transaction.
Many of the lakefront buildings in Chicago that are undergoing deconversions were built in the second half of the 20th century, and were converted to condos during the boom of the 1970s and 1980s. As these properties go through standard wear and tear, the owners are hit with hefty repair bills, which can transform into a special assessment if the work is postponed. As such, securing financing for the deconversion process proves incredibly challenging, as the low cash flow and steep repair costs impact the risk level of the deal.
This is the fourth successfully executed condominium deconversion transaction for both SPNA and The Ackerman Team in the past 24 months, with almost half a billion in loan proceeds received from these transactions. "We see a lot of upside in these transactions," said SPNA Principal Saul Kuperwasser. "And as a product of Shaya's expertise on these deals, his broad lens view of the entire capital stack, and his ability to continue to navigate our debt and investment needs, we are the largest buyer of these properties in the state."
"In today's real estate market, individual condominium values can be lower than that of stabilized apartments on a per-unit basis," said Mr. Ackerman. "The bulk sale of a condominium association to an apartment investor is extremely complex, but is beneficial for both sellers and buyers, as sellers receive a premium on their unit at closing and buyers receive a discount on standard apartment pricing. While terrifically challenging, this unique transformation will offer SPNA a significant return on their investment and bring the property under consolidated ownership."
Located at 1749 North Wells Street, Kennelly Square is a boutique residential condominium community consisting of 268 studio to two-bedroom units spread across two buildings, the 24-story Tower building and the nine-story Warehouse building, which are connected via internal hallways and are serviced by the same lobby and elevators. Kennelly Square features more than 4,000 square feet of ground floor retail in addition to a pool and sundeck, fitness center, laundry facility, and 140 enclosed parking spaces. The property is ideally located in the heart of Chicago's Old Town Triangle neighborhood, a sought-after destination for those seeking a balance of city life and proximity to nature. This unbeatable location offers residents sweeping views of Lincoln Park and Lake Michigan as well as unrivaled access to recreation, parks, shopping, culture, and Chicago's famed lake-front beaches.
The Ackerman Team's mission is to provide its clients with best-in-class service while advocating and adeptly negotiating on their behalves. With this approach, the team has closed hundreds of deals, aggregating to over $3 billion since it joined Meridian in the end of 2015. This accomplishment is a testament to the team's extensive capital markets knowledge, loyal lender and client relationships, and unparalleled professionalism. Specializing in all loan structures and all geographies, Ackerman prides himself on being engaged as an advisor on transactions in their entirety, rather than just the financing aspects of the deal.
---
About Meridian Capital Group
Founded in 1991, Meridian Capital Group is America's most active deal maker and one of the nation's leading commercial real estate finance and investment sales firms. In 2017, Meridian closed over 3,000 debt transactions across more than 200 unique lenders and sold nearly $1 billion in commercial property. Since inception, the company has closed more than $300 billion in financing with the full complement of capital providers, encompassing local, regional and national banks, CMBS lenders, agency lenders, mortgage REITs, life insurance companies, credit unions and private equity funds. Meridian represents many of the world's leading real estate investors and developers and the company's expansive platform has specialized practices for a broad array of property types including office, retail, multifamily, hotel, mixed-use, industrial, healthcare, student housing and self-storage properties. Meridian is headquartered in New York City with offices in New Jersey, Maryland, Illinois, Ohio, Florida and California.